OpenAI CEO visits Clark Atlanta to talk AI pros and cons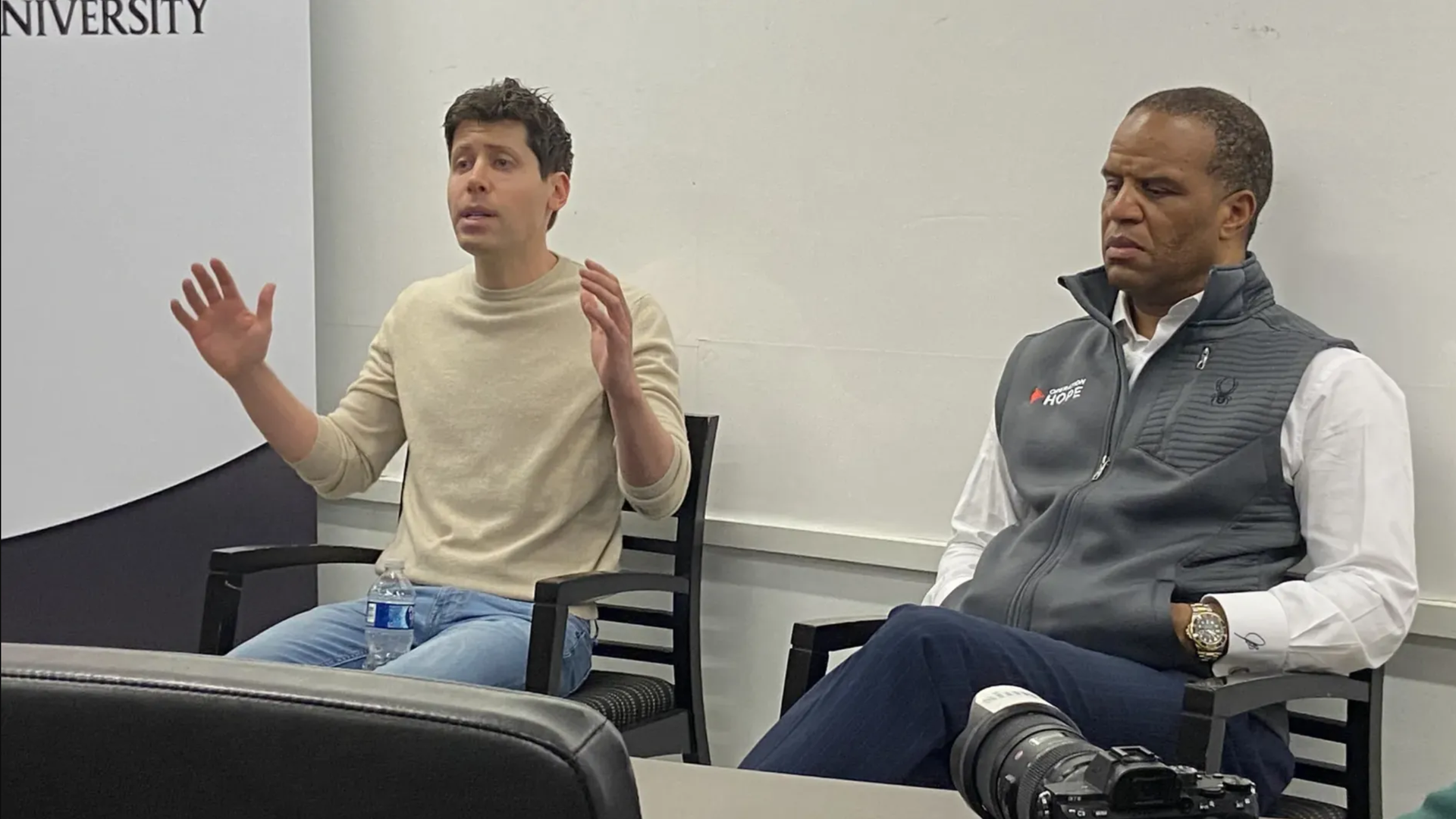 Developers crafting AI technology that promises to change the way we live need more diverse voices as the software moves past a novelty and into a real world tool, says the man behind ChatGPT.
Driving the news: Sam Altman, the CEO of OpenAI, the company that created ChatGPT, visited Clark Atlanta University on Friday to discuss AI's potential and risks with students.
The night before, Altman sat down for a closed-door meeting with Atlanta stakeholders, including former Ambassador Andrew Young, Martin Luther King Jr. III and Dr. Sanjay Gupta, organizers said.
Zoom out: The Clark Atlanta listening session was the first Altman plans to hold across the country with the goal of educating people about AI and learning how to make the technology more inclusive.
Details: In a wide-ranging Q&A covering the tech's future and potential to upend jobs, Altman said he's focused on "AI alignment" — how humans can teach AI what's right and what's wrong, know when to correct the technology, and decide who makes those calls.
"If we can't solve this technical problem, then you can get a lot of bad sci-fi movies — there are some good ones too — about the ways this can go wrong," he told the students and professors in CAU's Wright-Young Hall.
What it is: ChatGPT is a free (for now) site that lets users pose questions and give directions to a bot that can answer with conversation, term papers, sonnets, recipes — almost anything and in any style you specify, Axios' Erica Pandey, Dan Primack and Ina Fried report.
Yes, but: It might one day handle complex tasks better and more efficiently than humans have ever been able to, they write. And it might lead us to dark places we can't even anticipate yet.
What they're saying: Atlanta must prepare residents for AI's ripple effects now with skills training to make a smooth transition into the global economy's next chapter, John Hope Bryant, the Atlanta entrepreneur who brought Altman here, told Axios.
Bryant, the founder of financial literacy nonprofit Operation HOPE, said Atlanta — home to one of the country's largest economies yet hobbled by entrenched income inequality — could be a petri dish for showcasing the power of diversity, talent and tech.
"We got to get at it," he told Axios. "If we don't retrain people, within a couple of years of this innovation, you're gonna have a bifurcated society. You'll have a group that's left behind and frustrated, then this group that is prospering at lightspeed. What we got to do is create a bridge."
More Atlanta stories
No stories could be found
Get a free daily digest of the most important news in your backyard with Axios Atlanta.