Atlanta's Stream Team keeps the creeks clean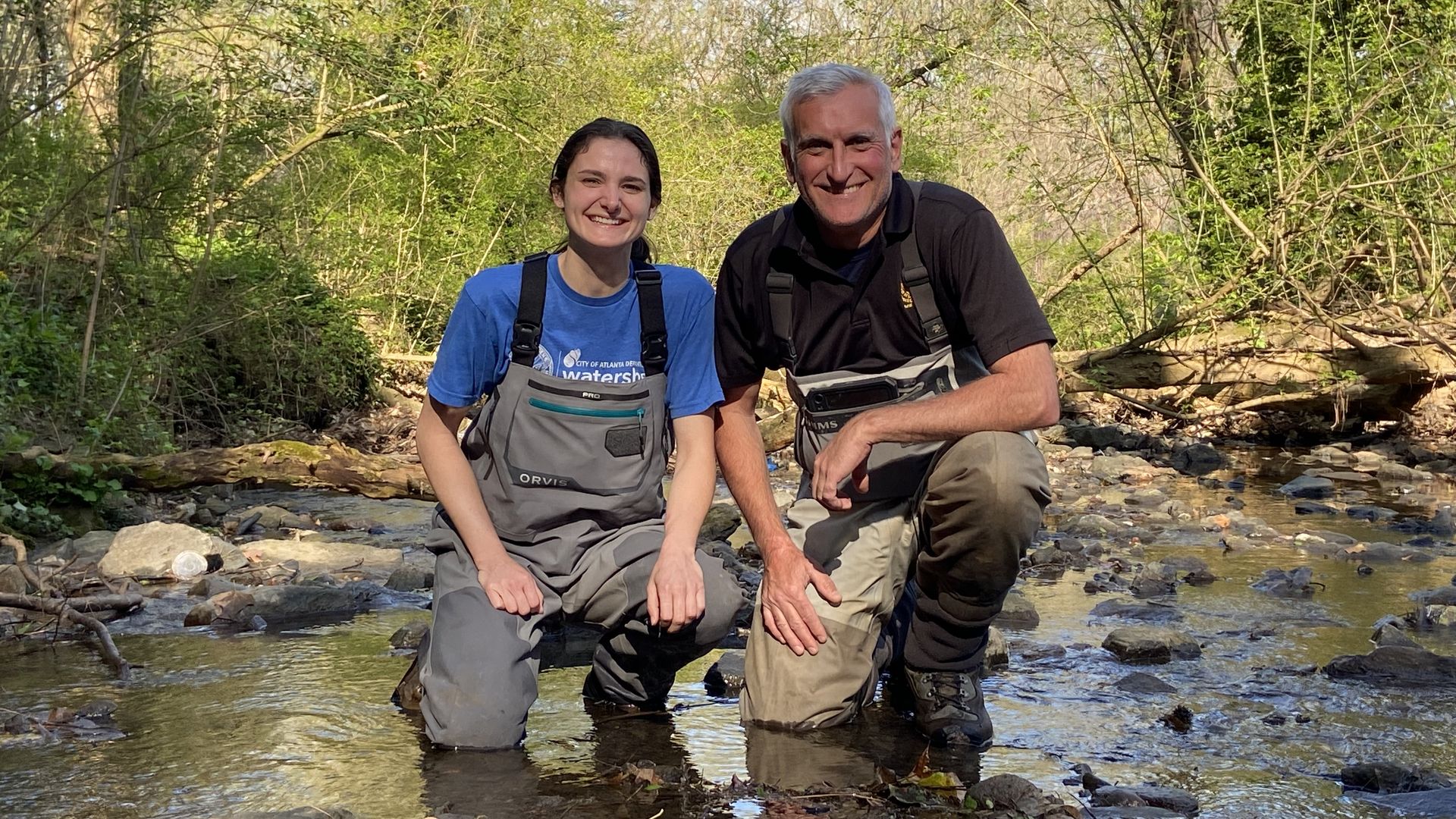 If a sewage line cracks near Nancy Creek, or a metal recycling company's mess is flowing into nature's waterways, expect the city's Stream Team to be on the case.
Why it matters: Atlanta's roughly 225-mile stream network is under constant bombardment from stormwater sliding off roads and rooftops and pollution from industrial and other sources.
Creeks and streams lead to rivers. One way to keep the Chattahoochee clean is to keep the smaller waterways — major corridors for wildlife like deer, beavers, coyotes, otters and others — clean and thriving.
What's happening: Throughout the week, Robert Thomson and Tessa Winbigler slip on waders and wet boots and trudge and prickly holly bushes, downed trees and mosquito clouds along the way to monitor the waterways and report potential violations.
Over one year they'll cover 45 miles of streams.
The Atlanta Department of Watershed Management employees recently knocked west Atlanta's Proctor Creek off their list. They're currently walking and kayaking Peachtree Creek.
Intrigue: The team's work helped eco-advocates and researchers link a polluted creek in far southeast Atlanta to TAV Holdings, a metal-recycling plant, and prompt the U.S. Environmental Protection Agency to take action.
Among the strangest things they've come across: cars, a homemade mini landfill behind someone's house, a blind beaver that swam alongside the crew and lots of suitcases, wallets and purses ostensibly dumped by thieves.
Their favorite creeks: Winbigler, who joined the team six months ago and is a rock climber, loves Peachtree for its large picnic-ready boulders scattered along the banks.
Thomson, a quick-witted Australian who's hiked every watershed twice over his 10 years on the Stream Team, is a fan of Utoy Creek's relative remoteness and trees.
How it started: The city created the division roughly 10 years ago to better monitor areas between bridges and "sewer outfalls" — pipes where storm drains lead to creeks — to spot runoff from construction sites, erosion and trash.
"The only way to do it is you gotta be in the creek and walk. Because everything flows into the creek," Thomson told Axios.
When not walking streams, the team fires up the city's jet boat and patrols the Chattahoochee River for spills and trash.
Thomson plans to restart his drone flights to survey areas during rainy spells when the team must stay out of high-rising and fast-moving creeks.
What they're saying: "The streams are everything," Thomson said. "I think they get overlooked. Everyone's worried about living up there and carrying on their life, but they don't realize the impact of water quality."
"We're laying eyes on things that I think otherwise people would have no idea is down here," said Joseph Rigdon, a city ecologist who oversees the team.
Of note: There's no Bat Signal yet. If you see something amiss in your favorite creek, alert 311 to dispatch the stream team.
More Atlanta stories
No stories could be found
Get a free daily digest of the most important news in your backyard with Axios Atlanta.