Where are the statues of women at the Georgia Capitol?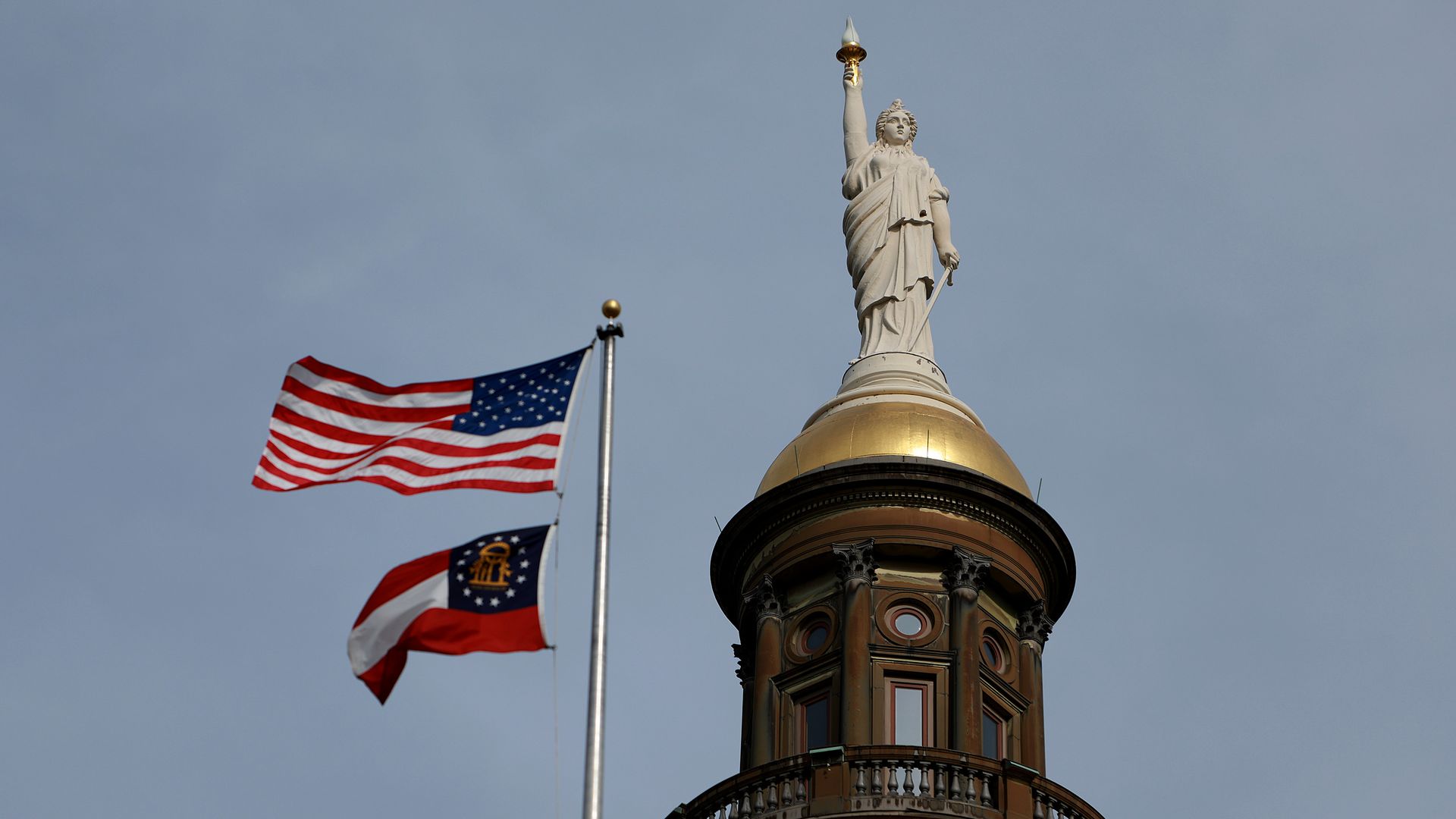 Arguably the most prominent statue at the Georgia Capitol is "Miss Freedom" who sits atop the cupola. But she's not a real woman — rather a 19th-century stock statue.
In reality, in a state Capitol adorned with roughly 130 portraits, statues and busts of Georgia historical figures, just 13 are of real women.
Why it matters: More than half of Georgia's population is female. About one-third of elected state lawmakers are women this year.
State of play: Of the 13 statues, only one is a full-body statue — of Elizabeth Brown, the wife of Civil War-era Gov. Joseph E. Brown with her husband.
Three of the eight portraits on display are also of Georgia first ladies with their husbands.
Just two of the 13 are Black.
"There's this huge deficit [of women] in the building that represents the history of the state," Georgia State University historian and author of a history of the Capitol Timothy Crimmins told Axios.
What's happening: Other women at the Capitol include a fountain featuring Mary Latimer McLendon, a women's suffrage leader (albeit only for white women) and busts of Girl Scouts founder Juliette Gordon Low, author Margaret Mitchell and Moina Belle Michael, who came up with the idea of selling poppies on behalf of World War I veterans.
All statues and busts are of white women.
Of the eight women in portraits, only two are Black: Grace Towns Hamilton, the first Black woman elected to the state legislature and Lucy Craft Laney, who founded the first school for Black children in Augusta in 1883.
How it works: Crimmins said adding portraits and statues is a matter of political will and raising money. Both the governor and the legislature can alter the collection, though governors automatically get portraits when they leave office.
For example, former Gov. Jimmy Carter established a commission in 1973 to select the first portraits of Black Georgians added to the building, including of Martin Luther King, Jr. and Lucy Craft Laney.
But statues, Crimmins said, are more difficult, in part because they're more expensive. It took lawmakers 20 years to get a statue of King added to the Capitol grounds in 2017.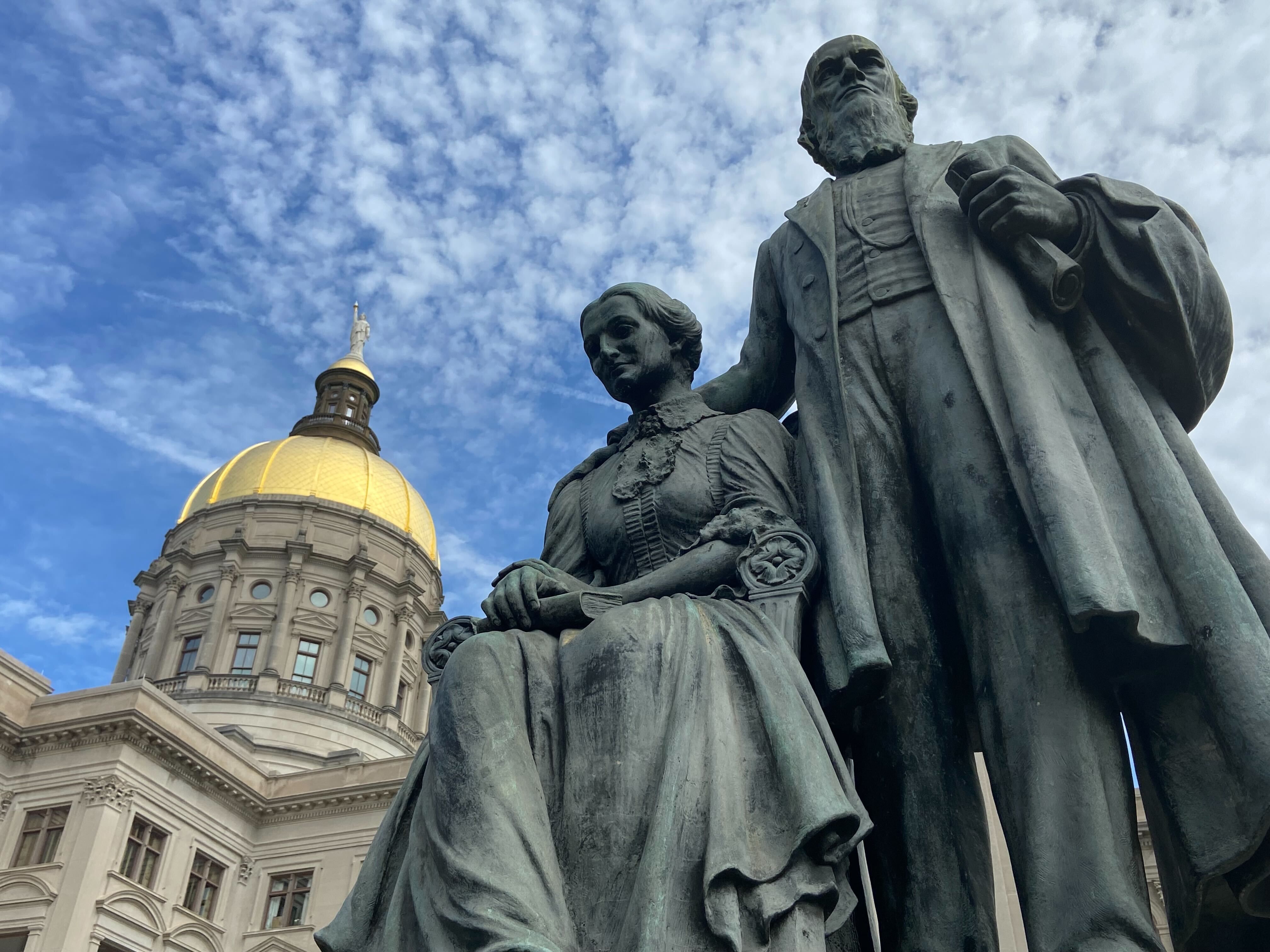 Flashback: A portrait of Robert E. Lee hangs prominently in the Capitol because former Gov. Roy Barnes hoped doing so might appease the Sons of Confederate Veterans who protested his decision in the early 2000s to push to remove a Confederate emblem from the state flag, Crimmins said.
The latest: The most recent push for a new statue on Capitol grounds has been for one of Supreme Court Justice Clarence Thomas by Republicans.
Between the lines: Just as with Black Georgians in the past, "The sparsity of statues and portraits of women in a political building is representative of their lack of political clout" historically, Crimmins said. A women's bathroom near the legislative chambers, for example, was only added in the 1970s.
As Georgia women's political influence increases, he said — for example, if a woman is elected governor of Georgia— their representation in the Capitol should also increase.
Threat level: The Capitol grounds are already full of statues, Crimmins said. And the removal of any statue is difficult.
A 2019 GOP-backed law mandated that if a monument is moved, it must be relocated to "a site of similar prominence, honor, visibility, and access."
More Atlanta stories
No stories could be found
Get a free daily digest of the most important news in your backyard with Axios Atlanta.