Reynoldstown housing for homeless meets pushback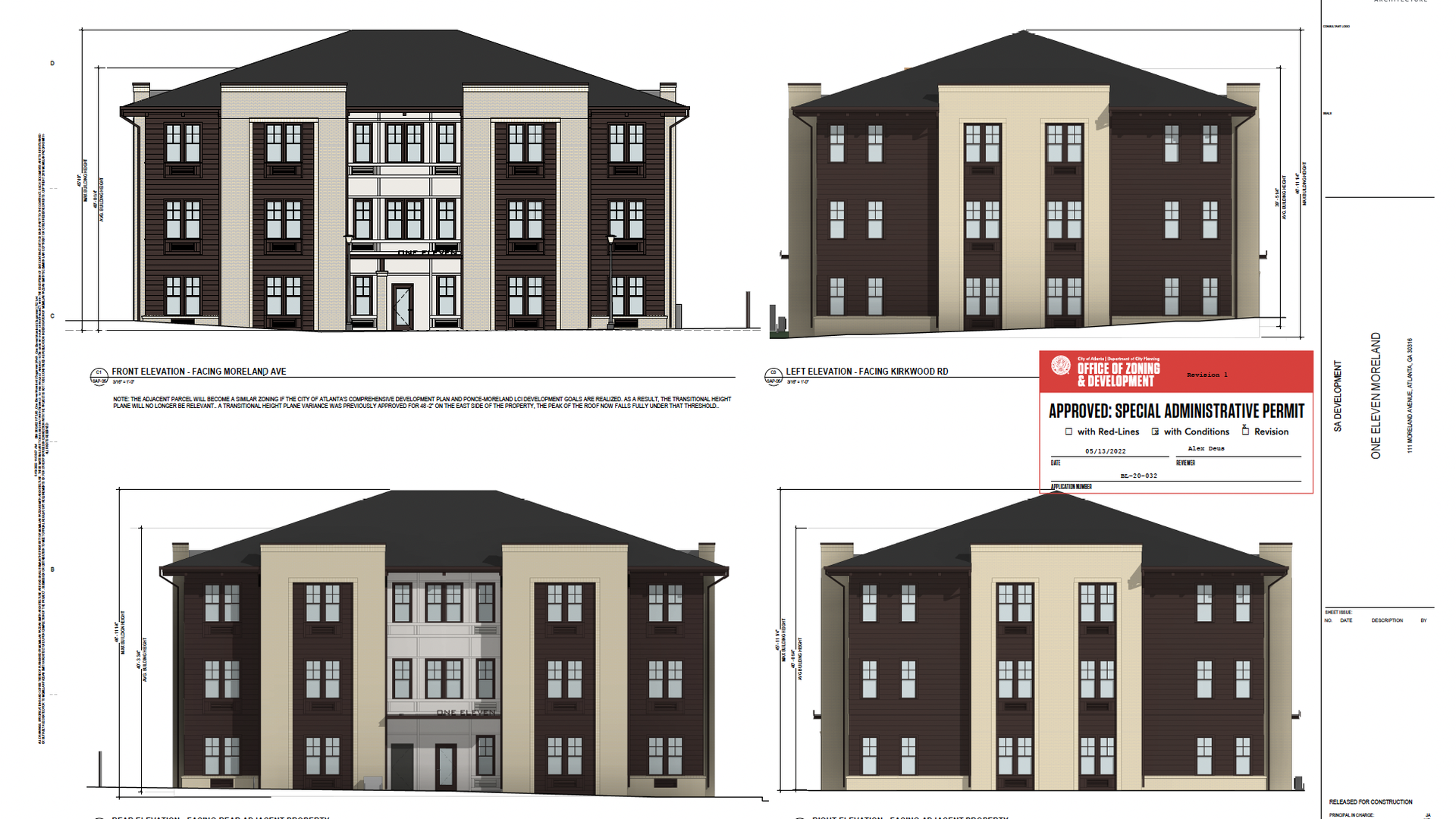 A developer's plan to build permanent supportive housing in Reynoldstown for people transitioning out of homelessness is facing pushback from neighbors over concerns about parking, traffic and the project's design.
Why it matters: The battle raging more than a year over the three-story development planned for 111 Moreland is a "future of Atlanta" trifecta: cries of NIMBYism, questions about how Atlanta can reduce homelessness and wake-up calls about the city's growing pains.
Details: Stryant, the local developer behind projects like Academy Lofts in Adair Park, wants to build 42 1-bedroom units for a person making roughly $12,000 a year. Atlanta Housing, the city's housing authority, will cover some of the tenant's rent.
The roughly 280 square-foot units would each have a bathroom and kitchenette. Each floor would have a common kitchen and an open studio or shared space on the top floor.
The project would have proximity to MARTA, medical services, grocery stores and jobs and include on-site staff and wraparound services, the developer says.
Of note: Stan Sugarman, the co-founder of Stryant, says the team has cobbled together funding and aid from local, federal and nonprofit sources — some of which consider community support when making decisions, hence Sugarman's ongoing talks with residents.
The other side: At a Reynoldstown Civic Improvement League meeting on March 2, residents said Stryant kept tweaking its plans over the years (the developer told Axios they regularly updated the community).
They say the proposal would pack too many people in units that were too small in a building with too little parking on property without enough outdoor common space — all on a highly congested road.
"I don't think anyone here is against affordable housing," said one neighbor. "That location is not built for it. The street is not set up for that."
Yes, but: Cathryn Vassell of Partners for Home, the nonprofit that will place tenants at the PSH facility, said at Thursday's Regional Housing Forum that residents elsewhere have shown support for small numbers of affordable supportive housing units.
Without mentioning 111 Moreland by name, Vassell noted that when residents see 40 units proposed for people leaving homelessness, they make arguments "cloaked in increased traffic, concerns of safety, stating that brand new housing for homeless people is not dignified."
"We know what the real issues are," she said. "We use that word all the time — NIMBYism — but I don't think we take it to heart when it comes to our neighborhood. How do we stand [up to that] and how do we respond?
Catch up quick: Part of the disagreement stems from the property's history. In 2019, RCIL supported a different developer's plan to build a 4-story condo building with 20 units at 111 Moreland.
The plan fizzled and the developer sold the land to Stryant, which has the OK under current zoning to build even bigger if it wanted.
What they're saying: Residents reject the argument that NIMBYism was behind their opposition, saying they've been supportive of other affordable housing developments in the neighborhood.
What's next: The RCIL is scheduled to give its thumbs up or down at a meeting Monday.
More Atlanta stories
No stories could be found
Get a free daily digest of the most important news in your backyard with Axios Atlanta.