Rising temperatures will affect which trees thrive in Georgia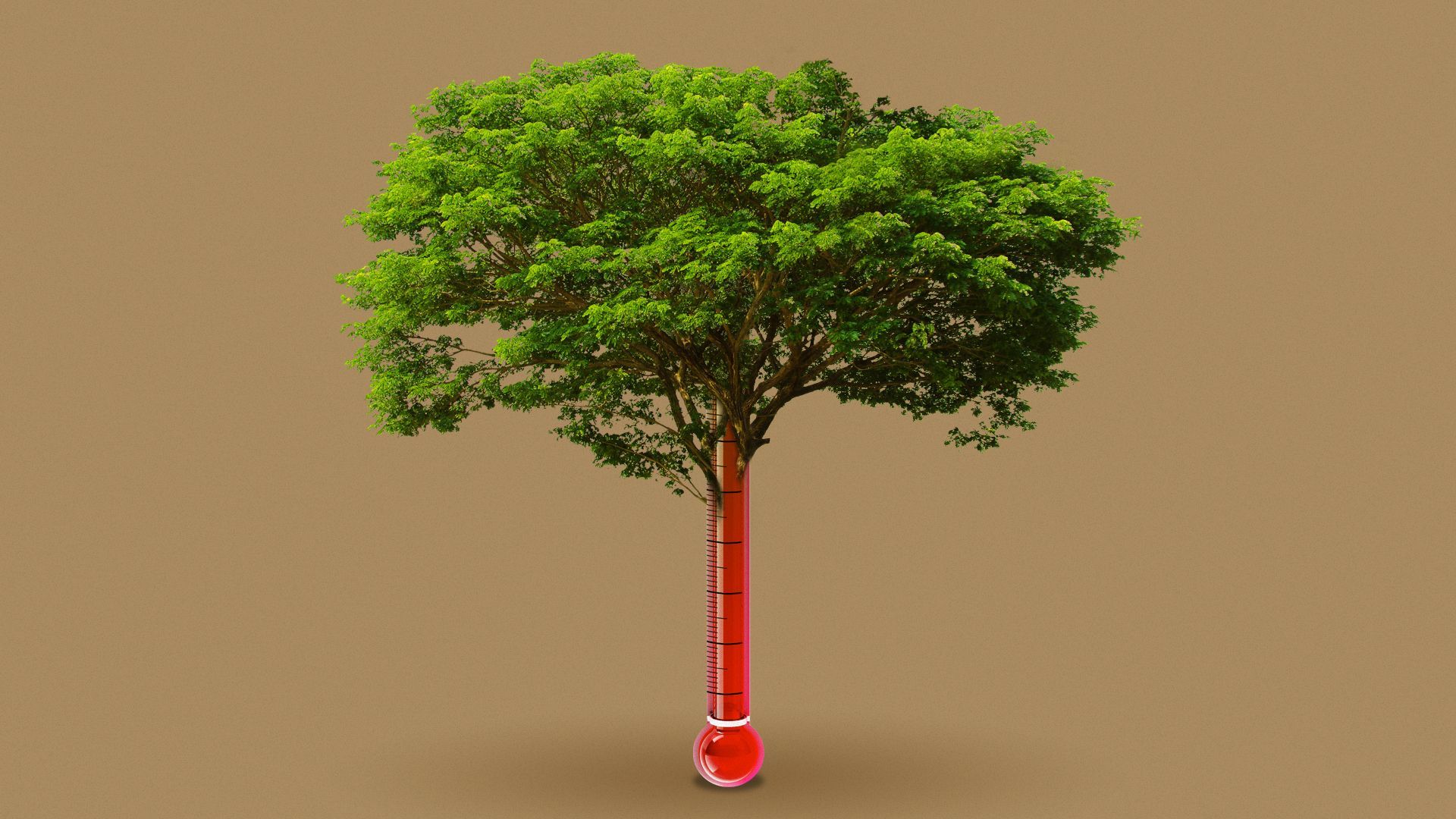 Climate change could make it harder for trees native to Georgia to thrive over the next few decades.
Threat level: A new map using data climate predictions from the U.S. Forest Service shows all "hardiness zones" are getting warmer, meaning the trees that have historically done well in Georgia may not thrive in the future.
Hardiness zones measure a plant's tolerance to cold. Plants that can withstand colder temperatures have greater hardiness.
The map shows that overall, the region will likely transition from USDA Zones 8a to 8b by 2040.
What they're saying: "We're not only dealing with climate change," Greg Levine, Trees Atlanta's co-executive director, told Axios. "Erratic weather patterns that result in 70-degree days in February could cause some trees and plants to produce new bulbs early."
When temperatures plunge back to freezing and damage that new growth, the tree will have to use more energy to produce new buds, which Levine said weakens the tree.
Extreme weather events, such as torrential downpours and higher winds, can also result in wetter soil, which leads to trees easily falling over during a storm.
"A lot of people don't notice vegetation changing because if you see green, it doesn't matter," he said.
Yes, and: This doesn't just affect trees. If we begin losing Hemlock trees in Georgia, that could also affect the animals and other insects who rely on those trees for food and shelter.
"They don't migrate quickly enough to reestablish those ecosystems," he said.
What's happening: In addition to retaining native trees that grow in the Piedmont region of Georgia, Levine said Trees Atlanta is also trying to plant cultivars — or cuttings — of Southern genotype trees that grow in hotter places such as Florida and find other American native plants that could be compatible with our wildlife.
The bottom line: "We're not moving fast enough to deal with the issue," Levine told Axios.
While much attention has been paid to catastrophic weather events like major flooding, snowfall and cold temperatures, the five-degree temperature change gets little discussion.
"The gradual temperature change that will literally change our entire ecosystem does not get the attention that these bigger weather components get," he said. "It's kind of silent and most deadly, to be honest."
More Atlanta stories
No stories could be found
Get a free daily digest of the most important news in your backyard with Axios Atlanta.