An early look at Kemp's second-term agenda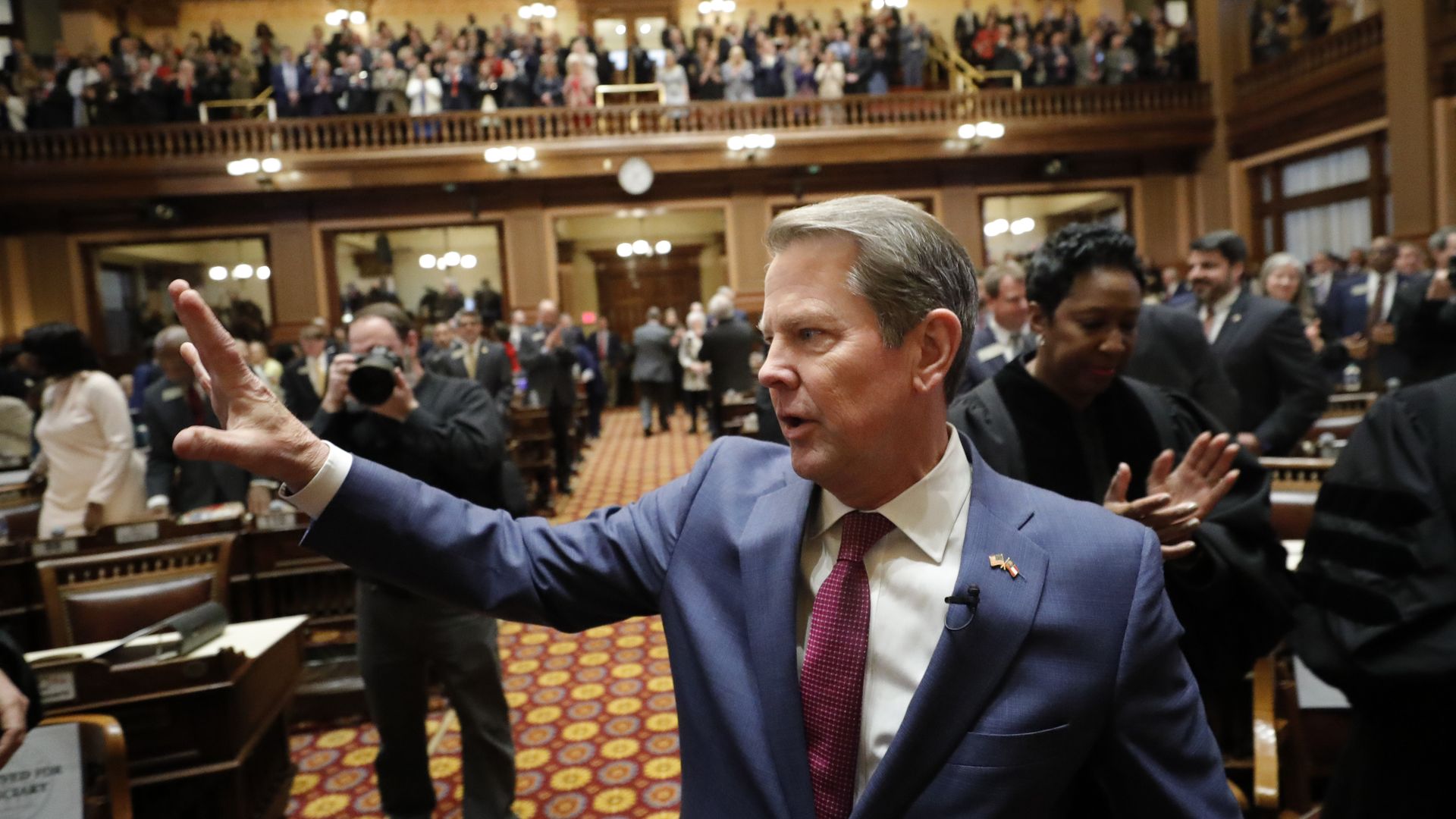 This year, Gov. Brian Kemp is suddenly the most experienced leader at the state Capitol. He's fresh off a resounding victory and a record-high approval rating.
Why it matters: As lobbyists and lawmakers get to know a new Lt. Gov. Burt Jones and new House Speaker Jon Burns, Kemp is the familiar face with an experienced policy team — and therefore an agenda to pay attention to.
Driving the news: Kemp laid out 2023 priorities focused on crime, health care, education and economic development in his State of the State address Wednesday.
What we're watching:
Economic development: As Kemp highlighted, the state has landed four of its biggest economic development projects ever recently, which will bring more than 20,000 new jobs to rural Georgia.
But companies like Hyundai and Rivian need people to fill those jobs — and those workers need places to live. Kemp reiterated his plan to launch a rural workforce housing fund to try to speed up local permitting.
Health care: Kemp made clear that he still has no interest in "one size fits none" health care, or Medicaid expansion — a key Democratic priority with some Republican support. He instead touted the anticipated benefits of his own Medicaid waivers.
One program will allow for a limited increase in Medicaid eligibility with a work requirement — called Georgia Pathways. It survived a court challenge and is set to launch in July with $52 million allocated to help it get there, Kemp said.
Education: The governor again highlighted his proposal to fund the HOPE scholarship at 100% again, after the program took a hit during the Great Recession.
He repeated his plan to give state employees, including teachers, a $2,000 pay raise after the $5,000 raise they received during his first term.
"No other General Assembly or governor will have raised teacher pay by so much, so quickly, in state history," he said.
Crime: Kemp and other Republican leaders are making clear crime will continue to be a priority this session. Kemp's plans include adding penalties on gang recruitment, bail reform to address "the revolving door of criminal justice," and more anti-human trafficking legislation — a longtime priority of Georgia's First Lady Marty Kemp.
The biggest applause response came from the line: "Here in Georgia, we'll always back the blue!"
The other side: In a press conference, Democratic leaders laid out their wish list of legislation and attacked some of Kemp's. Democratic proposals include a $15 minimum wage, a $10,000 pay raise for state employees, codification of abortion rights and gun control — all of which are unlikely to pass in a GOP-controlled Capitol.
House Minority Leader James Beverly (D-Macon) accused Kemp of being "fiscally irresponsible" for not expanding Medicaid.
While State Rep. Sam Park (D-Lawrenceville) voiced bipartisan support for efforts to back law enforcement, he warned: "We must be very cautious not to over criminalize our communities," and said ensuring "police accountability" was also important.
The bottom line: Almost just as significant as what is in Kemp's agenda, is what is not. Notably, any mention of abortion, runoff reform proposals and Buckhead cityhood.
More Atlanta stories
No stories could be found
Get a free daily digest of the most important news in your backyard with Axios Atlanta.