Georgia's rejected vanity license plates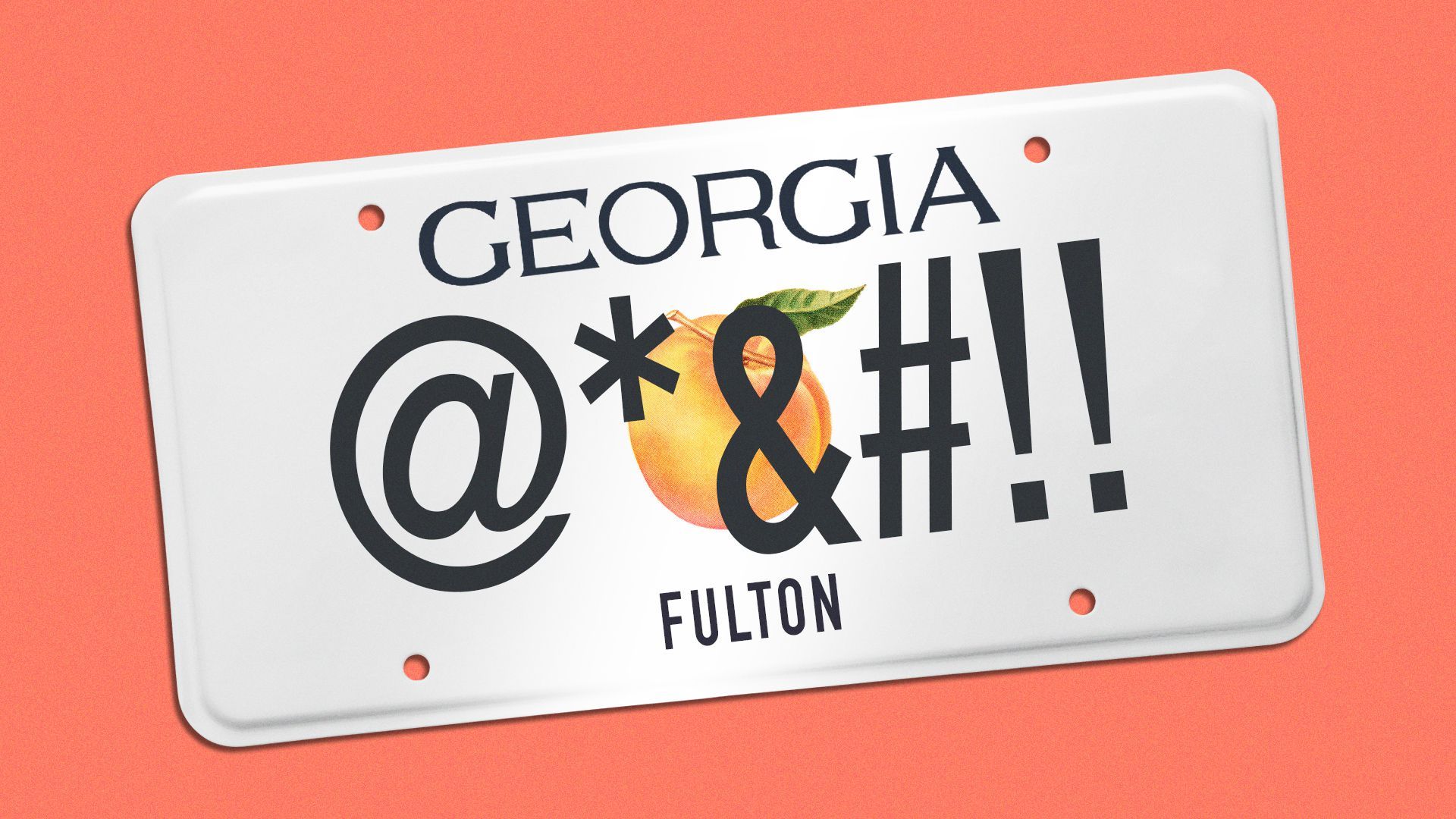 Every year, the Georgia Department of Revenue rejects hundreds of applications for vanity license plates. Let's see what did not pass go this past year.
Why it matters: Vanity tags are an under-appreciated opportunity for people to express themselves in the most soul-sucking of places: Georgia gridlock.
But license plates aren't invitations to offend. We live in a society, folks.
Catch up quick: The department of revenue, the state agency in charge of issuing automobile registration and license plates, maintains a list of verboten words and combinations of letters and numbers.
There's even an appeal process if your questionable vanity plate proposal gets blocked.
Applicants pay a one-time $35 manufacturing fee, an annual $20 registration fee and an annual $35 special tag fee.
Driving the news: Axios requested a list of the vanity license plate applications that didn't pass muster with the revenue department.
Flashback: During the pandemic, we saw a significant number of applications for plates related to COVID, fictitious characters and lots of hate this and hate that.
Details: This year? There was a lot of UGA pride. Here's a sampling of the applications that hit a brick wall.
School Spirit: UGA3318, 101DAWG, THEMDGZ, DAAWGZ, DAWG101, BULLD09, CRTIDE, AL1BAMA, DAW5GS, DWG4LYF, G8TR24, G0C0UGS, 7GADAWG, SMN0LE, SICKEM, 4EVRRTR, RTRBAMA
Make License Plates Great Again: FJBIDEN, TRUPW0N, TR1MP, TRUMP5, FJB1DEN, FB1D3N, 45MAGR8
Watch your mouth: IMTHATB, 0HHSHH, S1DCHK, SH1TSH0, B1ATCH, TREESOM, N00FICR, B1CHPLZ, M0V3BIH, B055BIH
U OK?: MURDER1, MANKLLR, K1LLA72, KILLNME, IH8PPL, DGENRIT, GRUMP69, VNG3NCE, NKBRKER, 976EVIL, BULLETS
The AF Club: HLTHYAF, THICAF, 5LOWAF, SL00AF, RICHAF, FANCIAF, FLYYAF, RICHASF, HEAVYAF, MEANAF, WEIRDAF, B4DAF, 50BERAF, EVILAF, M3ANAF
Higher power: 1YAHWEH, N0G0D, ILUVG0D, THXG0D4, MUSLIM, LUCFER, S4T4N4S
Just plain high: SM0KED1, R0ZAYE, 0GTR1PY, XKST8SY, 0VERD0S, MRG4NJA, HENNSSY, NUGZ, U5EGRN, P0WDA66
More Atlanta stories
No stories could be found
Get a free daily digest of the most important news in your backyard with Axios Atlanta.