Fly like a pro at the Atlanta airport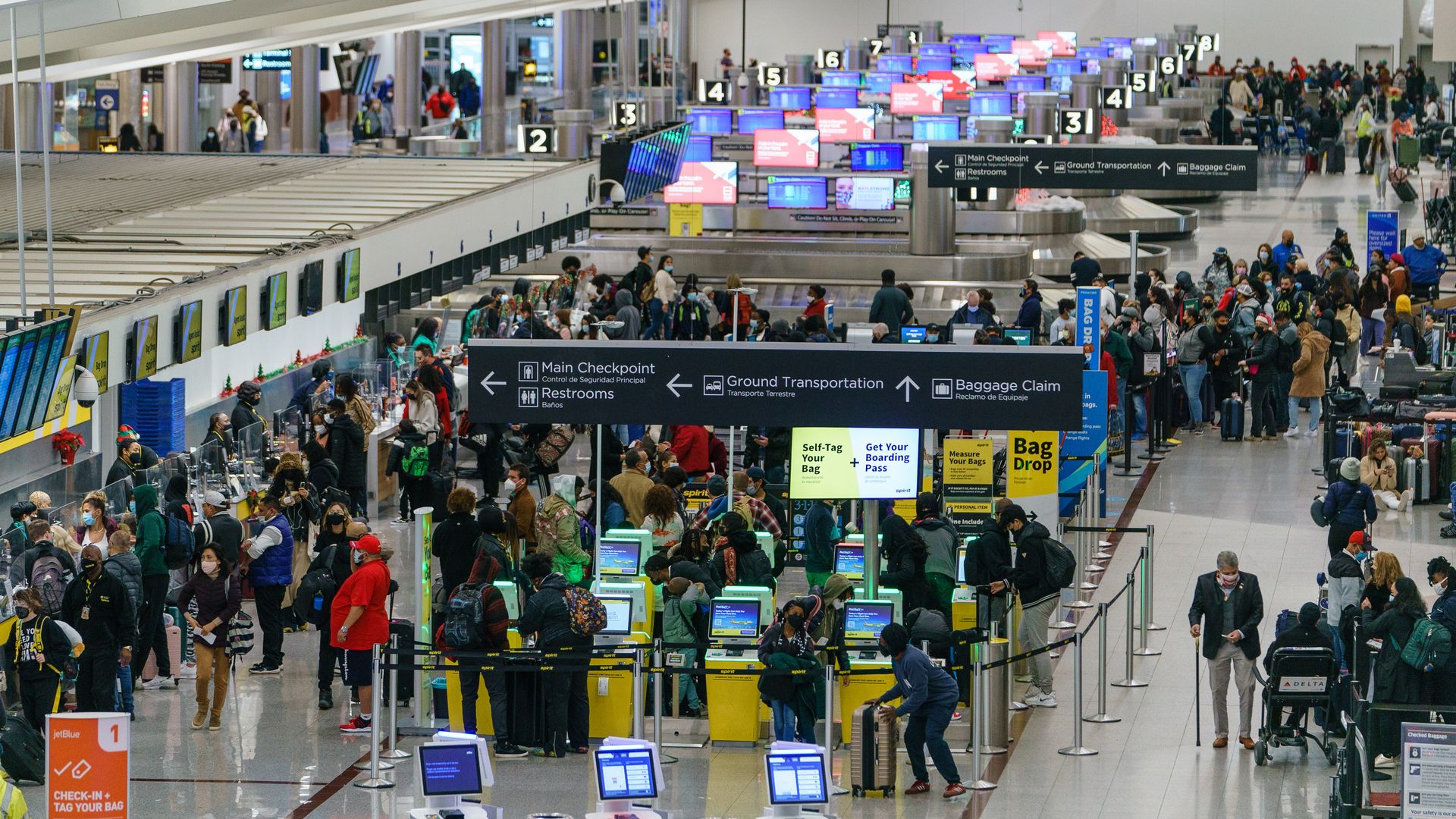 Having the world's busiest airport in our backyard is a tremendous advantage most times.
But sometimes all those extra people — an estimated 275,000 passengers pass through every day — can get in the way.
Driving the news: We wanted to help you navigate the crowds. So we asked some of Atlanta's savviest travelers for their hacks.
Arrival tips:
"Always do departure drop off on the lower level…always." — Gabriel Sterling, COO, Georgia Secretary of State's office
"Take MARTA and leave your gun at home." — Mayor Andre Dickens
Emma's thought bubble: Even if you don't live right by a MARTA station, park near one and hop on. Definitely among the most convenient airport metro connections in the country.
"Always check ATL.com for security wait times." - Mary Waters, deputy economic development commissioner for international trade.
"The new West parking deck is surprisingly easy and fast. Red and green lights tell you which spaces are open, making it faster than hourly or daily parking in the South Terminal. Plus, it's less packed." - Howard Franklin, president and CEO of Ohio River South
"Immediately put your name on the Gold parking list" - Ryan Wilson, CEO of the Gathering Spot.
"Get to the Airport TWO AND A HALF hours early. That's it. That's the quote." – Jan Lennon, ATL Deputy General Manager/Operations
Security tips:
"If there are long wait lines at domestic, go through security at the international terminal. It's most efficient if you're in D, E or F gates." - Ryan Wilson
Be smart: This is easiest if you're not checking a bag.
"Using Clear or Global Entry can really save time, and using the Facial Recognition line is almost always faster." - Economic Development Commissioner Pat Wilson
"PreCheck by T-gates usually has a shorter security line." - Mary Waters
Waiting tips
"If you like to arrive at the airport early and have the time, walk between the concourses. The exhibits are gems."
And: "If you have time to kill, in Terminal D, Chris 'Ludacris' Bridges' restaurant Chicken + Beer is delicious, and it's only available at Hartsfield-Jackson." - Mary Waters
In addition, says Fay Twersky of the Arthur M. Blank Family Foundation, walking from terminal to terminal allows you to bypass the trains, which are usually packed.
ATL has the second-highest number of pet relief areas in an American airport, one on every concourse. It also has two outdoor dog parks!
Departure tips
"Never check a bag when you can help it! Keep calm and carry on. For domestic flights, get dropped off at door 1 on South terminal and use the checkpoint directly to its right." – Duriya Farooqui, board director at NYSE, ICE and IHG
A final note from Emma: Take a real, live taxi. Yes they still exist. And there's never a line. They're so much more efficient to hop into and generally about the same cost as an Uber.
The bottom line: Strategy is key. Come prepared.
More Atlanta stories
No stories could be found
Get a free daily digest of the most important news in your backyard with Axios Atlanta.