City Council gives second look to committees after newspaper call-out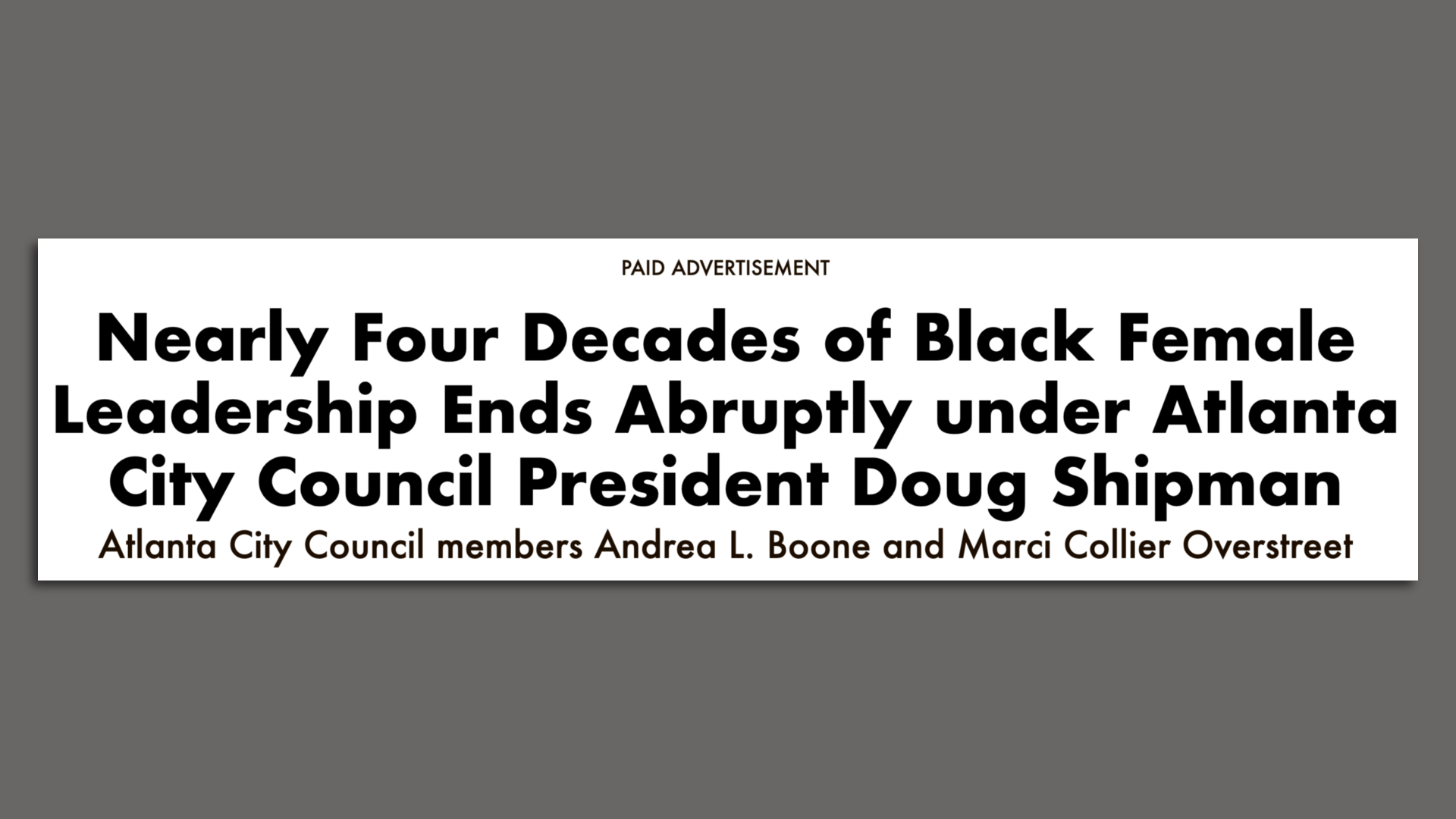 Two Atlanta City Council members' protest over the lack of representation of Black women in leadership positions at City Hall — delivered via a paid ad in the daily newspaper — turned what's normally a mundane process into a flashpoint about diversity.
Catch up quick: In the Jan. 1 edition of the AJC, Council members Marci Collier Overstreet and Andrea Boone placed an ad criticizing Council President Doug Shipman, who is white, for breaking four decades of tradition and not appointing any Black women to lead legislative committees in the predominantly Black city.
The seven committees oversee transportation, public safety, the water and sewer system and other issues that affect the daily lives of Atlanta residents, workers and visitors.
The ad rippled through the city, with leaders of the Georgia NAACP branch and activists calling on Shipman to revisit his picks.
What's happening: Tuesday, in what he called an effort to make the council more responsive to all residents, Shipman said Overstreet, a Black council member who represents the far southwest corner of the city, would stay on as zoning chair, the position she's held since January 2022.
Shipman's initial pick, Council member Matt Westmoreland, would instead stay on as a committee member.
What they're saying: "The people of Atlanta have spoken about their desire for diversity, fairness, and justice," Overstreet and Boone in the ad. "We recommend that President Shipman hear their voices and understand that public officials hold a sacred trust that has been paid for by the blood of our ancestors."
The other side: In an email to council members explaining his picks after learning that the ad would be published the following day, Shipman said Boone and Overstreet never reached out with their concerns after he'd followed up with council members about their committee assignments.
"Balancing representation, preferences and experiences doesn't allow for every member to get all of their preferred appointments every year."
Zoom in: Eight of the 15-member legislative body are Black. Shipman picked two Black men to lead committees. His other newly appointed committee chairs include a non-binary queer Muslim person, a gay Asian American man, and an Iranian American man.
Unlike committees in the General Assembly, chairs of Atlanta city council committees can't use their authority to hold or block legislation.
What's next: Members of the public both expressed disappointment about Shipman's selections and, in the case of the Georgia NAACP 1st vice president Tequeria Barrett, thanked him for changing course and Overstreet and Boone for their activism.
More Atlanta stories
No stories could be found
Get a free daily digest of the most important news in your backyard with Axios Atlanta.