Gwinnett County lawmakers clash over local governance structure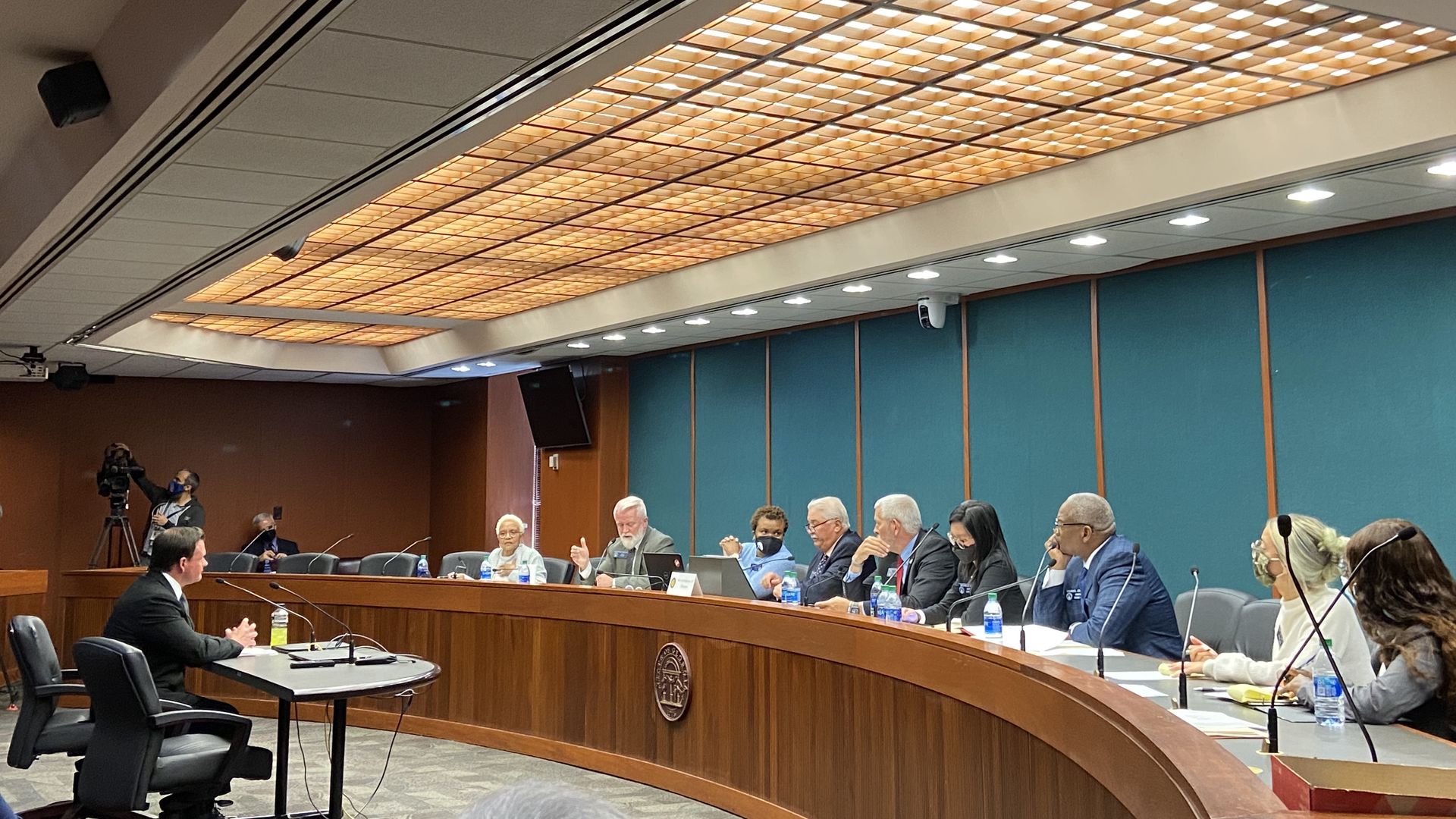 Republicans in the Georgia General Assembly are trying to pass two bills that would dramatically change Gwinnett County's local governance structure without any Democratic support. That's despite the fact that Democrats control nearly three-fourths of Gwinnett County's seats in the General Assembly.
What happened: Republican State Sen. Clint Dixon, one of six senators representing Gwinnett County, introduced two bills Monday without consulting Gwinnett Democrats. By Thursday both had passed out of a GOP-controlled committee.
The first will redraw the county's Board of Education districts and reconstitute the board as nonpartisan, because Dixon said his constituents are concerned about the school board's direction.
The second will add five additional seats to the Gwinnett County Board of Commission due to population growth and limit the chairperson to only a tie-breaking vote.
The big picture: Gwinnett County, the most diverse county in the state, has seen seismic demographic and political change recently. In 2017 Republicans held a majority of Gwinnett's General Assembly seats. Now 72% of the Gwinnett delegation is Democratic.
In the last year Gwinnett County has seen its first Black County Commission chair and Board of Education chairs elected, both of whom testified against the bills.
Pushback: Democratic State Rep. Jasmine Clark made clear what she thought of these bills at a Wednesday committee meeting.
"I find it very hard to believe that this is not an attack on people of color in Gwinnett County when we ram these things through without giving even the diverse members of the delegation an opportunity to have some type of input," she said. "Black people running the Board of Education and the Board of Commissioners does not constitute an emergency, just because certain people don't like it."
Republican State Rep. Chuck Efstration, also of Gwinnett County, said it's "unfair, unfounded and despicable to make extreme allegations that are completely untrue. And those folks making those allegations know they're untrue. And that's what's so unfortunate about it."
Of note:
Bill sponsor Dixon said "nonpartisan elections would be a step in the right direction to take politics out of our school system in Gwinnett. It has become very polarized in the county. Some of the proposed curriculum is [critical race theory]."
Democratic State Sen. Emanuel Jones said that white people are the biggest racial voting group in a majority of the newly proposed county commission districts. Four of today's five Gwinnett county commissioners are Black.
Pichaya Poy Winichakul, an attorney with the Southern Poverty Law Center testified that the new district lines could dilute minority representation and violate the Voting Rights Act.
The intrigue: Normally, "local bills" related to local issues are vetted among representatives from that area before being presented to the whole state House or state Senate.
Democrats say they were not consulted about these bills. The Gwinnett Board of Education chair said his board also hadn't been consulted.
Republicans argue this is an idea that's been debated before, in a stalled 2017 push to expand the commission. Democrats reject the comparison because back then, both parties were allowed input.
Democratic State Rep. Donna McLeod called this a "power grab" by Republicans, who have control of all committees and majorities in both chambers of the State Capitol.
State of play: Republicans passed both bills through a Senate committee along party lines. Still a long way to go before either could become law.
More Atlanta stories
No stories could be found
Get a free daily digest of the most important news in your backyard with Axios Atlanta.