Why a Perdue-Kemp primary would be unprecedented in Georgia politics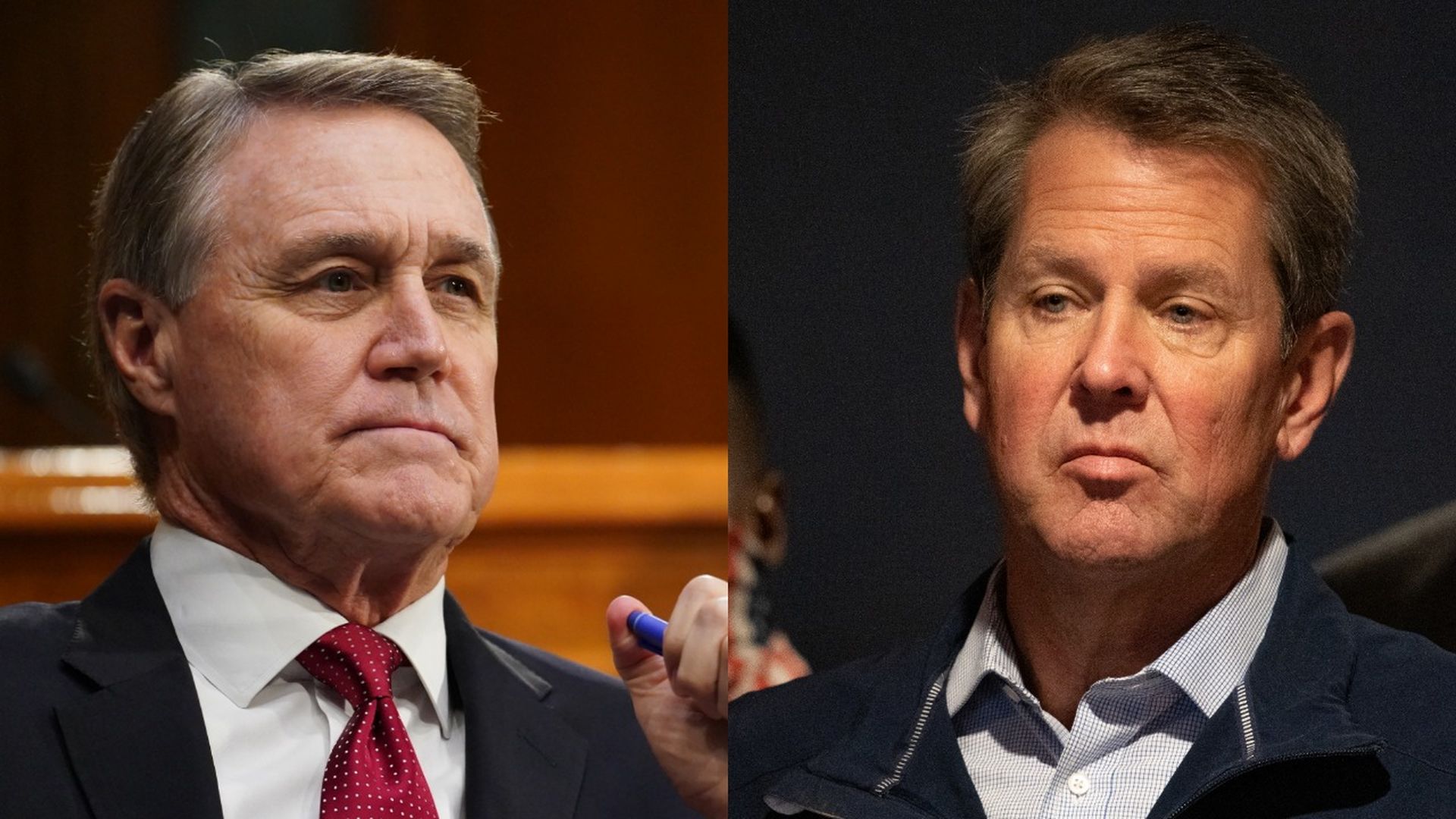 It's been more than a week since the Atlanta Journal-Constitution first reported that former Republican Sen. David Perdue is considering what many would have thought inconsiderable: a primary challenge to incumbent Gov. Brian Kemp.
Why it matters, from Republican strategist Brian Robinson: "We have not in modern history had an incumbent governor face a major challenger in a primary."
"They have had challengers but not major ones. ... This would be a distinct departure from that tradition. And it would provide the best test case to Trump's ongoing influence with the primary electorate."
And what would this hypothetical primary look like? "Scorched earth."
The big questions: While Perdue still hasn't made his intentions known himself, it is clear that the prospect has Republicans in Georgia divided.
Would it spell a bloody primary and a Republican loss in November?
Or would Perdue be the best candidate to turn out the most Republican voters, given his popularity with former President Trump?
One take, from a Kemp ally who spoke on condition of anonymity: "A Perdue primary campaign against the most conservative governor in the history of our state would be one enormous, ego-driven in-kind contribution to Stacey Abrams' campaign for governor."
"This war would drag down every other Republican on the ticket and destroy everything Georgia Republicans have built over the last 20 years."
The argument for Perdue, from Atlanta attorney Randy Evans, who served as ambassador to Luxembourg under Trump: "If you're going to win in a very tight race where you need a Republican to turn out, you need a nominee to turn out every Republican voter, including Trump voters."
He thinks Republican Glenn Youngkin's victory in Virginia's gubernatorial race this week increases the likelihood of a Perdue campaign.
Flashback: University of Georgia political scientist Charles Bullock suggests there could be some historical precedent in the 1980 Georgia Senate race, when Democratic infighting handed Republicans a surprise victory.
"That has been what's opened the door for Republican upsets of Democrats in Georgia in the past. It wasn't so much that the Republicans won because they had a brilliant candidate or a brilliant campaign. It was because the Democrats screwed up, fighting amongst themselves."
More Atlanta stories
No stories could be found
Get a free daily digest of the most important news in your backyard with Axios Atlanta.