DIY powerhouse Eyedrum puts down roots near West End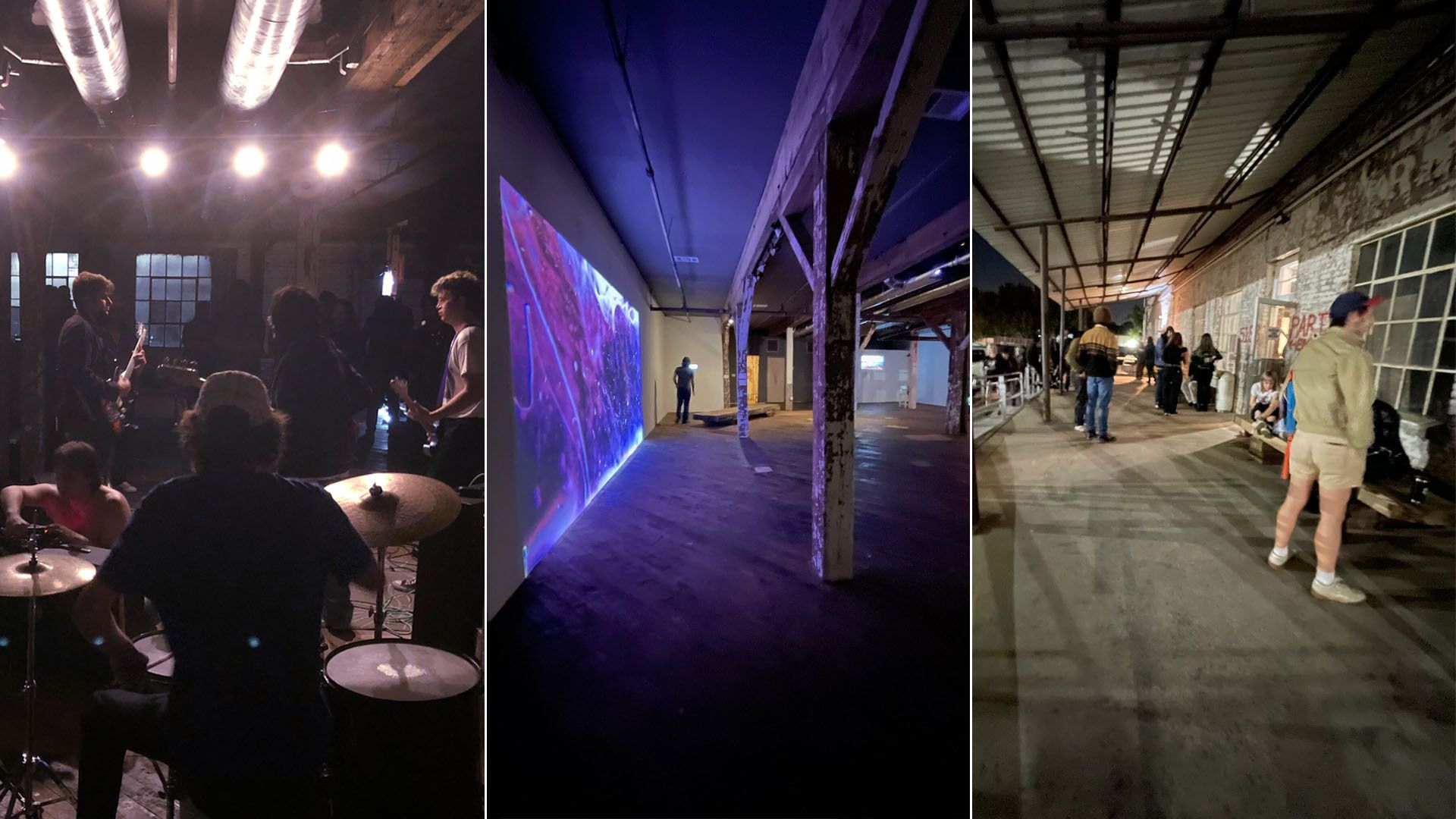 Noise rock. Performance art. Semiprofessional wrestling matches in the middle of a white-wall gallery.
Over its nearly 25-year existence, Eyedrum, the volunteer-run DIY arts space, gallery and venue, has introduced countless Atlantans to countless genres.
After leaving its most recent space in South Downtown in 2018 and opting to produce events in established spaces, Eyedrum has a new home near West End, and a packed calendar of events ranging from soul-soothing to eardrum-shattering.
Why it matters: Spaces like Eyedrum are a bridge between experimental arts and the masses, giving sculptors, painters, musicians, writers — everyone — an opportunity to share their work.
The loss of spaces like Mammal Gallery, the Bakery, Beep Beep and other spaces have only underscored the need for DIY spaces to keep Atlanta's arts community vibrant — and frankly, interesting.
Located in a mixed-use warehouse, the 3,000 square-foot renovated space can accommodate events like the experimental open mic night Kirkwood Ballers Club and includes opportunities for outdoor performances.
History lesson: Founded in 1998 by painter Woody Cornwell and journalist Marshall Avett, the arts space originally known as Silver Ceiling has hopscotched in and around Downtown over the decades. It has been a refuge and springboard for experimental acts like Oneida, Don Caballero and DJ Cut Chemist.
Now, Eyedrum veterans, including Deisha Oliver, Grace Kim, and Will Lawless join forces with arts organizers like Willow Goldstein, the co-founder of The Bakery.
The group plans to launch a capital campaign to purchase a permanent home by 2028, the nonprofit's 30th anniversary, ArtsATL reports.
On exhibit: Ego Te Absolvo, a collection of video and sound installations curated by Atlanta artist Kirstin Mitchell that explores "tenderness, presence, healing, and the parasympathetic nervous system."
Presented in a minimalist gallery setting, the show features video works by artists including Meredith Kooi, Shana Robbins and Bjorn Veno.
This weekend: As part of ELEVATE, Eyedrum is presenting Sensuary, a three-day event that kicks off tonight with an outdoor dance party with DJ Taradactyl and live music by Gage Gilmore and video projection by Alberto Roman. On Saturday night, cellist Deisha Oliver and film composer and music professor Tom Hiel will partner for an improv performance.
On Sunday afternoon, the space will host a sound meditation among the video works of Ego Te Absolvo and "outdoor music experience" produced by Roman.
On Nov. 6, the space will host the 7-inch release party for Atlanta punk band Upchuck.
More Atlanta stories
No stories could be found
Get a free daily digest of the most important news in your backyard with Axios Atlanta.