Scoop: Georgia's Raffensperger calls for bipartisan election reform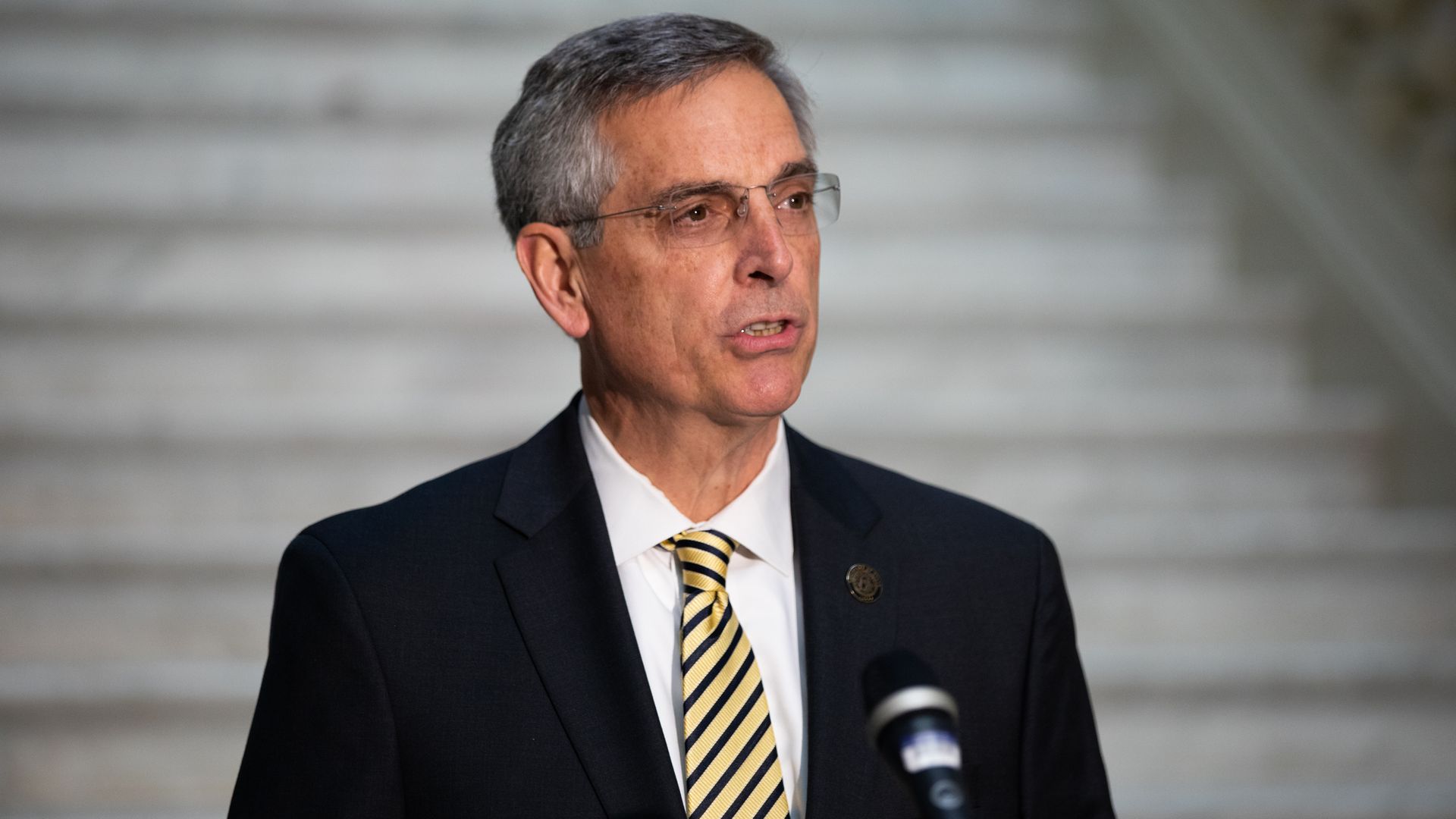 Georgia's Republican Secretary of State Brad Raffensperger told Axios that it's time for a bipartisan commission on federal election reform, like the one co-chaired by former Democratic President Jimmy Carter and former Republican Secretary of State James Baker in 2005.
Why it matters: Raffensperger refused former President Donald Trump's request last year to "find" the votes to overturn Georgia's election results and defended the state's 2020 vote count from members of his own party.
"Let them really work on it, do a lot of public policy debates, take a year or two but get it right. I think it's been now 16 years since the last report. We're probably ready for another one," he told Axios.
State of play: Georgia's top election official has found himself in something of a political no-man's land.
He's lost the support of many in his own party, and Trump endorsed one of his primary opponents, Rep. Jody Hice. At one point he was more popular with Democrats than Republicans.
Hice is one of the most prominent Georgia politicians perpetuating Trump's "stolen election" narrative.
Worth noting: Raffensperger's call for a bipartisan commission comes after he criticized H.R. 4, a Democratic federal voting reform proposal, as full of "liberal wish list" items.
"Instead of writing an omnibus voting bill, why don't they focus in on what we do agree on? Then we could go ahead and work on something like that," he said.
Yes, but: Raffensperger vocally supported Georgia's S.B. 202, the Republican-led voting law that is one of the state measures that spurred Democratic efforts to intervene at the federal level.
In case the politics aren't confusing enough, S.B. 202 also replaced Raffensperger on the State Election Board with someone appointed by the General Assembly — all as apparent intraparty retribution after 2020.
He called that "short-sighted thinking that could end up really hurting Georgians."
"Before, there was direct accountability. If [voters] didn't like the decisions that the State Election Board made, then they could hold me accountable. Now who do they hold accountable? 180 state representatives, and 56 state senators. It gets so diffused that everyone's pointing fingers at each other. There's no accountability," he added.
His bottom line: Raffensperger said even if the warring GOP factions manage to unify before next year's midterm elections, the party is "not at 50%" in Georgia.
"We really have to look at not just playing nice in the sandbox with our own folks, but how do we grow our sandbox bigger, and get more people to come join us?"
"And the way to do that is with a positive, uplifting, aspirational message that gives people real hope. Not that manipulative hope that so many politicians want to peddle."
More Atlanta stories
No stories could be found
Get a free daily digest of the most important news in your backyard with Axios Atlanta.