What to expect from MARTA's bus rapid transit line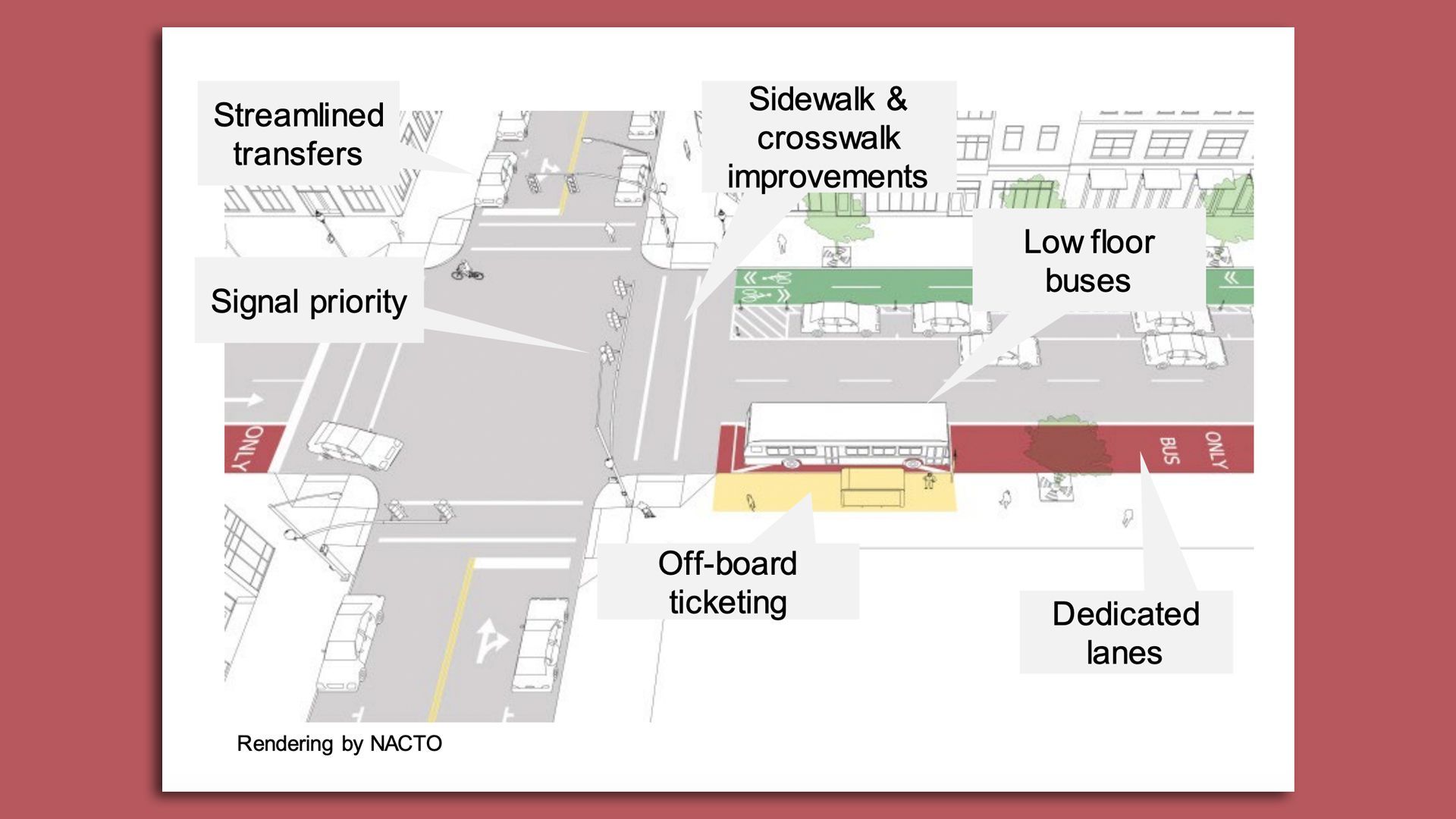 Late next year, MARTA will break ground on one of the most important projects the transportation agency will build in the coming decades: a $61.5 million bus rapid transit line connecting South Downtown to the southern arc of the Beltline, and all the neighborhoods, restaurants, and shops in between.
Why it matters: The so-called Summerhill BRT is metro Atlanta's first foray into bus rapid transit, MARTA says. Think of them as extra special buses that run in dedicated lanes and free of car traffic.
Done right, BRT can help move passengers just as efficiently as — and cheaper than — rail. And the 4.8-mile round-trip route will serve as a model for future BRT projects in other parts of Atlanta where light rail or a streetcar aren't justified.
Details: For 85% of the route, buses will travel in a painted-red, dedicated lane, stopping at 16 raised platforms with covered seating and monitors listing real-time arrivals.
A big bonus: The buses will be able to trigger traffic signals at 28 intersections, guaranteeing a smoother and faster ride from start to finish.
MARTA is working with city and Beltline officials to make sure pedestrians (including students coming and going from Carver High School) can safely cross the railroad tracks at McDonough Boulevard, plus an appropriate connection with the Beltline.
Respect the lane: MARTA plans to launch a public-education campaign to prevent the BRT lane from becoming another lane for cars like the "bus only" lane on the 17th Street Bridge at Atlantic Station.
Traffic cameras could also crack down on motorists driving in the dedicated lane but would require a change in state law. No word on whether MARTA will lobby for that option.
Flashback: In 2018, MARTA and the city won a $12.6 million federal grant to help build a BRT route from Midtown's Art Center station to Summerhill that ended at Georgia State's Center Parc Stadium (formerly known as Turner Field).
The transit agency subsequently changed the route to serve Downtown and the southern segment of the Beltline partly because MARTA's heavy rail line served much of the previous route.
What they're saying: The project isn't perfect, Matthew Rao of Beltline Rail Now tells Axios, but the BRT route is a "great first step" to create a larger transit network by linking the Beltline and MARTA.
Kip Dunlap of urbanism advocacy group Thread ATL agrees, but says the key to overcoming bus stigma in the city — a very real thing — is to demonstrate how buses can be "fast, efficient, desirable."
Considering that the southern terminus at the Beltline isn't a job center or heavy residential area, Dunlap says, he wonders if ridership will prove that case.
More Atlanta stories
No stories could be found
Get a free daily digest of the most important news in your backyard with Axios Atlanta.