Former first lady Rosalynn Carter dies at 96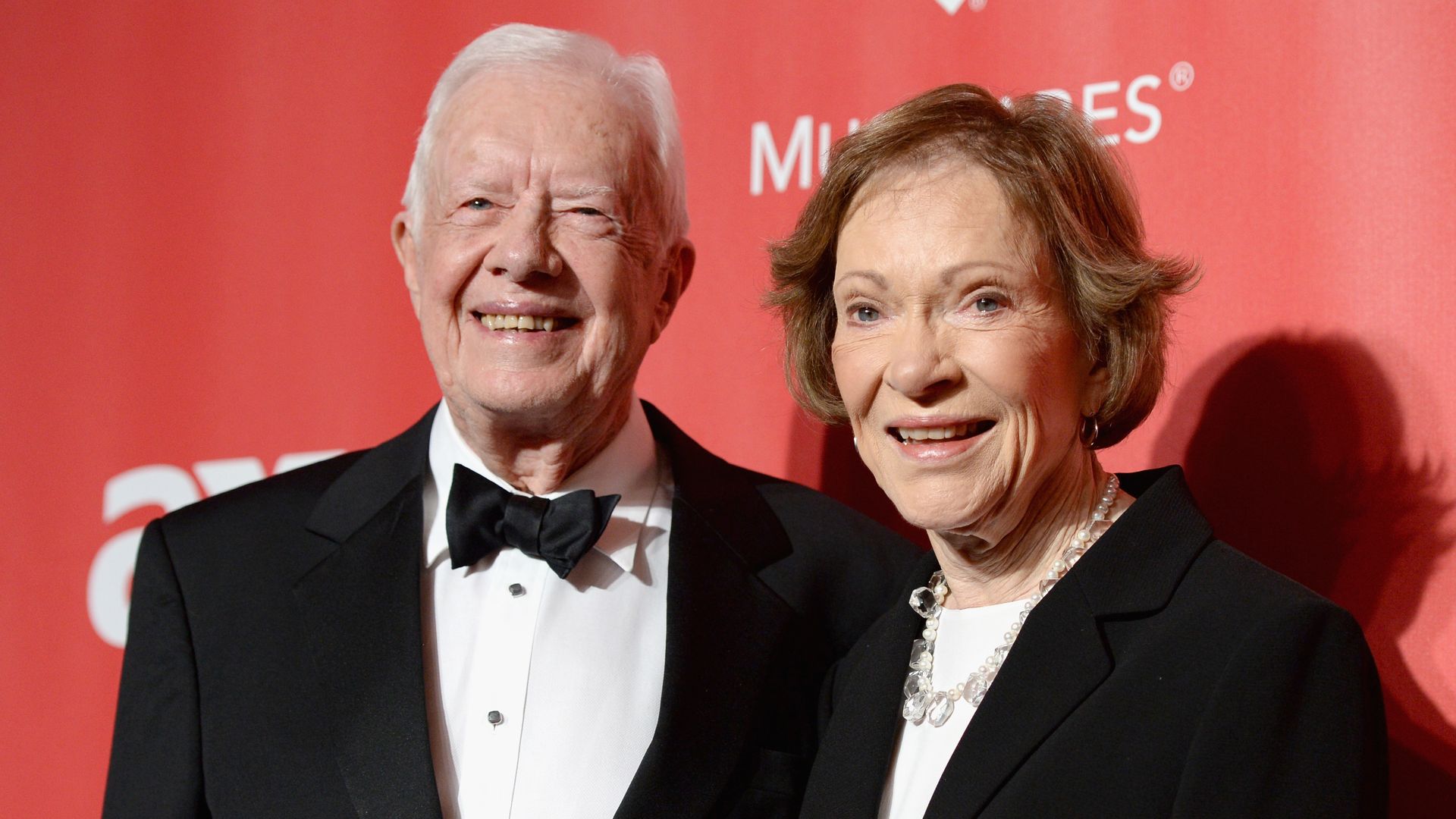 Former first lady Rosalynn Carter died on Sunday afternoon in Plains, Georgia, at 96 years old, per the Carter Center.
The big picture: An influential figure in the career of her husband, former President Jimmy Carter, Rosalynn paved her own legacy, championing mental health and participating in policymaking as a trailblazing "full partner."
"Rosalynn was my equal partner in everything I ever accomplished," former President Carter, who himself entered hospice in February, said in a statement Sunday.
"She gave me wise guidance and encouragement when I needed it. As long as Rosalynn was in the world, I always knew somebody loved and supported me."
Rosalynn entered hospice care earlier this month, her grandson Jason Carter announced on Friday. She had been diagnosed with dementia in May.
What they're saying: President Biden and first lady Jill Biden in a Sunday evening statement remembered Rosalynn Carter for "inspiring a nation and the world" as she did "so much to address many of society's greatest needs."
Jill Biden spoke during a meeting with service members and their families at a naval station in Norfolk, Virginia earlier in the evening of how Rosalynn Carter "was well known for her efforts on mental health and caregiving and women's rights."
Zoom in: The longest-married American presidential couple tied the knot in 1946 in their small hometown of Plains, Georgia, after knowing each other almost their whole lives. (In fact, Jimmy Carter's mother, who was a nurse, helped deliver baby Rosalynn.)
Carter called marrying Rosalynn "the best thing I ever did."
The couple returned to Plains after leaving the White House and remained based there ever since — in the same house they built in 1961.
A graduate of Georgia Southwestern College and valedictorian of her high school, Rosalynn ran the office of the family's peanut business.
She was a full-fledged campaigner throughout her husband's political life, often traveling solo as they crisscrossed his district when he ran for state senate, then all of Georgia, and later, the country.
While in the White House, she was known to sit in on cabinet meetings and was the original first lady to set up a policy office in the East Wing.
The Carters celebrated 75 years of marriage in July 2021 with a party that included 300 guests, such as Bill and Hillary Clinton, singer Garth Brooks and civil rights icon Andrew Young.
Zoom out: Rosalynn championed a number of causes throughout her life, including mental health policy reform, which she took up while serving as Georgia's first lady in the early 1970s.
In the White House, she became honorary chair of the President's Commission on Mental Health and was a major influence on the passage of the Mental Health Systems Act of 1980.
After leaving Washington, the husband and wife team founded the Atlanta-based Carter Center in 1982. The center houses Jimmy Carter's presidential library and an active, influential nonprofit focused on "waging peace, fighting disease and building hope."
The center has undertaken a broad range of global programs, including international conflict resolution, election monitoring, and campaigns to eradicate diseases such as river blindness and Guinea worm.
Of note: Rosalynn was a lifelong advocate for caregivers after helping her mother take care of her father, who was diagnosed with leukemia at 44, and her grandfather.
In 1987, she founded the Rosalynn Carter Institute for Caregivers at her alma mater to support the cause.
At the time she said, "There are only four kinds of people in this world: those who have been caregivers, those who are currently caregivers, those who will be caregivers and those who will need caregivers."
Along with her husband, Rosalynn received the Presidential Medal of Freedom in 1999. She was inducted into the National Women's Hall of Fame in 2001.
She wrote five books and enjoyed fly-fishing, bird-watching, and swimming, per the Carter Center.
Rosalynn is survived by her 99-year-old husband, their four children — Jack, Chip, Jeff, and Amy — and 11 grandchildren and 14 great-grandchildren, per the Carter Center.
The last word: Asked once how she would like to be remembered, per the Carter Center, Rosalynn said: "I would like for people to think that I took advantage of the opportunities I had and did the best I could."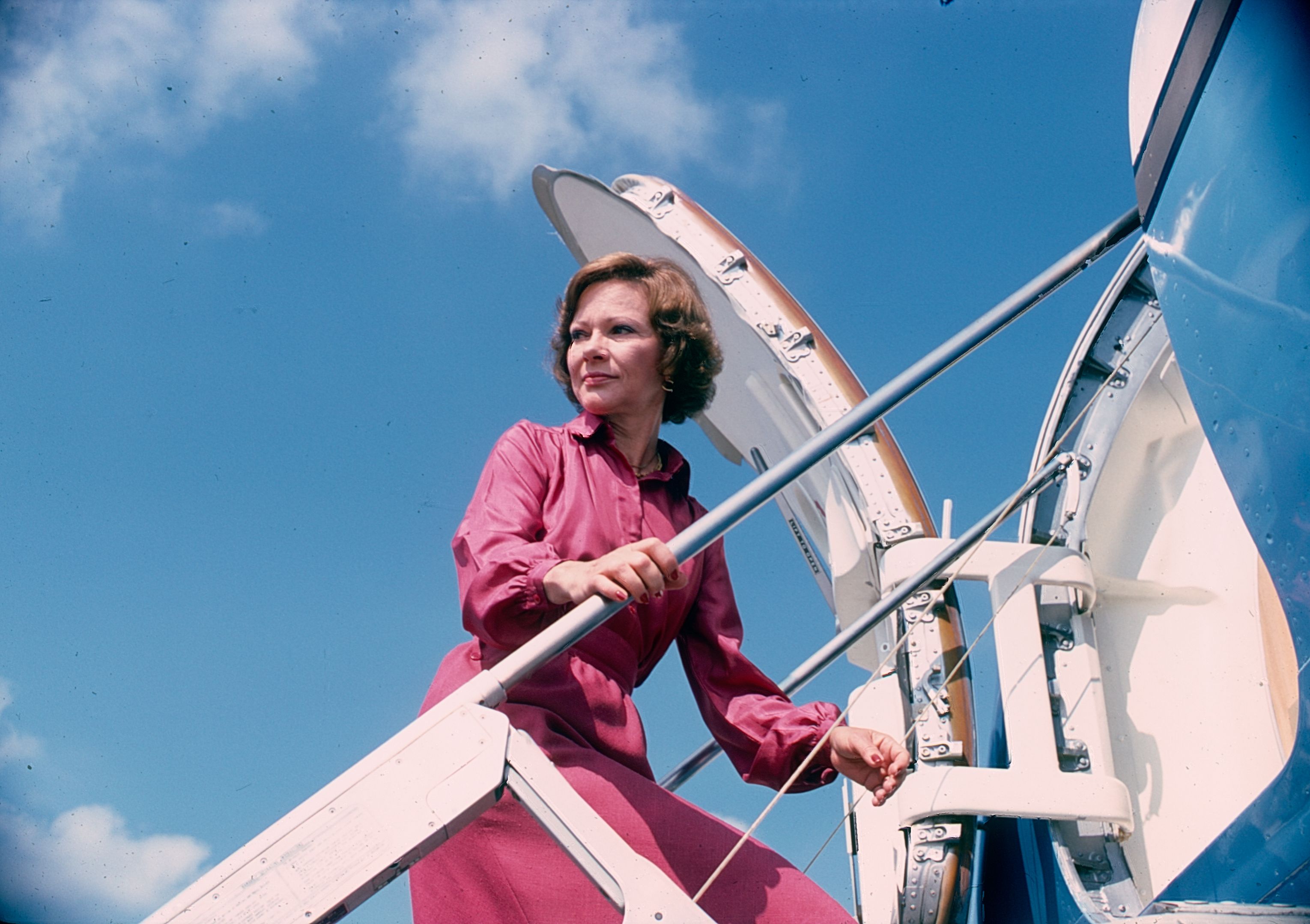 Editor's note: This article has been updated with comment from first lady Jill Biden and an excerpt from her statement with President Biden.
Go deeper