Christmas minus the tree: Health policy is gridlocked as Congress bolts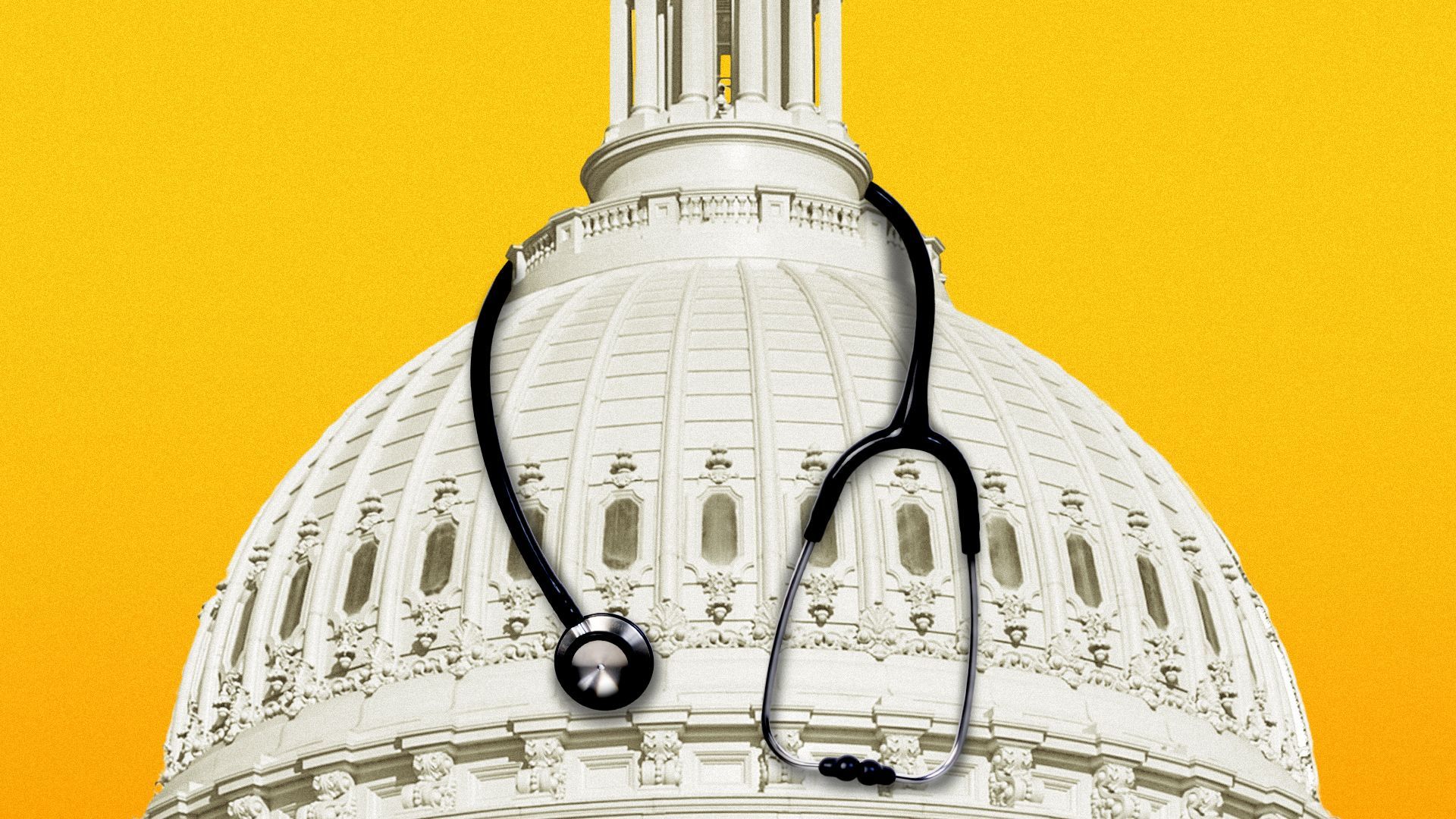 By punting their spending disputes past the holidays, House Republicans have put the kibosh on what's become an annual rite for health care interests: the year-end legislative grab bag sometimes known as the Christmas tree.
The big picture: It's the first December since 2012 without a critical funding deadline, Raymond James analyst Chris Meekins notes.
That's removed the incentive to strike a year-end grand bargain that could have settled ongoing debates over pharmacy benefit managers, insulin costs or how Medicare pays for outpatient care — and likely would have bestowed Yuletide favors like delays to scheduled Medicare provider cuts.
It's also left a very uncertain path for funding the federal health agencies. The spending bills for the Food and Drug Administration and Health and Human Services remain mired in disputes over abortion, gender-affirming care, vaccines and topline spending levels for next year.
"The constant chaos these days surrounding the budget leaves agencies in what feels like a perpetual state of uncertainty over what resources they will have to run and oversee government programs," said Larry Levitt, executive vice president for health policy at KFF.
"The fights over funding have effectively frozen legislating on health care issues, even where there have been opportunities for bipartisan cooperation," he said.
Where it stands: House Speaker Mike Johnson (R-La.) has ruled out moving forward with more temporary funding bills this Congress. But it's not clear that the House will be able to pass all 12 of its spending bills, and the Senate has passed just three. Appropriators remain divided on overall spending and allocations for individual bills.
Just a few things have been settled. The stopgap spending bill that Congress cleared this week delays for one year scheduled Medicare cuts to testing labs for diagnostic services that would have taken effect in January.
It also put off until mid-January billions of dollars in scheduled cuts to Medicaid disproportionate share hospital (DSH) payments that offset uncompensated care and are a recurring priority for health centers.
Lawmakers also extended some pandemic prepardness efforts into January after the Pandemic and All Hazards Preparedness Act authorization expired at the end of September.
It's a marked change from just a year ago, when lawmakers engaged on a burst of year-end dealmaking around an omnibus spending package that addressed telehealth flexibilities, Medicare physician payment cuts, FDA fast-track drug approvals and state redeterminations of Medicaid eligibility.
The intrigue: There's groundwork for similarly meaty legislation ahead, though the prospects still largely hinge on Congress finding a funding vehicle on which health policies can hitch a ride ahead of twin deadlines in January and February.
The Senate Finance Committee earlier this month unanimously advanced a broad health care package with prospective riders like Medicare fee increases for physicians and durable medical equipment.
There's also plenty of bipartisan interest in addressing PBMs and their role in drug pricing, and in site-neutral payment policies that would overhaul how Medicare pays hospitals and independent physicians for outpatient services.
But, but, but: None of these are likely to go anywhere unless Congress resolves its spending fights.
The battles that have consumed so much energy in the House in recent months are far from over — as we were reminded again this week when Republicans sank the rule for bringing their own Commerce-Justice-State spending bill to the floor over disputes within the conference.
Before leaving town, the House teed up floor debate for its spending package to fund HHS. But it includes controversial provisions that have drawn veto threats from the White House and won't fly in the Democrat-controlled Senate.
Those include eliminating Title X grants, which help fund family planning programs, along with deep spending cuts to HHS, the Centers for Disease Control and Prevention and the National Institutes of Health. The latest temporary funding bill covers HHS programs through Feb. 2.
The situation is similar for the Agriculture-FDA spending bill, which would, among other things, overturn the FDA's policy allowing the widely used abortion drug mifepristone to be sold by mail and at retail pharmacies. The stopgap bill extended FDA funding through Jan. 19.
Our thought bubble: There's a pretty narrow window to get anything done next year before infighting and election-year politics threaten to totally swamp the legislative process.
The question is if enough Democrats and Republicans find it in their interests to work together — and share credit — for what would likely shape up to be a package of modest reforms.
Victoria Knight and Peter Sullivan contributed.
Go deeper