What to know about No Labels and a possible third-party presidential ticket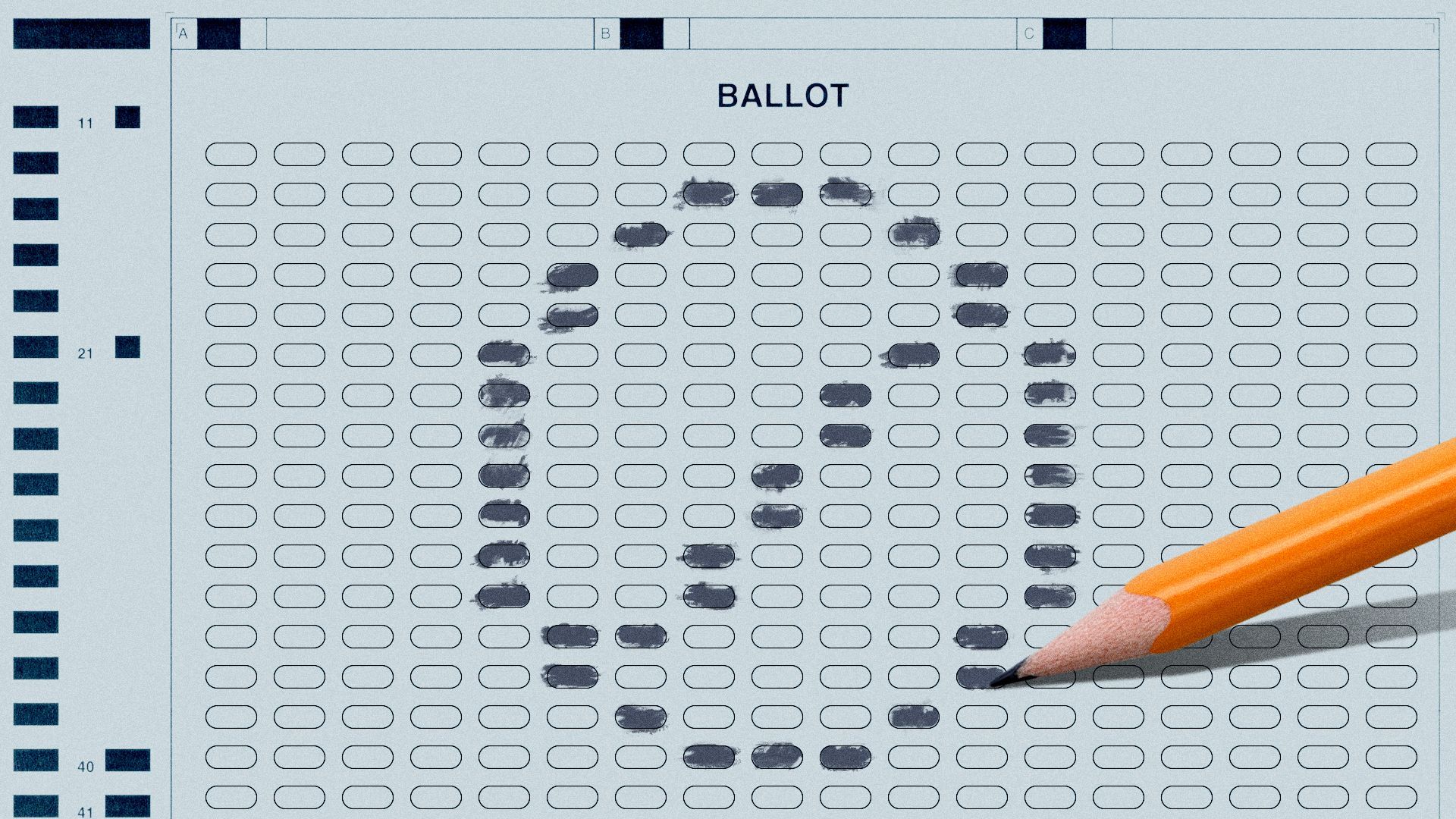 Centrist political organization No Labels is out to make a 2024 third-party presidential ticket a White House contender.
Why it matters: A viable third-party presidency is already an uphill battle, but qualifying in all 50 states would give any potential ticket a unique opportunity to siphon votes from the unpopular front-runners, President Biden or former President Trump.
Who is No Labels?
No Labels, established in 2009, calls itself "a unique American movement" dedicated to "the commonsense majority."
Leadership includes former Connecticut Sen. Joe Lieberman, and two former Republican governors — Larry Hogan of Maryland and Pat McCrory of North Carolina.
No Labels has already qualified for the ballot in 12 states — Alaska, Arizona, Arkansas, Colorado, Florida, Hawaii, Mississippi, Nevada, North Carolina, Oregon, South Dakota and Utah — and expects to be on the ballot in 16 others by the end of 2023.
"Americans want more choices rather than a repeat of the 2020 presidential race," Ben Chavis, the organization's national co-chairman told the Wall Street Journal in July.
The organization, which advocates for bipartisanship, argues that Democrats have moved too far to the ideological left, and Republicans have moved too far to the right.
The intrigue: No Labels is the most well-funded organization that might back a third-party election challenge.
How would No Labels back a presidential candidate?
If it backs a presidential candidate on an independent Unity Ticket, No Labels said it will not help fund or run the campaign.
The organization began a project in 2021 called the "insurance project," which includes collecting signatures across the country so that it has ballot access, should it decide to promote a candidate, its website said.
"We are only doing ballot access work for one office and for one election," the organization said.
What's next: No Labels said it would evaluate its ticket between Super Tuesday primary elections on March 5 and an April convention in Dallas.
Who would run on a third-party ticket?
Zoom in: No Labels prospective candidates have been floated in some political circles.
Sen. Joe Manchin (D.-W.Va.) said he's considering a bid for the White House, after announcing he won't run for re-election in the Senate. No Labels has said that the organization's beliefs align with his.
Hogan, a No Labels co-chair, released an ad earlier this month that some saw as an intent to run.
Andrew Yang, a 2020 Democratic presidential candidate, has had conversations with No Labels representatives, he told POLITICO. He didn't answer whether he's been approached specifically about running.
Yes, but: Hogan also said the group wouldn't move forward with a candidate who might jeopardize Biden's re-election.
No Labels said it would not promote a candidate who would disproportionately attract votes from Democrats or Republicans.
"An independent Unity Ticket would, by definition, appeal to the vast middle of the country and draw votes from across the political spectrum," its website said.
Worth noting: Some Democrats, as well as the White House, are concerned that launching a third-party ticket risks handing the election to Trump.
"I think that our democracy is at risk, and I think that No Labels is perilous to our democracy. I say that without any hesitation," Rep. Nancy Pelosi (D.- Calif.) said at an event in D.C.
One of the group's co-founders, William Galston, left the organization earlier this year over the same worries.
How do third-party candidates do in presidential elections?
Context: History has shown that third-party presidential candidates often "play the role of spoiler rather than a viable option," CNN reported.
Green Party and Libertarian candidates have rarely gotten more than 1% of the popular vote in presidential elections.
Flashback: Third-party candidates got more than 2% in the popular vote in 1968, 1980, 1992, 2000 and 2016.
In all of these elections, the party that controlled the White House then lost it.
Go deeper: Meet the spoilers: 5 candidates weighing third-party White House bids
Go deeper