Nikki Haley blasted for call to make social media "verified" by name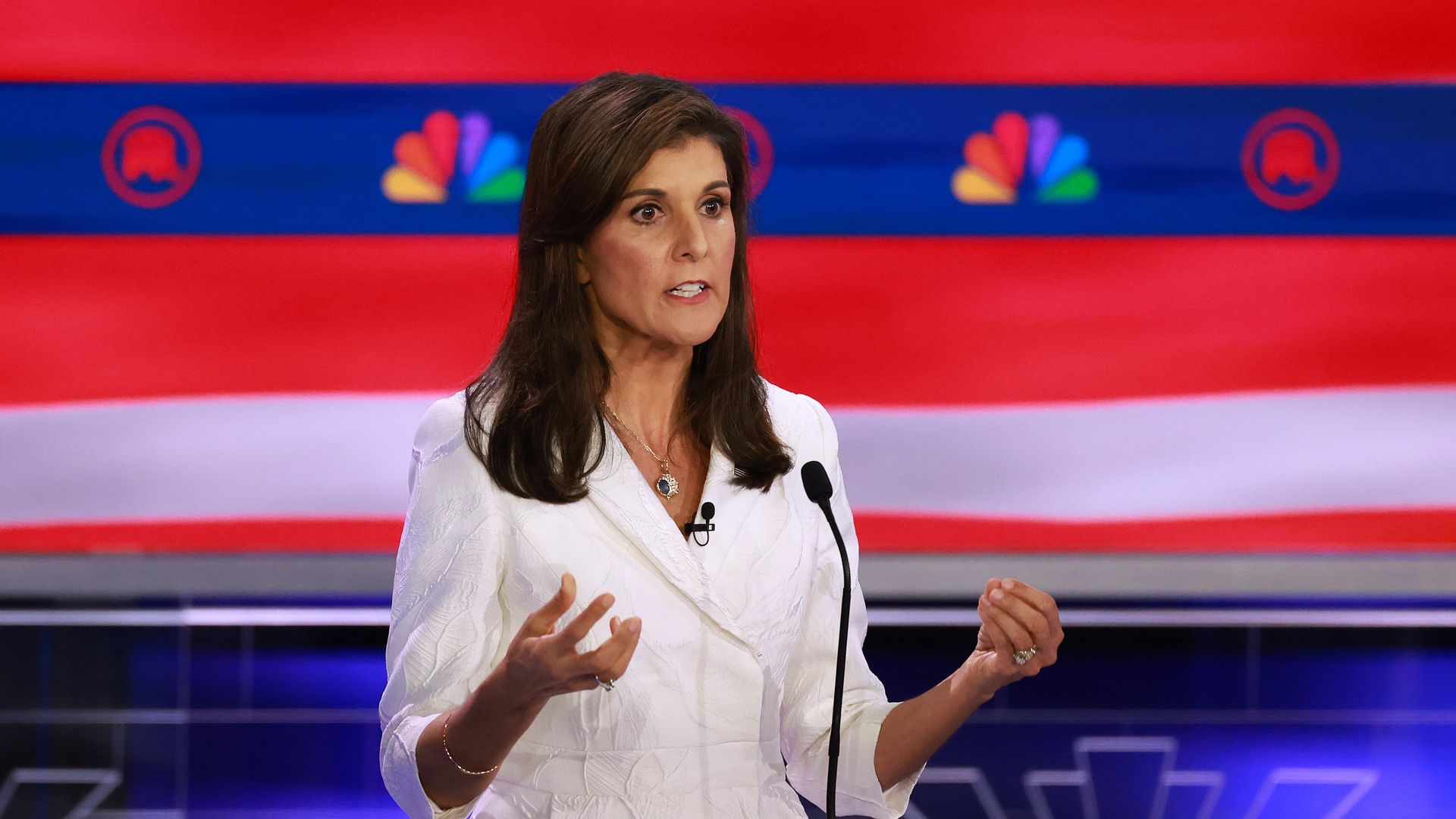 Republican presidential candidates criticized former United Nations ambassador Nikki Haley over her call Tuesday to require that all social media users be verified by their names online.
Driving the news: Haley backed social media reforms on Tuesday, saying that people posting anonymously is a "national security threat."
"Every person on social media should be verified by their name," she told Fox News.
"When you do that, all of a sudden people have to stand by what they say and it gets rid of the Russian bots, the Iranian bots, and the Chinese bots."
Haley also said that she would require social media platforms to "show America their algorithms, let us see why they're pushing what they're pushing."
Zoom in: Haley's GOP presidential rivals including Florida Gov. Ron DeSantis and entrepreneur Vivek Ramaswamy slammed her Tuesday comments.
DeSantis called her positioning "dangerous and unconstitutional" and said that it would be "dead on arrival" in his administration.
"You know who were anonymous writers back in the day? Alexander Hamilton, John Jay, and James Madison when they wrote the Federalist Papers," DeSantis wrote on the social media platform X.
Ramaswamy also cited the Federalist Papers, saying that Hamilton, Jay and Madison all wrote under a pseudonym.
"Here's what they would say to [Haley] if they were alive: get your heels off my neck & go back to England," Ramaswamy wrote on the social media platform X.
A spokesperson for Haley said in response: "Americans have a right to free speech, including having anonymous accounts on social media."
"What Nikki doesn't support is letting the Chinese and Iranians create anonymous accounts to spread chaos and anti-American filth among our people."
"Social media companies have to do a way better job policing that. Clearly, Ron DeSantis wants to let Chinese propaganda machines run wild on social media without any restrictions."
Between the lines: Haley on Wednesday appeared to amend her stance and said that Americans should still be allowed to post anonymously online.
"I don't mind anonymous American people having free speech, what I don't like is anonymous Russians and Chinese and Iranians having free speech," Haley told CNBC.
She did not say how it would work to let Americans post anonymously but not others.
The big picture: Social media regulation, especially over TikTok, has emerged as a flash point during the 2024 Republican primary.
Haley and Ramaswamy, the only GOP candidate on TikTok, have repeatedly clashed over the platform.
Flashback: Haley called Ramaswamy "scum" during the third GOP primary debate after he said that Haley's daughter was on TikTok.
"She made fun of me for actually joining TikTok while her own daughter was actually using the app for a long time," Ramaswamy said.
"Leave my daughter out of your voice," Haley said in response.
Go deeper: TikTok ads blanket GOP debate during clash over the platform
Editor's note: This article has been updated with further Haley quotes and a comment from her campaign.
Go deeper