Ramaswamy and Haley trade disses over "scum" barb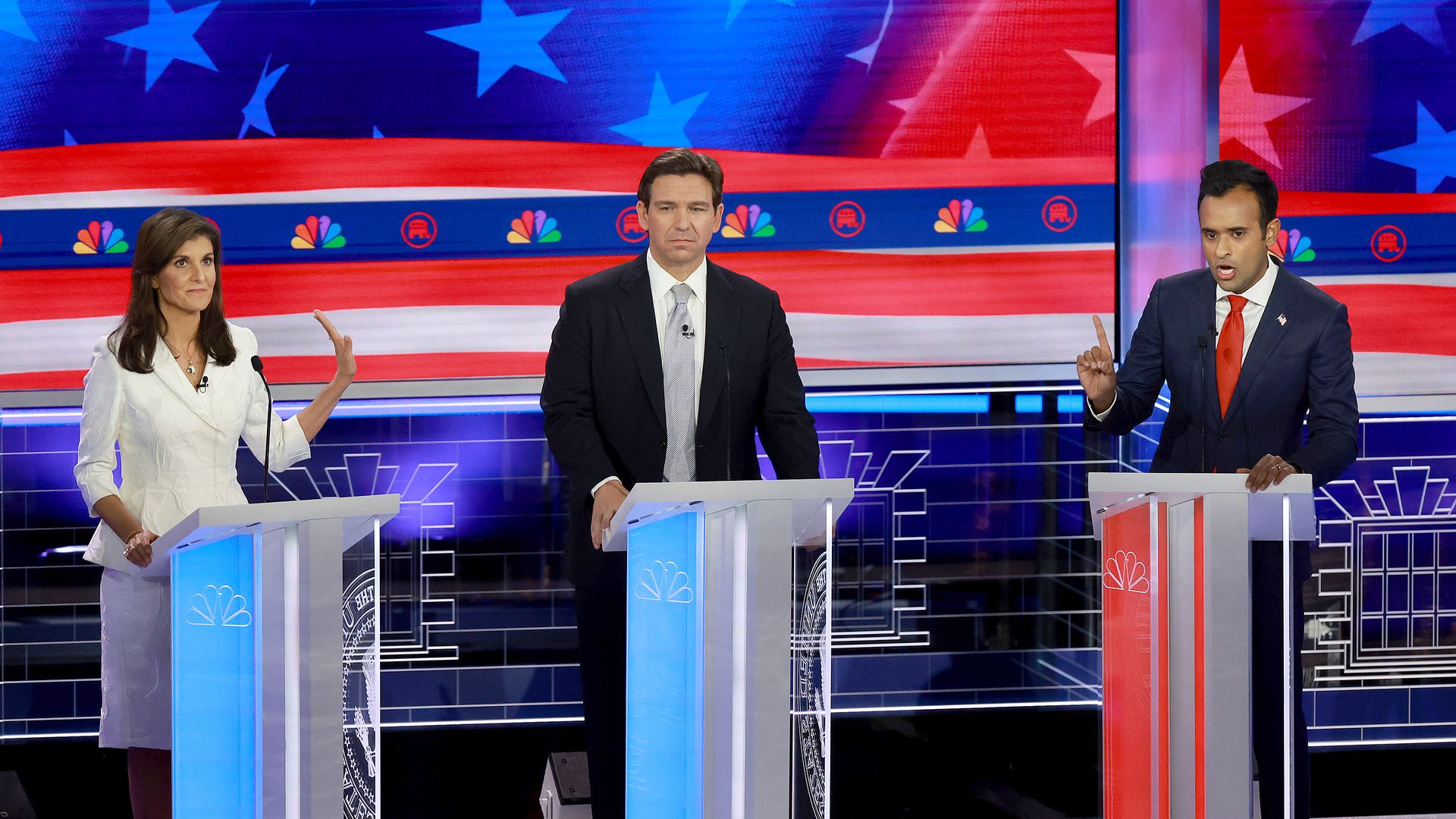 Former U.N. ambassador Nikki Haley and businessman Vivek Ramaswamy continued feuding Thursday after exchanging barbs during the third GOP primary debate.
Driving the news: In an interview with Fox News on Thursday, Haley defended calling Ramaswamy "scum" during the debate Wednesday night, saying, "That was showing a lot of restraint. That's all I'll say."
Catch up quick: The tense debate exchange unfolded after Ramaswamy was asked about TikTok and took the opportunity to attack Haley.
"In the last debate, [Haley] made fun of me for actually joining TikTok while her own daughter was actually using the app for a long time," Ramaswamy said. "So you might want to take care of your family first."
"Leave my daughter out of your voice," Haley responded. "You're just scum."
State of play: While all of the other GOP presidential candidates have snubbed TikTok, Ramaswamy joined the platform in September, citing the importance of reaching younger GOP voters.
After a post-debate interview on CNN late Wednesday, Ramaswamy claimed Haley demonstrated a "startling lack of awareness" when talking about TikTok, saying there's a "generational divide" and that "it's not a sin" to be on the app.
"If she talks about TikTok sanctimoniously on stage without mentioning her own adult family members of the next generation are on it, we are not fixing the problem," Ramaswamy said.
He said the issue is "somebody lecturing the rest of the country about the perils of it while failing to set an example of leadership a little closer to home."
Zoom out: Haley has surged to second place in some polls this fall, but trails well behind the frontrunner for the GOP presidential nomination: former President Trump.
Meanwhile, Ramaswamy, who has unleashed personal attacks on his fellow candidates and GOP party leaders, is polling at the bottom of the primary field with former New Jersey Gov. Chris Christie.
Go deeper: Ramaswamy delivers on "unhinged" promise at 3rd GOP debate
Go deeper