Climate change report: Heat-related deaths on track to rise 370% by mid-century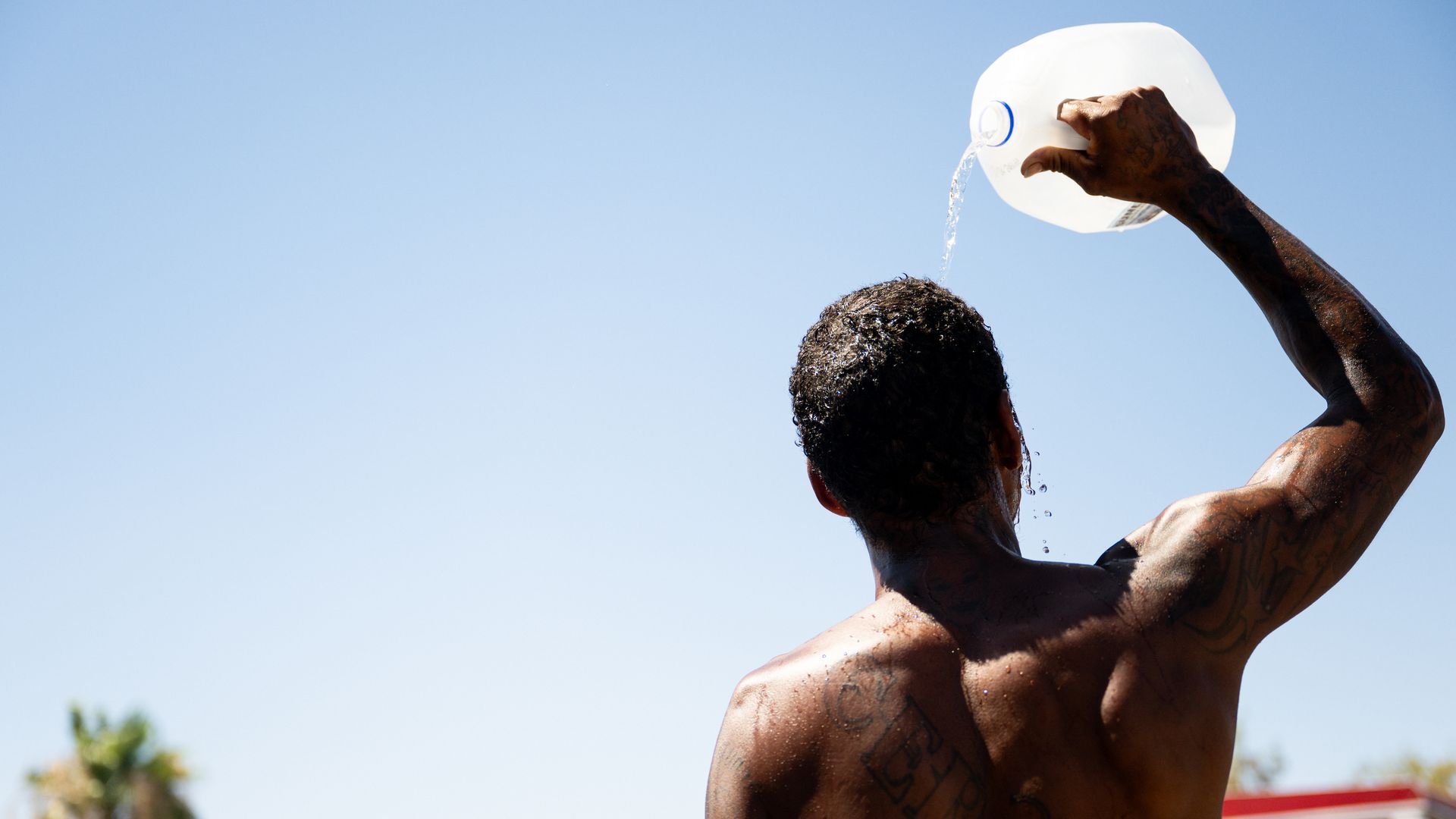 Climate change is set to cause a 4.7-fold surge in heat-related deaths by mid-century if government inaction on global warming continues, a report published Tuesday found.
The big picture: The world is on track for 2.7°C (4.86°F) of heating by 2100 unless swift action is taken to lower emissions, according to the annual Lancet Countdown on Health and Climate Change report.
The report analyzes what would happen if temperatures rise by 2°C by the end of the century.
For the first time ever, it featured projections that outline the rapidly growing risks to population health if the Paris Agreement's target of limiting global warming to 1.5°C is missed.
State of play: 2023 is on course to be the Earth's hottest ever year. The past eight years have been "the warmest ever recorded," study co-author Maria Walawender told Axios Tuesday.
The world has already seen "detrimental effects on health, including increasing hazardous heatwaves, dangerous outdoor work conditions, and heat-related deaths," said the Lancet Countdown research fellow in climate change and health via email.
Vulnerable groups, including older people and infants, faced "twice as many heat wave days" this decade compared to 20 years ago, Alex Macmillan, associate professor of environmental health at New Zealand's University of Otago, told Axios.
Meanwhile, the study notes that energy-related emissions reached a new record high last year.
Threat level: People last year were exposed to, on average, 86 days of health-threatening high temperatures, per the report.
"60% of these temperatures were made more than twice as likely to occur by human-caused climate change."
Another effect: The availability and price of food, per Macmillan.
Over 100 million more people experienced food insecurity in 2021 and human climate pollution was "directly to blame," said Macmillan, who was not involved in the study, via email.
What they found: Every health hazard monitored by the Lancet Countdown is predicted to worsen if temperatures rise to 2°C by the end of the century.
Annual heat-related deaths are projected to increase by 370% by mid-century, with heat exposure expected to increase the hours of potential labor lost globally by 50%.
More frequent heat waves could lead to around 525 million more people experiencing moderate to severe food insecurity by 2041-2060, exacerbating the global risk of malnutrition. 
Life-threatening infectious diseases are projected to spread further by mid-century, too.
Of note: The report's findings concur with those in a new United Nations report published Tuesday ahead of this month's UN climate summit that shows countries are falling short on their emissions pledges.
What's happening: The U.S. and China are both the world's two largest emitters and global leaders in renewable energy. The U.S. has pledged to cut emissions by 50% below 2005 levels by 2030 and China by over 65% the same year.
However, no high-emitting country is doing enough to tackle pollution, Macmillan said
Walawender said fossil fuel subsidies "far exceeded carbon pricing in the U.S. in 2020, resulting in over $7 billion in net subsidies."
She noted governments around the world have allocated billions of dollars in such subsidies, "often allocating sums equal to substantial portions of national health budgets."
Yes, but: Walawender hopes the Lancet Countdown's evidence, along with young people's push for action and increasingly affordable green solutions becoming available, can spur phasing out fossil fuels and supporting adaptation efforts to better cope with climate change.
Read the report in full, via DocumentCloud:
Go deeper: Climate change altering U.S. in profound ways, major report finds
Go deeper