US-China climate talks could affect pace, severity of climate change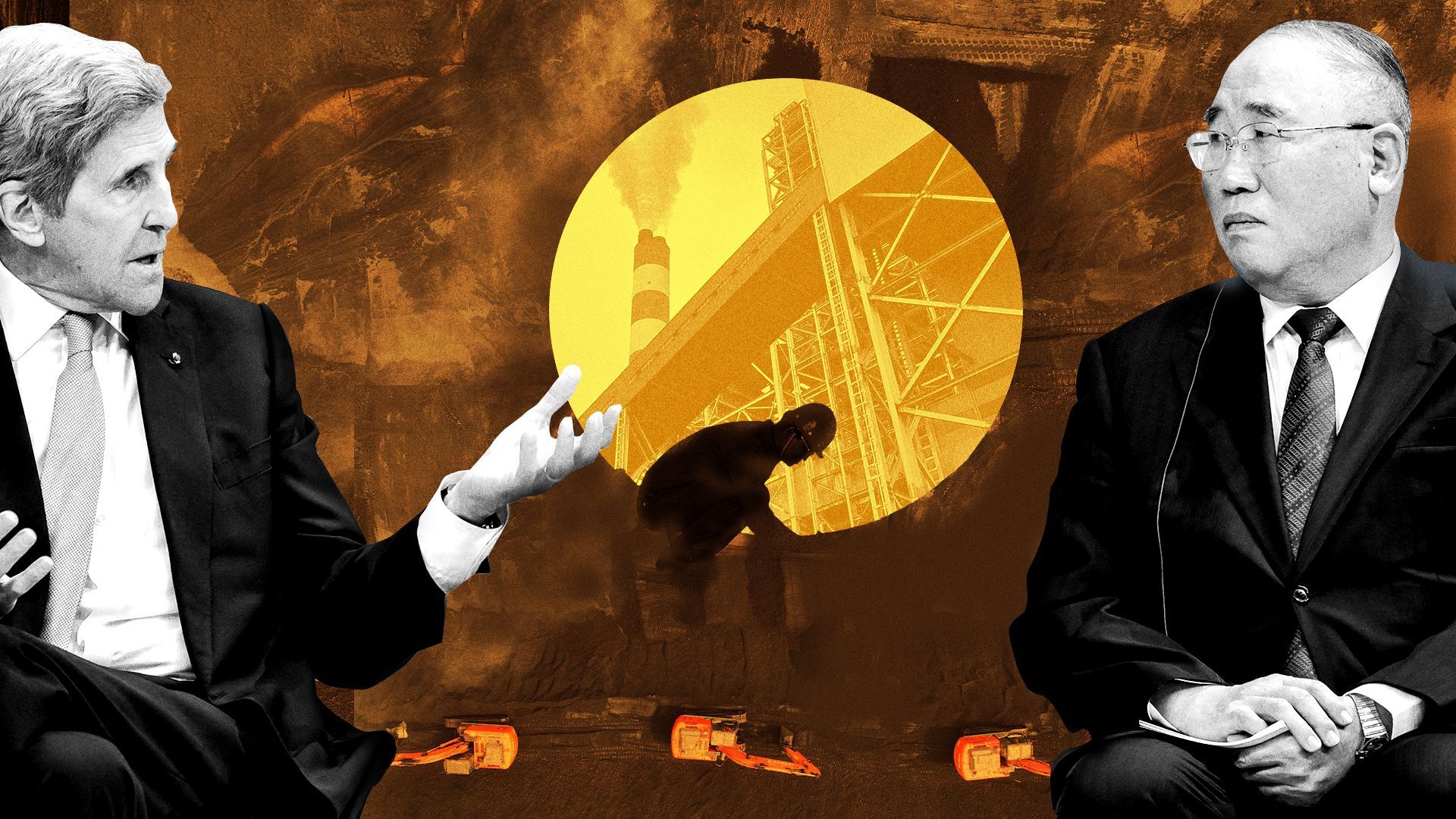 High stakes talks beginning this weekend between U.S. climate envoy John Kerry and his Chinese counterpart, Xie Zhenhua, could pave the way for a smoother United Nations climate summit in Dubai later this month.
Why it matters: The world's two largest economies are also the world's two largest emitters. The focus is on China in particular, in the hopes that any agreement could help alter the severity and pace of human-caused climate change.
The discussions will be a test of Kerry's push within the Biden administration to separate climate change from other issues on which the U.S. and China vehemently disagree, from trade policy to Taiwan.
The talks, set to last Saturday through Monday at Sunnylands resort in Rancho Mirage, California, also come amid media reports that Xie may step down soon after COP28.
Zoom in: China is a powerhouse when it comes to renewable energy production and deployment, but it is still the world's largest coal consumer and is approving new coal-fired power plants at a rapid clip.
Kerry has been outspoken in his concerns, given coal is a particularly carbon-intensive fuel and new plants are unlikely to be shut down for many years.
Cutting the deployment of new coal plants is likely to be a topic of discussion at COP28, where countries will jockey over language targeting fossil fuels.
The intrigue: China's carbon emissions peak will have an outsized influence on when global emissions will stop climbing, and when they begin to decline.
The later the peak date and start of the decline, the greater the warming that will occur, along with the effects that come with it.
China has committed to a peak date of no later than 2030 but is likely to beat that significantly.
What they're saying: "The success of the global climate process needs the U.S. and China to talk to each other," said Li Shuo, a policy advisor at Greenpeace.
What we're watching: The outcome of the meeting, and potentially additional bilateral negotiations after that, is likely to be a joint statement on U.S.-China climate cooperation.
There are many questions, though, over what such a statement will contain.
Some groundwork for the meeting may have been covered by another Democratic politician, California Gov. Gavin Newsom. He visited China last week on a climate-focused trip, which included a rare meeting with President Xi Jinping.
One topic that is likely to come up is China's plan to cut planet-warming methane emissions, which is slated to come out soon, having been agreed to during discussions between the two countries in 2021.
Flashback: During the Obama administration, a joint statement helped pave the way for successful talks in Paris in 2015. However, given heightened tensions between the U.S. and China, steps the countries may commit to this time are likely to be more timid.
The bottom line: "The question now is whether climate change can remain as a resilient topic between the two most powerful countries on this planet. The next few weeks will tell," Shuo said.
Go deeper