Grassroots environmental groups band together to try for billions in grants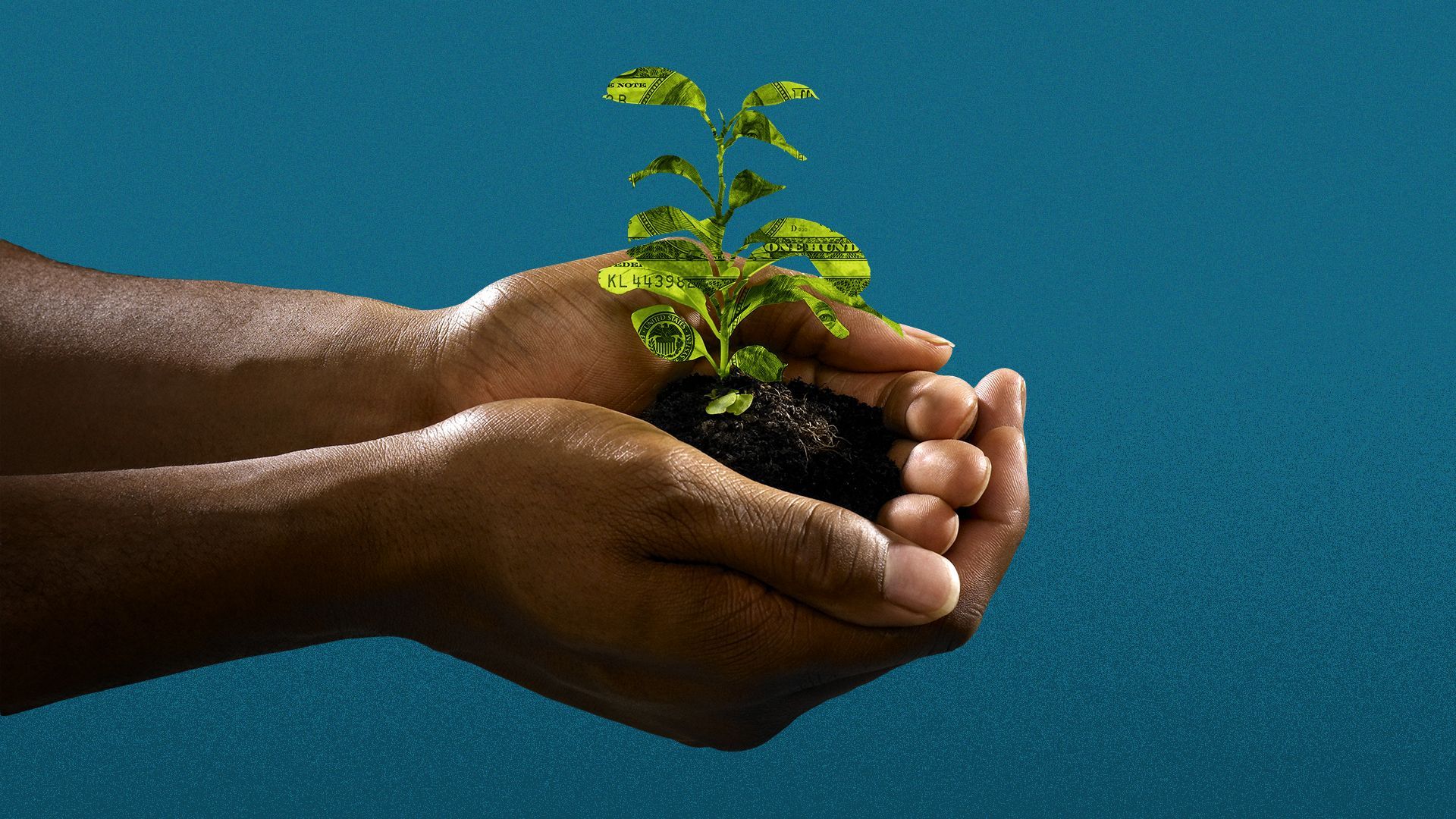 Community organizations that serve and are led by people of color are banding together to secure some of the billions of federal dollars earmarked for environmental and climate causes.
Why it matters: People of color are disproportionately affected by climate change and pollution, yet funding for programs that would help them has largely gone to large, national groups instead of community-led ones, sources say.
What to know: The federal government in recent years has made billions of dollars in funding available through the Inflation Reduction Act and other legislation.
But applying for and receiving federal grants is extremely burdensome and lengthy, particularly for community-based organizations that are resource-strapped, says Sharon Chen of Front and Centered, a coalition in the state of Washington that works on environmental and climate issues.
There isn't a national database showing what percentage of government grants go to organizations led by people of color, but Chen points to a 2020 study that found only about 1.3% of philanthropic environmental funding goes to "environmental justice" organizations.
The study defines environmental justice organizations as those that "are rooted in, accountable to, and representative of communities of color, low-income communities, and tribal and Indigenous groups who are most directly impacted by the issues being addressed."
Chen says those groups often don't have the capacity to take on the federal grant application process, which can take months.
Even if they are approved for a grant, the organizations have to front the money before the government reimburses them, which many environmental justice organizations can't afford to do, Chen adds.
What's happening: Advocacy groups and non-profit financial institutions are joining forces to give organizations a better shot at getting grants. Earlier this year, they launched the Justice Climate Fund, which they say is the first-ever coalition to help grassroots organizations obtain grants through the Environmental Protection Agency.
The Biden administration has also created a grant-making program that allows local organizations to help other groups secure funding. Chen's organization, where she is a resource manager, is one of those grant-makers.
Zoom in: Cynthia Torres, director of resource and development for Affordable Homes of South Texas, tells Axios Latino the National Association for Latino Community Asset Builders (NALCAB), which is part of the Justice Climate Fund, is helping her organization apply to the EPA for funding to install energy-efficient appliances and solar roof panels in new and renovated homes.
The organization is a mortgage lender; provides financial counseling to low-income families; and rehabilitates or builds houses in the McAllen, Texas, area, which is majority Hispanic and, like many cities in the U.S., suffers from a housing shortage.
A lot of the families the organization serves are "living in substandard conditions," Torres says.
"Some of them don't have the money to pay for their light bill, so when you try to talk to them about maybe solar roofing or things like that, they can't even ... picture ... how can they afford that in the long run."
About 28% of the organization's funding comes from federal grants, and there is a grant specialist on staff, yet it still struggles with the process, Torres says.
"The most difficult thing for us is the reimbursement process, because you have to get the money out the door yet have to wait to get reimbursed," Torres says.
That process can take from 18 to 24 months, she adds.
What to watch: Major philanthropies are boosting support for environmental groups led by people of color, writes Axios' Ben Geman.
The Climate Funders Justice Pledge urges donors to pledge at least 30% of their climate funding to people of color-led, justice-focused groups within two years and commit to transparency, Geman adds.
Subscribe to Axios Latino to get vital news about Latinos and Latin America, delivered to your inbox on Tuesdays and Thursdays.
Go deeper