Scoop: Trump hung up on Kim Kardashian, new Jonathan Karl book says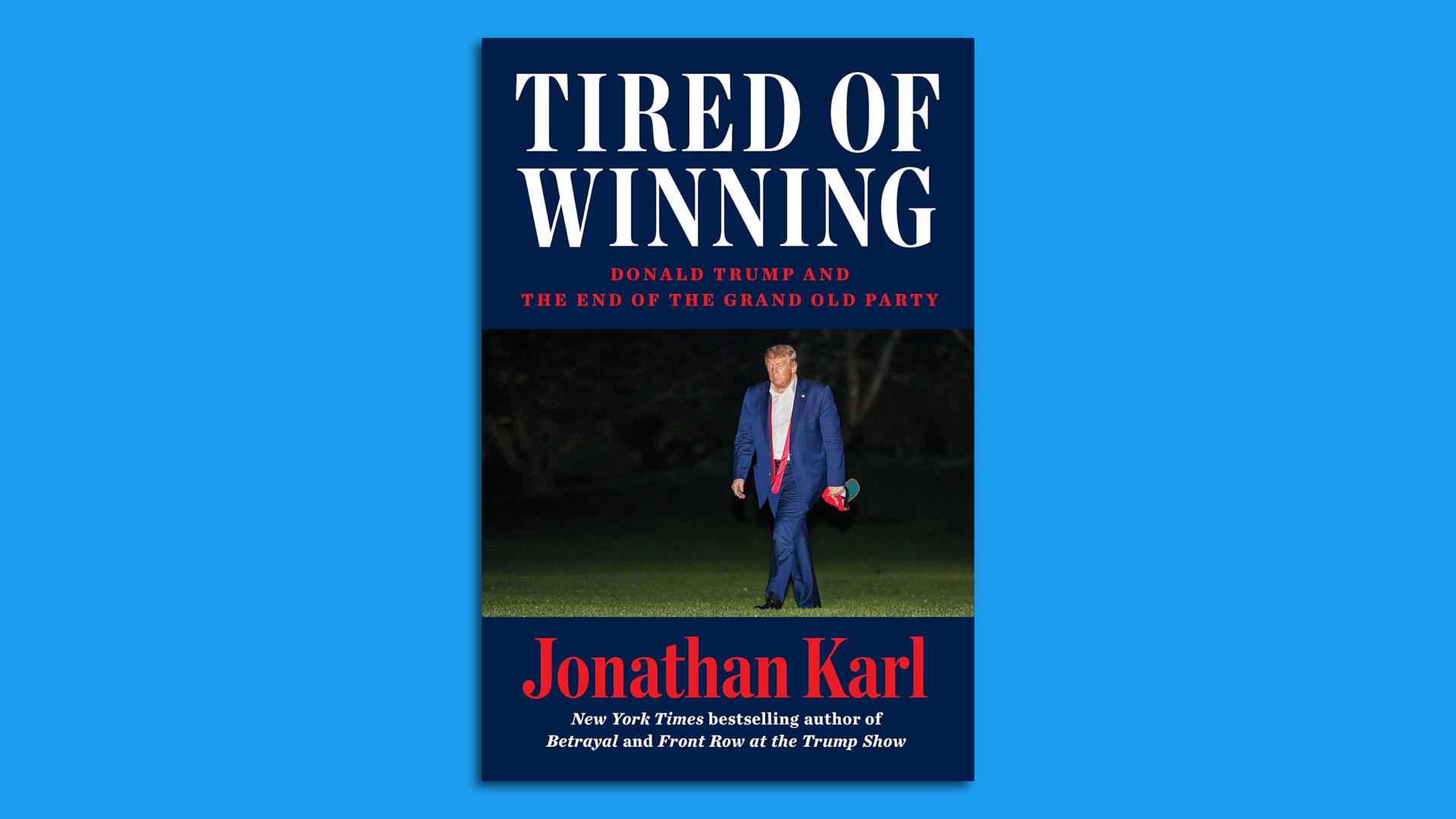 Former President Trump hung up on Kim Kardashian when she called for help with a clemency case — because he assumed she voted for President Biden, ABC News' Jonathan Karl writes in "Tired of Winning," out Tuesday.
The big picture: Karl tells Axios that the book — the third in his bestselling Trump trilogy — draws on journals going back 20+ years. Karl was an up-and-coming New York Post reporter when he first covered Trump as a rising real estate mogul.
Driving the news: According to a "Tired of Winning" passage obtained by Axios, Kardashian — after famously meeting Trump in the Oval Office in 2018 to discuss a pardon — pushed for more commutations in the final days of Trump's presidency. Karl writes:
"A source familiar with the conversations tells me Trump listened to her requests and demanded a straight-up quid pro quo. He would grant the commutations, he told Kardashian, if she leveraged her celebrity connections to get football stars who were friends of hers to come visit him at the White House.
"Kardashian actually tried to do what Trump demanded, seeing it as a small price to pay to get justice for people she believed were serving unjust sentences. But all the players she approached declined. Trump had become too toxic. In the final two weeks of his presidency, nobody wanted to be anywhere near him."
Zoom in: Karl writes that months after Trump left the White House, Kardashian reached out to the former president's Mar-a-Lago team, hoping for a high-profile endorsement of another clemency plea. She "quickly received a call back from Trump":
"Hell no, the former president told her. He wouldn't do it. 'You voted for Biden and now you come asking me for a favor?' Trump told her. Kardashian has never publicly said who she voted for in 2020, but after Biden was projected the winner, she posted a tweet of Biden and Vice President–elect Kamala Harris along with three blue hearts. ...
"After a few more choice words, the line went dead. Trump had hung up on her."
What they're saying: A Trump spokesperson has an all-purpose response for anything related to Karl's book: "Disgraceful and talentless John Carl [sic] is a back-bencher who could never get his own show for obvious reasons. Excerpts previously released from this 'book' have already been thoroughly debunked."
"This filth either belongs in the discount bargain bin in the fiction section of the bookstore or should be repurposed as toilet paper."
What's next: Karl will discuss the book with the New York Times' Peter Baker at an event in New York City on Monday night.
Go deeper: How Kim Kardashian got Trump to commute a lifetime sentence
Go deeper