Viewership drops to 7.5M for third GOP primary debate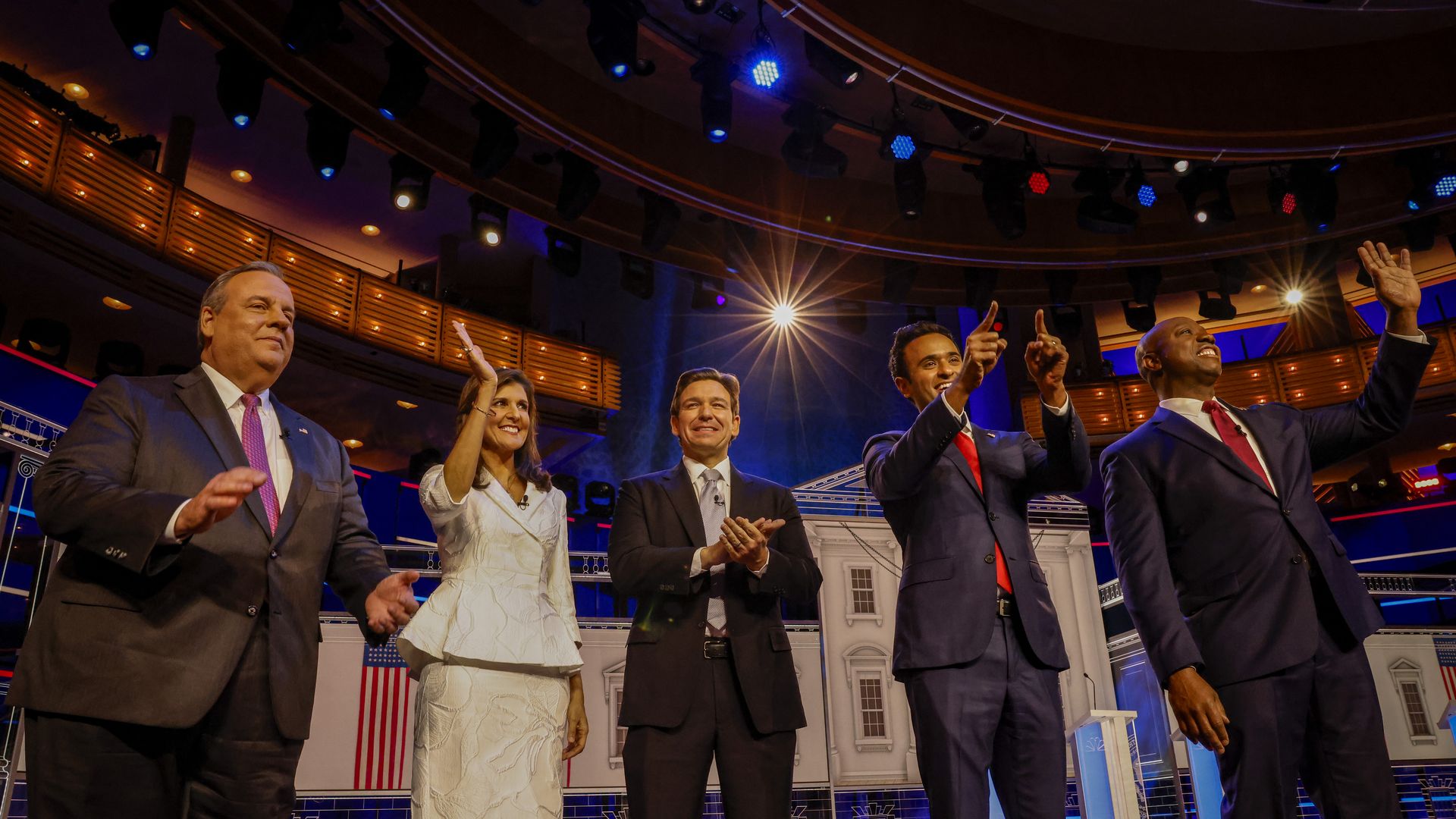 The third Republican primary debate drew 7.5 million viewers Wednesday night, a 21% decline from the second GOP debate in September, according to Nielsen ratings.
Why it matters: The Republican debates haven't been able to draw as many eyeballs without former President Donald Trump on the stage.
The first Republican debate of the 2024 presidential race, which aired on Fox News and Fox Business in August, drew 12.8 million viewers.
The second, which aired on Fox News, Fox Business and Univision, drew 9.5 million viewers.
By the numbers: Wednesday night's debate, moderated by NBC Nightly News" anchor Lester Holt, "Meet the Press" moderator Kristen Welker and Salem Radio Network's Hugh Hewitt, was available to watch on NBC, Peacock, and NBC-owned digital platforms. It averaged roughly 6.9 million viewers on NBC.
That number is slightly higher than the number of people who tuned into the debate on Fox News last month: about 6.7 million.
NBC News said the debate was the second most-watched GOP primary debate in NBCU News Group's history.
A record number of people also watched the debate on NBC News' digital streaming service, NBC News Now, the network said.
Flashback: For context, the third Republican primary debate on CNBC in 2015 attracted 14 million viewers.
The big picture: Lagging viewership underscores the diminishing power of primary debates in shaping the presidential race in the digital era.
A Morning Consult poll out last week found that only 40% of Republicans believe debates are "very important."
That number has decreased by 9% compared to when the same survey was conducted ahead of the first primary debate in August.
What's next: The fourth GOP debate will be hosted by NewsNation on Dec. 6. It will feature three moderators, including former Fox News anchor Megyn Kelly.
Go deeper