How U.S. pressure led Israel to set pauses in Gaza fighting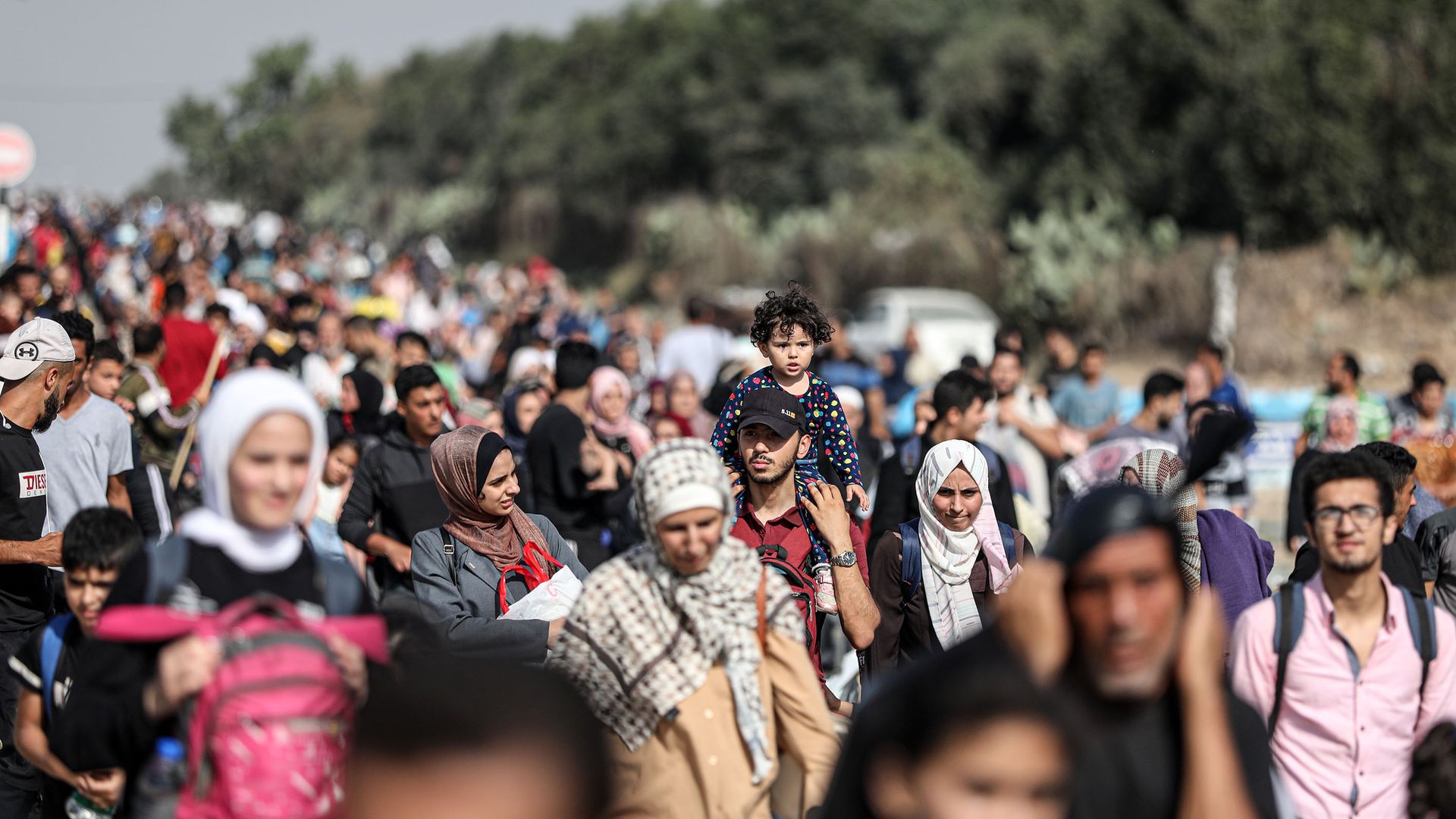 Under U.S. pressure, Israel agreed to begin "tactical localized humanitarian pauses" in the fighting in northern Gaza neighborhoods for four hours a day, Israeli and U.S. officials said Thursday.
Why it matters: The decision is a shift in policy for Israel, which for weeks had largely resisted the Biden administration's push for pauses in Israeli forces' assault on Gaza for humanitarian reasons. Israeli officials initially saw the pauses as a pathway to a ceasefire that the Israeli public doesn't want.
The intrigue: When U.S. National Security Council spokesperson John Kirby announced the Israeli decision earlier Thursday, Israeli Prime Minister Benjamin Netanyahu's office issued a statement playing down the move, portray it as something that wasn't new.
That seems to have been spin — a reflection of the political sensitivities Netanyahu is facing within his coalition and the Israeli public's strong opposition to stop the fighting as long as Hamas and its allies are holding Israeli hostages.
Flashback: During Secretary of State Antony Blinken's visit to Israel last week, he asked Netanyahu and members of Israel's war Cabinet to begin humanitarian pauses in the fighting to allow aid to reach Palestinian civilians in northern Gaza.
Netanyahu publicly rejected the request and said a temporary ceasefire would happen only if Israeli hostages are released. But privately, Netanyahu was more open to the move, Israeli and U.S. officials say.
Behind the scenes: A senior Israeli official said that when Blinken raised the issue of pauses in the fighting there was concern in Israel that the U.S. was trying to push Israel onto a path leading to a permanent ceasefire.
After Blinken left, Israeli and U.S. officials held more talks. U.S. officials made clear they had no intention of coercing Israel into a ceasefire, and said the pauses they were seeking were to help Palestinian civilians on the ground — and address pressure they've been getting from Arab nations and from within the U.S., two Israeli officials said.
The officials added that after these talks Israel felt reassured and decided to start drafting a plan for humanitarian pauses. The Israeli Defense Forces were assigned to draft a plan.
Under the plan, Israel will choose neighborhoods in northern Gaza where there is no fighting and each day will announce a window of four hours during which Palestinian civilians can get food, water and medicine — or evacuate and head toward southern Gaza.
Israeli officials said the IDF's plan was approved by Netanyahu and Yoav Gallant, Israel's minister of defense.
Israel notified the U.S., and on Thursday Israel began the daily pauses in two neighborhoods.
Israel made it clear to the Biden administration that if there is a deal for the release of hostages, Israel will be ready to expand the pauses, Israeli officials say.
What they're saying: "We are going to notify specific neighborhoods that between 10 a.m. and 2 p.m. there will be no military activity by the IDF," a senior Israeli official said. Palestinian citizens "can go out of their houses without being afraid of getting hit."
"It is not a humanitarian corridor, it is something else and new that hasn't been implemented since the war started," the senior Israeli official said.
A White House official said Israel told the Biden administration it is "formalizing and expanding" the pauses to allow for safe passage, evacuations of injured or wounded, and for civilians to be able to replenish food, water, and medical supplies.
"If Hamas takes advantage of these pauses to initiate combat activities or fire rockets, the IDF said they will take action in response," the White House official said.
Biden welcomed the Israeli decision.
"Pauses will help get civilians to safer areas away from active fighting. They are a step in the right direction," he said.
Biden added that he will continue to advocate for civilian safety and focus on increasing aid to people in Gaza.
Go deeper