Israel-Hamas war tensions at colleges throws Title VI into spotlight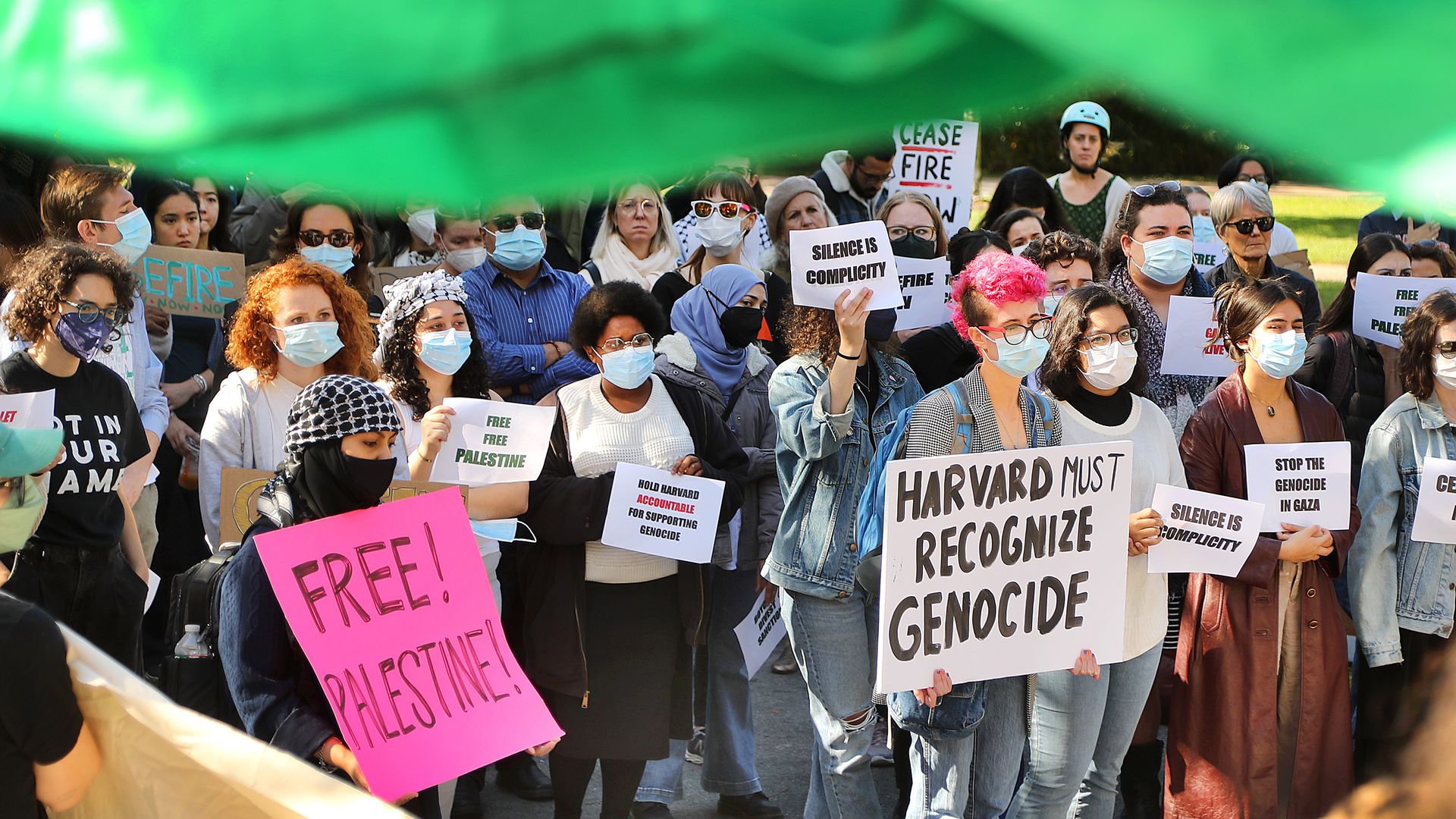 As universities grapple with how to respond to the Israel-Hamas war, the Department of Education is reiterating schools' responsibility to comply with a federal civil rights law that addresses discrimination.
The big picture: There has been an uptick in antisemitic and anti-Muslim threats on college campuses since the war began, and some academic institutions are struggling with how to respond to the conflict for fear of angering students, faculty, donors and alumni.
State of play: The Department of Education released a letter Tuesday, reminding schools of their legal obligations under Title VI of the Civil Rights Act of 1964 to provide all students a school environment free from discrimination based on race, color, or national origin.
"Hate-based discrimination, including based on antisemitism and Islamophobia among other bases, have no place in our nation's schools," the letter to schools and universities states.
Context: Title VI prohibits discrimination based on race, color or national origin in programs or activities that receive federal financial assistance.
It does not explicitly protect from discrimination based on religion.
Yes, but in 2019, Trump signed an executive order expanding Title VI to include and prohibit "discrimination rooted in anti-Semitism."
The Department of Education then released a memo detailing what it defines as antisemitic behavior in schools.
Of note: Last month, Biden clarified that Title VI also prohibits Islamophobia in federally funded programs.
But the Education Department has not released a memo on what it constitutes as Islamophobia.
Between the lines: There is a gap in federal guidelines on dealing with discrimination in schools pertaining to religious issues because the Education Department doesn't have jurisdiction over religion.
But the department is able to enforce a statute that protects students against discrimination based on a broad understanding of their national origin, an Education Department spokesperson told Axios Wednesday.
As an example of such characteristics, it lists "individuals who have been subjected to ethnic slurs (such as antisemitic or anti-Muslim harassment)."
By the numbers: In the month between Oct. 7 and Nov. 7, there have been seven complaints related to antisemitism, per the Education Department spokesperson.
For comparison, there were five complaints related to antisemitism in the entire 2022-2023 fiscal year that ended Sept. 30.
Zoom out: Tensions are mounting on college campuses between pro-Palestinian and pro-Israel students, faculty and groups.
The Department of Homeland Security division that helps schools grapple with such threats reportedly now has a weeks-long backlog due to a surge in calls.
Situational awareness: Hate crimes have surged in major U.S. cities since the war began last month, as reports of anti-Arab, anti-Muslim and antisemitic abuse at schools have spiked.
Even before the war began, antisemitic incidents in the U.S. hit a record high last year.
Meanwhile, the Council on American-Islamic Relations recorded a 28% increase in hate and bias incidents against Muslims in 2022 over the year before.
Go deeper:
Go deeper