Israel-Hamas war becomes flashpoint on U.S. college campuses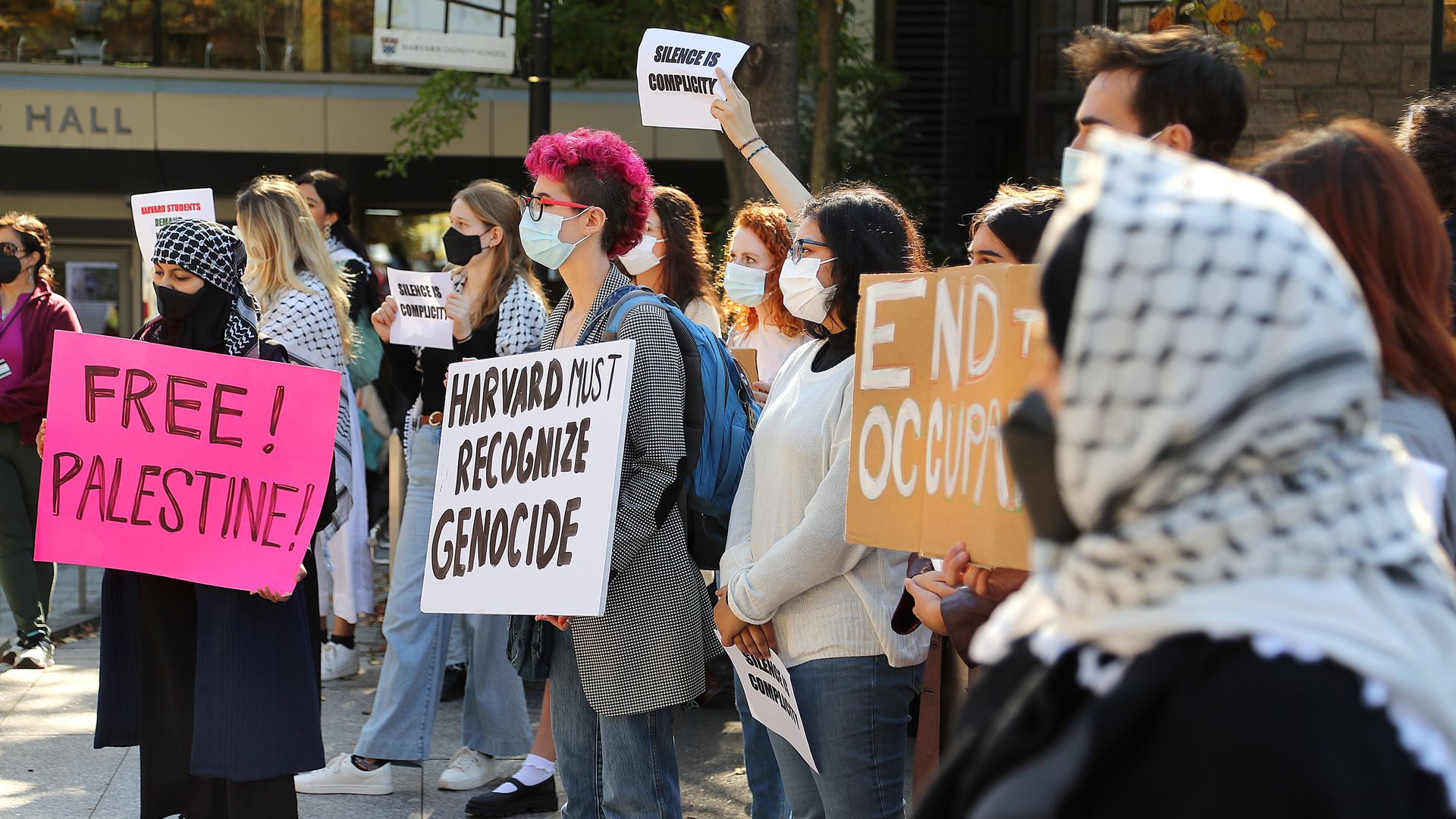 Officials at a DHS division are "up to their eyeballs" in requests for assistance from colleges amid a spike in antisemitic and anti-Muslim threats during the Israel-Hamas war, NBC News reported Thursday.
The big picture: A DHS spokesperson told NBC the Cybersecurity and Infrastructure Security Agency (CISA) has a backlog of weeks or more due to a surge in calls, just as universities across the country grapple with growing pressure to do more to tackle rises in antisemitism and Islamophobia on campuses.
State of play: Reports of anti-Arab, anti-Muslim and antisemitic abuse have risen on campuses and hate crimes have surged in major U.S. cities since the Israel-Hamas war began last month.
On college campuses, the war has led to tensions between pro-Palestinian and pro-Israel groups, which in some cases has resulted in revoked job offers for students connected to pro-Palestinian movements.
Zoom in: In the latest call for colleges to act on discrimination, 27 law firms signed a letter Monday to the deans of 14 top-ranked U.S. law schools expressing alarm at "reports of anti-Semitic harassment, vandalism and assaults on college campuses, including rallies calling for the death of Jews and the elimination of the State of Israel."
Such behavior will not be tolerated at their workplaces, where some of the universities' law students are recruited to, the letter said.
"There is no room for antisemitism, Islamophobia, racism or any other form of violence, hatred or bigotry on your campuses, in our workplaces or our communities," the law firms state.
Separately, the Council on American-Islamic Relations has called on schools to address a "sudden surge in reports of abusive and discriminatory behavior" following the outbreak of the Israel-Hamas.
"CAIR has seen and received multiple reports of students harassed" and threatened online, the nation's largest Muslim civil rights and advocacy group added.
Meanwhile, CISA spokesperson Avery Mulligan said in an emailed statement late Thursday that the agency had "provided nearly 2,250 on the ground physical security assessment to partners nationwide" over the past year.
In the aftermath of Hamas' Oct. 7 attack on Israel, "CISA immediately reached out to offer support to schools, colleges and universities, and faith-based organizations in response to the heightened threat environment," Mulligan said.
Of note: At Harvard, members of student groups that signed a pro-Palestinian letter were doxxed, and several CEOs urged the university to release their names.
Cornell University's Jewish community experienced antisemitic, violent threats in the form of online posts, and an arrest was made in the case.
Zoom out: The Biden administration announced Wednesday plans for the first U.S. national strategy to oppose rising Islamophobia in the U.S. — months after creating a similar strategy to counter antisemitism.
Go deeper: Universities struggle with responses as Israel-Hamas war reverberates
Go deeper