Universities struggle with responses as Israel-Hamas war reverberates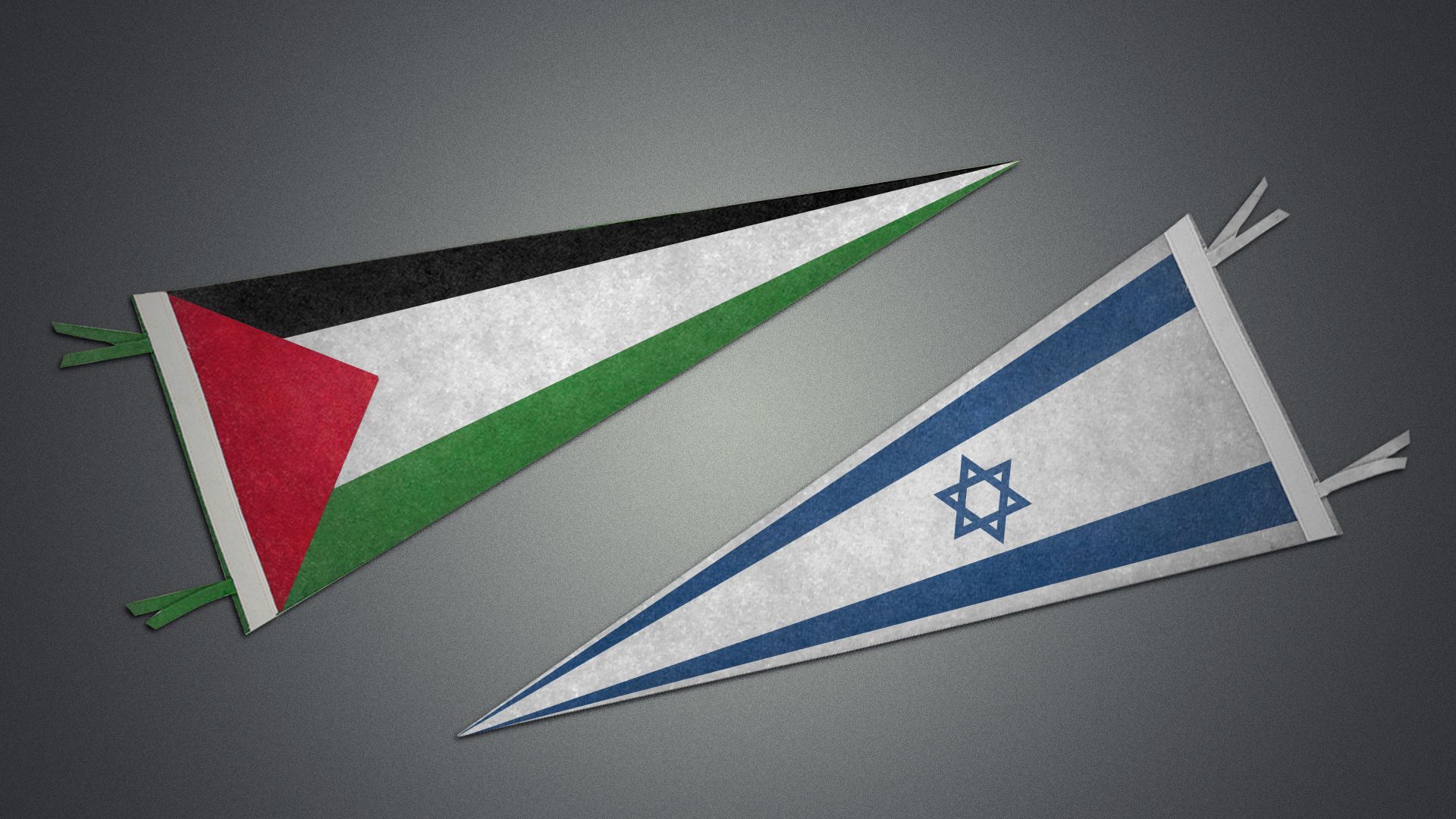 American academic institutions are grappling with how to respond to the Israel-Hamas war for fear of angering students, faculty, donors and alumni.
Driving the news: After a pattern of communication missteps from some of America's top schools, a group of multifaith colleges and universities banded together to issue a joint statement supporting Israel and opposing Hamas.
Catch up fast: Attempts to leave space for nuance in school statements about the conflict have been denounced for not strongly condemning the atrocities committed by Hamas — in turn prompting apologies and second statements.
Indiana University president Pamela Whitten issued a second statement last week after her first message featuring a broad reference to violence in the Middle East prompted outrage. A former student body president said it "displayed cowardice."
Northwestern president Michael Schill first said that while he was personally "repulsed, sickened and disappointed" by Hamas' actions, there would not be a university position on "political, geopolitical or social issues." A follow-up note said the attack was "clearly antithetical to Northwestern's values — as well as my own."
Stanford, the University of Rochester and Penn State have seen similar situations play out.
What they're saying: "This issue has always been a hotbed for campuses," says Kristen Shahverdian, who runs nonprofit PEN America's programming around free expression best practices — including for college administrators, students and faculty.
The war is "exposing those fault lines" on college campuses, which are "places to have disagreement, dissent, conversation ... in the classroom or out of the classroom."
But in times of crisis like this, schools "cannot use language that's evasive or unclear," she said. "That doesn't serve anyone."
Between the lines: University officials are not only tasked with issuing their own statements, they have also been pressed to reprimand some pro-Palestinian student groups that have criticized Israel.
Harvard University leadership released an initial statement last week saying they were "heartbroken by the death and destruction unleashed by the attack by Hamas that targeted citizens in Israel."
Meanwhile, a coalition of pro-Palestinian student groups released a letter holding "the Israeli regime entirely responsible for all unfolding violence."
Plus: A pro-Palestinian group at the University of Arizona canceled a planned protest because, it said, it couldn't move forward safely after the school's president condemned pro-Palestinian statements as "antithetical to our university's values," the Arizona Daily Star reported.
Students for Justice in Palestine groups at several schools, including George Washington University and San Diego State University, condemned their presidents' statements about the war as "a direct attack on our communities" and failing to "acknowledge the emotions and well-being" of Palestinian and Muslim students, respectively.
What to watch: It's possible that "schools who disappoint their audiences will suffer longer-term reputational harm," Sandy Lish, a higher education crisis management expert and co-founder of The Castle Group, told Axios.
That could affect enrollment, faculty recruitment and retention, donor support and more, she said. "Schools are, at the end of the day, competitive businesses."
In the wake Harvard's response to the war, a nonprofit dedicated to Jewish-Israeli leadership ended its financial support of the school on Monday, the Boston Globe reports.
Go deeper