Scoop: Biden and Xi prepare to restart military-to-military channels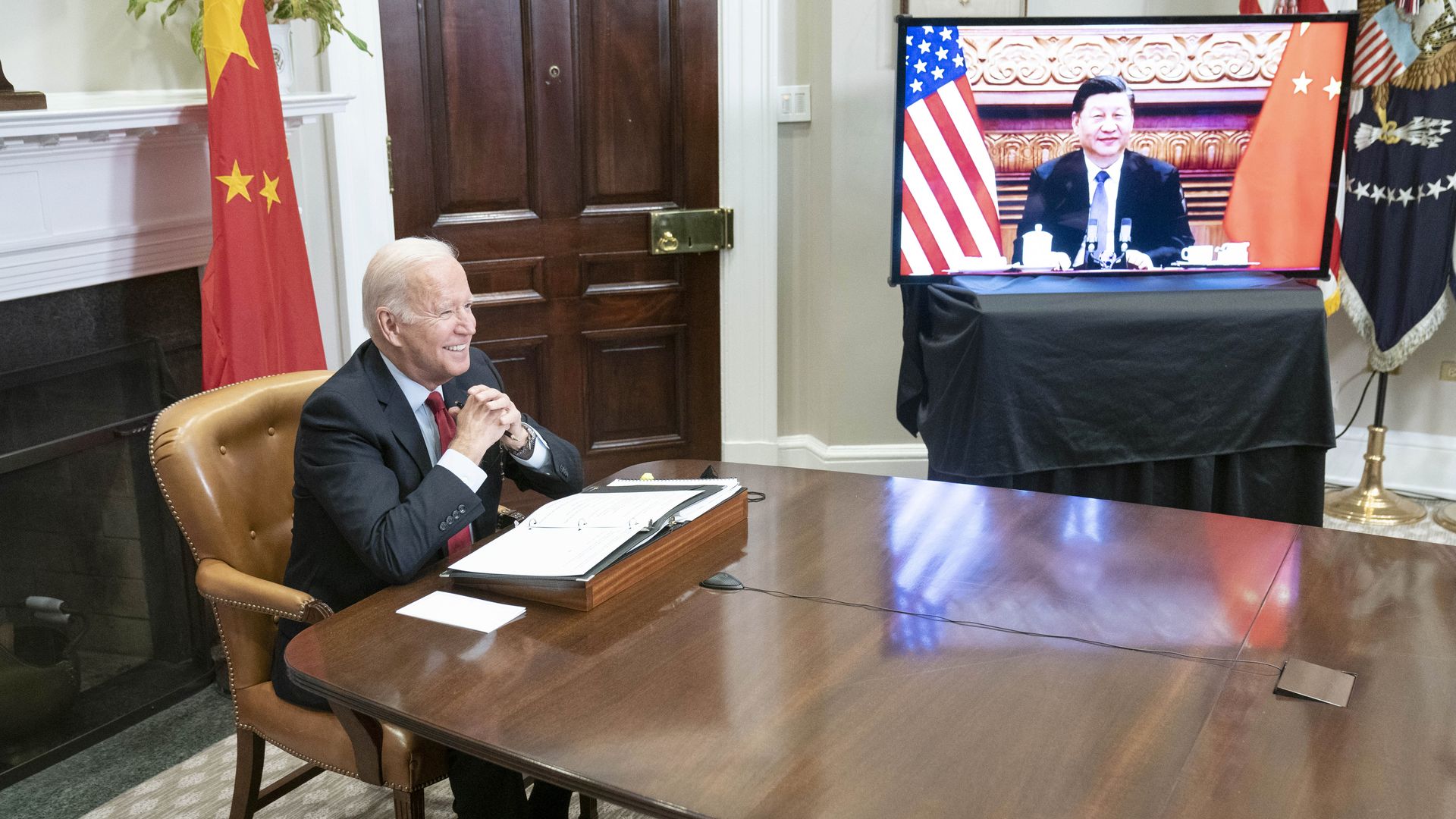 President Biden and Chinese President Xi Jinping are preparing to announce the resumption of military-to-military communications between the two countries when they meet on the sidelines of the APEC summit later this month, according to three people familiar with the matter.
Why it matters: The Biden administration wants to inject more stability into the U.S.-China relationship and lower the risk of a military misunderstanding. 
Reestablishing military communication channels with Beijing, which China suspended last year to protest the visit of then-House Speaker Nancy Pelosi (D-Calif.) to Taiwan, is a key priority for the White House.
When Secretary of State Antony Blinken visited Beijing in June, he failed to get an agreement from Chinese officials on reestablishing the channels.
During his visit to Washington last week, China's Foreign Minister Wang Yi indicated that China was prepared to reopen the lines of communication, according to tw0 people familiar with the matter.
A White House official declined to comment. The Chinese embassy to the U.S. did not respond to a request for comment.
What they are saying: "The Chinese are signaling that they will resume military-to-military communications, which is significant," said Bonnie Glaser, the managing director of the Indo-Pacific Program at the German Marshall Fund of the United States. "It's a key priority for the Pentagon."
"But it remains to be seen whether they are willing to take meaningful steps to reduce the risk of accidents or discuss ways to preserve strategic stability," she said.
The military communications channels canceled last year by China include the Defense Policy Coordination Talks and the Maritime Military Communications Agreement, which the U.S. and China signed in 1998 to enable ship and aircraft operators from both sides to communicate regularly.
The intrigue: China has not officially confirmed the Xi-Biden summit, which has been months in the making, or even Xi's attendance at the APEC summit in San Francisco.
Still, there are signs that China wants the meeting to be a success, with China's Vice Premier He Lifeng scheduled to arrive later this week to meet with Treasury Secretary Yellen and participate in APEC.
Zoom in: In some ways, the White House hopes to pick up where Biden and Xi left off after the November 2022 G-20 summit in Indonesia, when the two leaders pledged closer communication after largely talking past each other in Biden's first two years.
But planned trips by Secretary of State Tony Blinken and Yellen were postponed after China flew a spy balloon across America earlier this year.
Following the shooting-down of the balloon, Chinese defense officials didn't answer a phone call from Secretary of Defense Lloyd Austin.
What we're watching: Recent developments indicate that U.S.-China military communications are already starting to improve.
Cynthia Xanthi Carras, China country director in the Office of the Undersecretary of Defense, attended China's annual defense forum last week.
On November 4, Chinese and U.S. officials met in Beijing for maritime consultations, led by China's Ministry of Foreign Affairs and the State Department with military officials attending, to discuss maritime security and strengthen dialogue about maritime incidents.
U.S. and Chinese officials also held a rare meeting this week to discuss nuclear arms control.
Between the lines: China has demanded that the U.S. lift sanctions against Gen. Li Shangfu — who served as China's defense minister but was reportedly detained in September and then officially dismissed in October, as a precondition for restoring restoring high-level communication between the two militaries.
Li's departure removes an awkward obstacle to the resumption of talks. The U.S. is no longer actively seek to engage with a defense minister who is also under sanctions.
China hasn't announced Li's successor.
Zoom out: Ahead of most high-level summits, diplomats have already discussed many of the potential deliverables that might emerge from the face-to-face talks between the leaders.
For the Biden-Xi summit, the goal is to give the leaders the opportunity to finalize agreements on a range of issues, from fentanyl, arms control, artificial intelligence and climate change.
Go deeper