Yellen plans first trip to China as Treasury secretary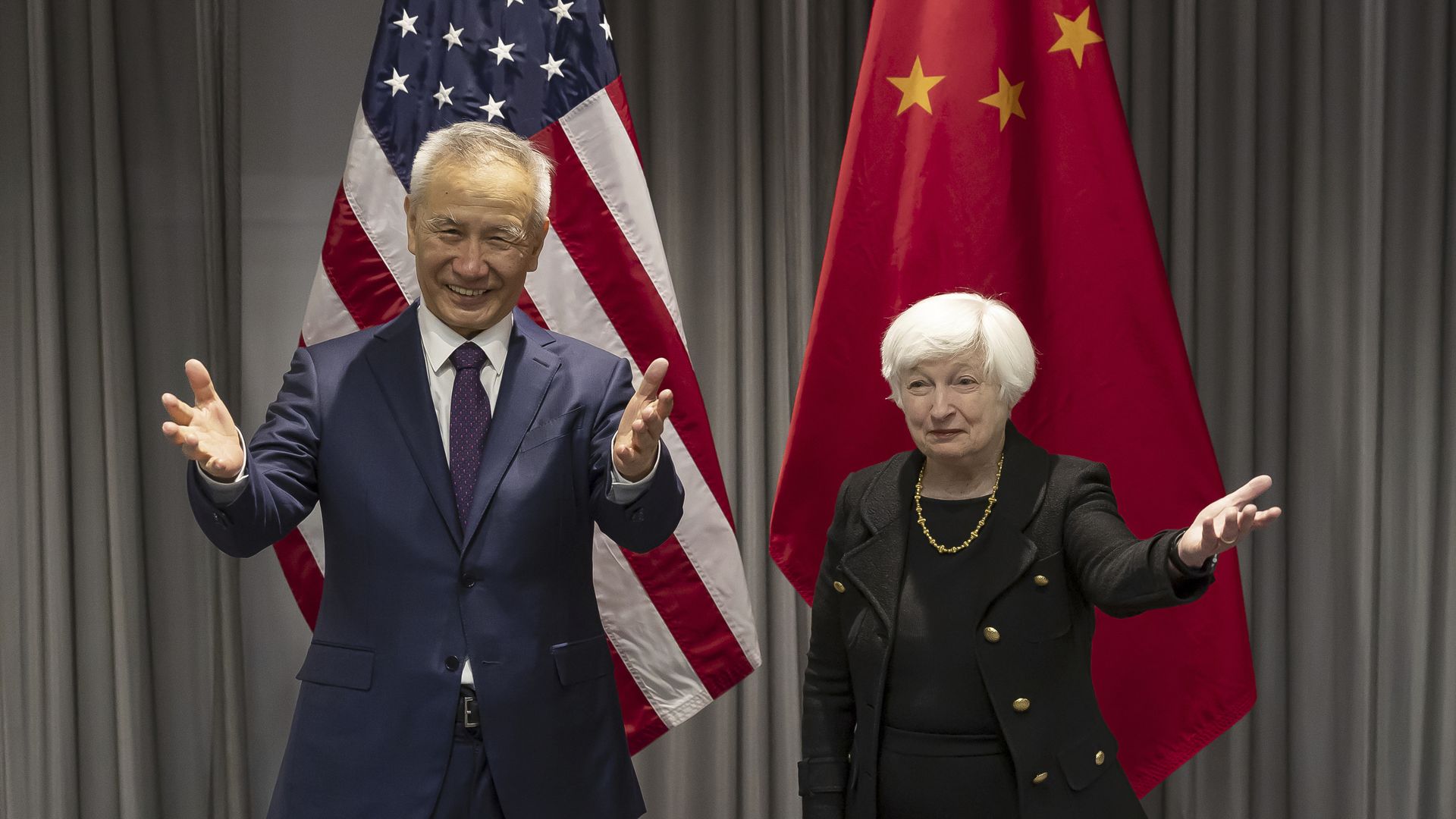 ZURICH, Switzerland — Janet Yellen plans to make her first trip to China in the "near future" as Treasury secretary, according to the Treasury Department.
Why it matters: The visit will mark another step in the Biden administration's effort to improve communications with China after relations deteriorated over the last two years.
Driving the news: The Treasury Department announced the trip after Yellen held a more than two-hour meeting with China's vice premier Liu He in Zurich, Switzerland.
The two made time to meet before Yellen flies to Africa. Liu was in Switzerland after addressing the World Economic Forum in Davos on Tuesday, where he urged leaders to avoid a "Cold War mentality."
"During the candid, substantive and constructive conversation, they exchanged views on macroeconomic and financial developments," according to the Treasury Department's official readout of the meeting.
What they are saying: At the beginning of the meeting, Yellen laid out areas where the two countries could cooperate more closely. But she also indicated that she wouldn't sugarcoat their differences.
"We should not allow misunderstandings, particularly those stemming from a lack of communication, to unnecessarily worsen our bilateral economic and financial relationship."
Liu said (through a translator): "We have to always bear in mind the bigger picture, try to manage our differences appropriately and seek common ground."
The big picture: As Yellen and Liu discussed the world economy and bilateral relations, business and political leaders held their annual confab in Davos, a few Swiss train connections away.
China's population is declining, its economy is slowing and international investors are wondering how the U.S. is going to avert an economic catastrophe if President Biden and congressional Republicans don't reach an agreement to raise the debt ceiling by early June.
Go deeper: Treasury is working to refine a new executive order that will restrict American investments in Chinese companies and projects.
Yellen's planned trip to China follows a mostly positive meeting between Biden and President Xi Jinping at the G20 in Bali last November.
Secretary of State Tony Blinken is expected to visit China next month, but the date for his trip hasn't been officially announced. Yellen's visit will likely be after Blinken's.
Go deeper