First look: Yellen to meet with China's vice premier on way to Africa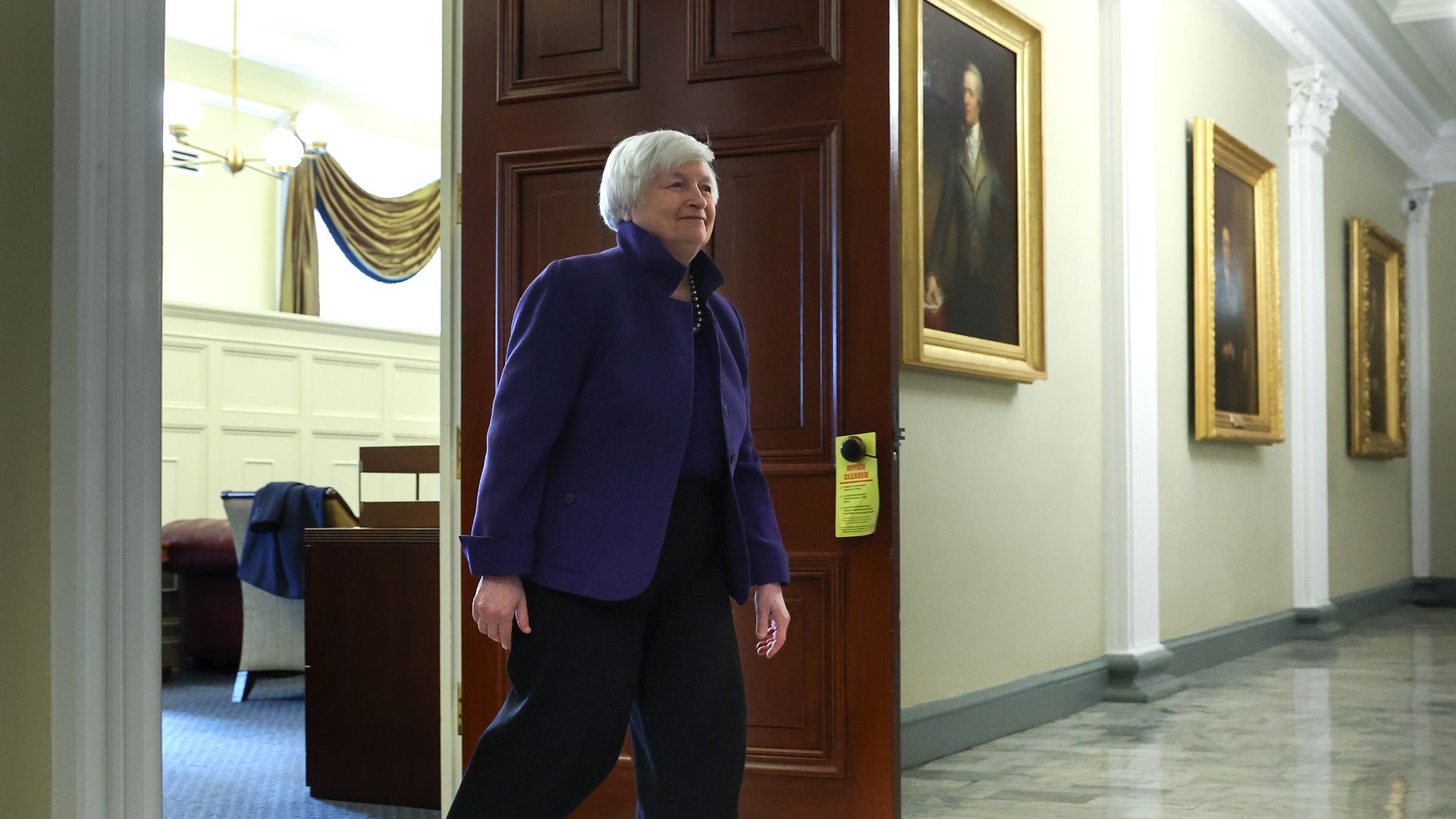 Treasury Secretary Janet Yellen will meet with Chinese Vice Premier Liu He in Switzerland on Wednesday to discuss the world economy, a short stop on her way to Africa for some soft diplomacy — and a hard sell on America's commitment to the continent.
Why it matters: The first face-to-face meeting between Yellen and a key figure in China's ruling Communist Party is part of the Biden administration's effort to reset — and stabilize — the U.S. and China relationship, according to a Treasury official.
The meeting comes amid global economic uncertainty, with the World Bank sharply cutting its forecast for growth and financial markets on notice that the U.S. could default on its debt this spring.
Yellen last week officially set the clock for the U.S. debt ceiling debate, warning Congress that the United States will be unable to pay its bills if Congress doesn't act by Jan. 19.
Between the lines: While China holds roughly $910 billion in U.S. debt, second only to Japan in foreign treasury holding, Beijing has been lowering its exposure for the last decade, dipping below $1 trillion in July.
Yellen will play a crucial role in working with Congress to raise the debt ceiling. Biden and Yellen agreed late last year she will stay on as secretary of the Treasury.
What they're saying: The two leaders will discuss "macroeconomic developments and other economic issues" and work to deepen communication between the U.S. and China, according to a Treasury official.
What we're watching: The Biden administration continues to debate two big China issues that are being closely watched across the world, as well as Beijing.
At a National Security Council meeting last month, Yellen argued that the U.S. needs to consult more closely with allies before unveiling a new executive order that would restrict investments in Chinese companies and projects.
After months of debate, officials still have yet to resolve whether to provide some exceptions on the tariffs imposed by former President Trump, or whether to announce a new trade investigation that would lead to additional sanctions.
The big picture: After Biden met with China's President Xi Jinping at November's G20 in Bali, both leaders struck a positive note and pledged to cooperate more closely.
Competition — and not conflict — is the watchword from the Biden administration.
The relationship had been spiraling downward, mired in trade disputes, deep differences over the Russian military's war in Ukraine and competing economic visions for the 21st Century, not to mention the thorny issue of Taiwan.
But Biden and Xi didn't resolve any of the country's fundamental differences, raising the stakes for Yellen, as well as Secretary of State Tony Blinken, who is expected to visit China for his first visit in February.
Zoom in: In November, Yellen used a trip to a Microsoft facility in New Delhi, India, to outline a vision for U.S.-India relationship that included explicit talk of moving supply chains away from China.
In July, she delivered stern words for Beijing from Seoul, South Korea.
"We cannot allow countries like China to use their market position in key raw materials, technologies, or products to disrupt our economy or exercise unwanted geopolitical leverage," she said.
Editor's note: This story has been corrected to note that the U.S. will hit its debt limit on January 19, not June 19.
Go deeper