Scoop: Yellen will use speech to set stage for Biden-Xi meeting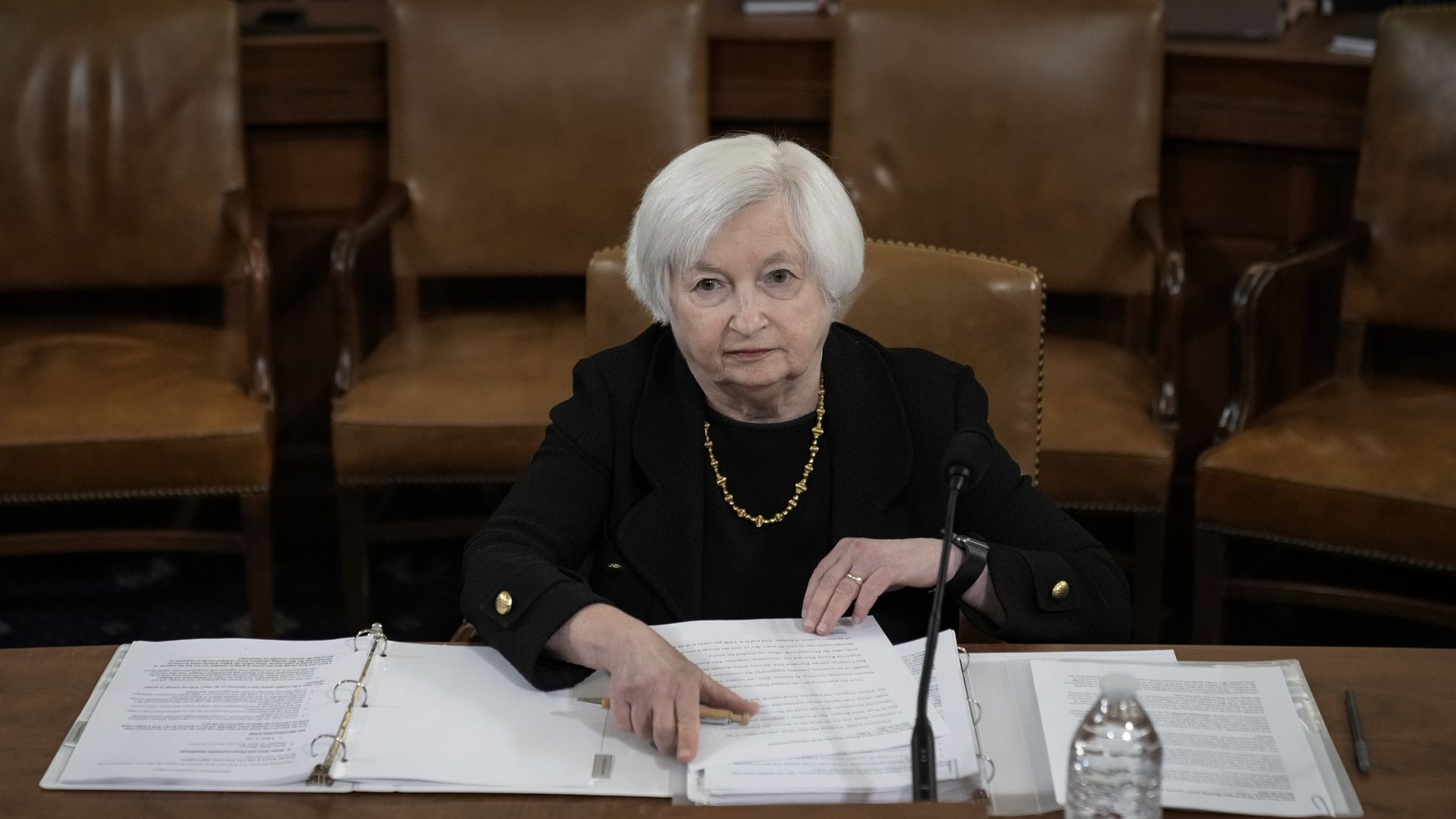 The Biden administration is using a Thursday speech by Treasury Secretary Janet Yellen to set the stage for President Biden's APEC summit and his highly-anticipated meeting with Chinese President Xi Jinping later this month.
Why it matters: Team Biden wants China's neighbors — and China — to know that "economic ties" will underpin its approach to the Indo-Pacific region, as it looks to diversify U.S. supply chains with partners and allies.
Biden officials want pragmatism to be the predicate for the U.S- China relationship.
By emphasizing the importance of economic growth and trade, officials are signaling to Beijing that relations don't have to be defined by conflict.
At the same time, the White House wants to convince other Indo-Pacific countries that the U.S. is committed to long-term partnerships with them, as Biden works to expand U.S. supply chains and reduce its reliance on China.
What they're saying: "Claims that America is turning away from the Indo-Pacific are wholly unfounded," Yellen will say in an address to the Asia Society in D.C.
"We are deepening our economic ties across the region," she will say, according to remarks obtained by Axios.
"We're pursuing an approach I've called friendshoring -- seeking to strengthen our economic resilience through diversifying our supply chains across a wide range of trusted allies and partners."
Driving the news: The Biden administration is carefully calibrating its message ahead of Biden's first meeting with Xi — set for the sidelines of the Asia Pacific Economic Conference in San Francisco — since November of 2022.
Central to that approach: clear lines of communication, which were strained for Biden's first two years and then went basically silent after the Chinese spy balloon incident earlier this year.
Over the summer, a trio of Cabinet visits to Beijing helped to mend fences. A reciprocal visit to D.C. by China's Foreign Minister Wang Yi last week allowed both sides to lock in the Xi visit to San Francisco.
By the numbers: Trade between the U.S. and the Indo-Pacific region has increased over 25% since just 2019, Yellen will say.
In 2022, trade reached $2.28 trillion, with the U.S. exporting about $770 billion to the region in goods and services.
Zoom out: Even when the Biden administration has unveiled unfriendly policies towards China – like its restriction of outbound investment to the tech industry – officials have taken pains to explain that harming China isn't the intent.
The goal is simply to ensure that the U.S. retains a military advantage over China in crucial technologies, like artificial intelligence and quantum computing.
And Biden has been clear that he wants to continue to trade with China.
"We're not looking to decouple from China, we're looking to de-risk and diversify our relationship with China," Biden said at the end of the G-7 summit in May in Japan.
The bottom line: Biden's China policy doesn't solely exist in the economic sphere.
From the start of the administration the president has bolstered the so-called Quad – a security conference between Australia, India, Japan and the U.S.
And at last week's state dinner, he celebrated the U.S. alliance with Australia, a country that he's entrusted with America's most sensitive nuclear submarine technology.
Go deeper