UAW's Shawn Fain paves a new path for America's labor left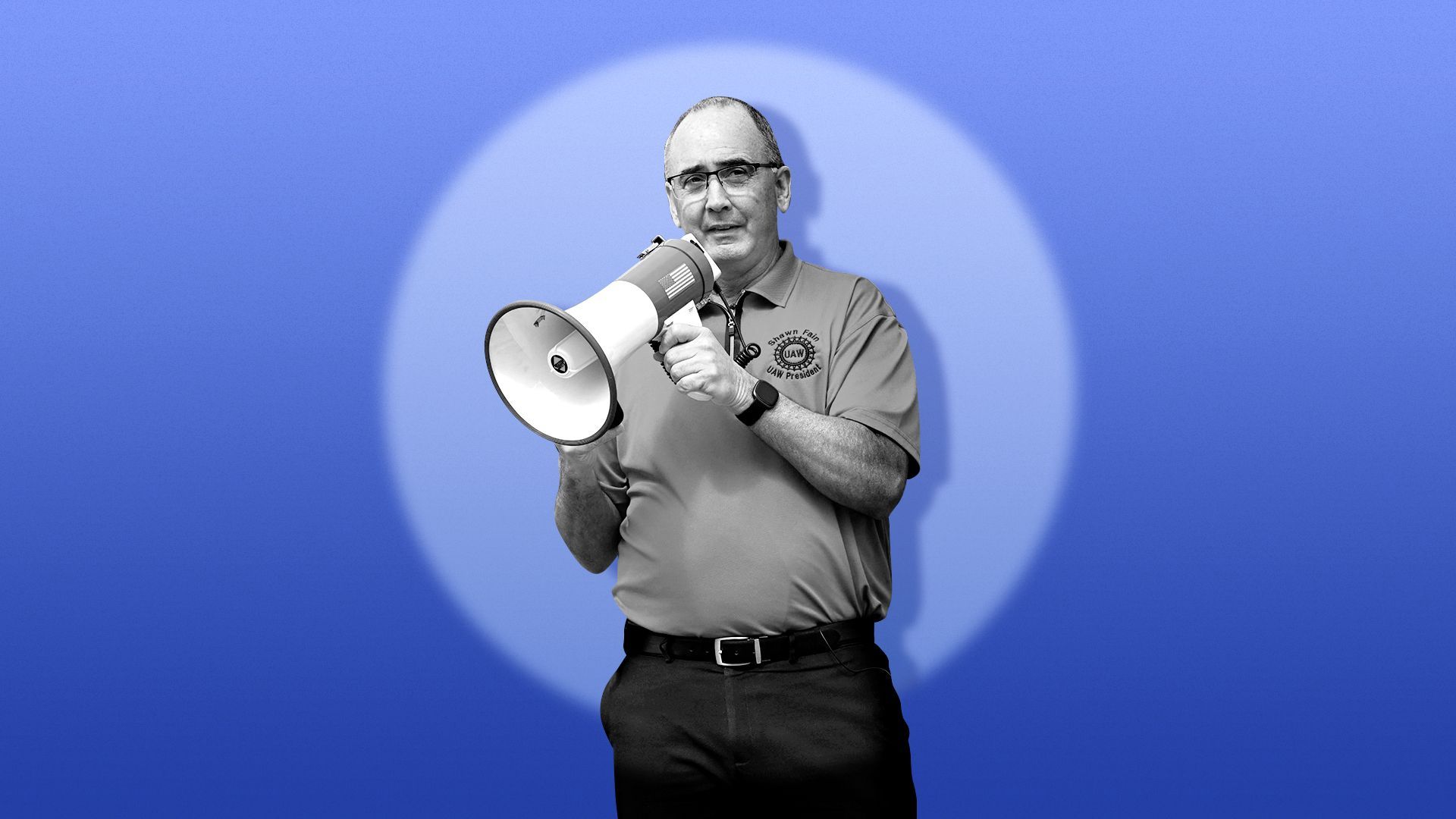 United Auto Workers president Shawn Fain has emerged from the union's strike against the Detroit Three automakers on a powerful pedestal that he can use to influence the future of the American workforce.
Why it matters: Fain went from little-known rabble rouser to corporate conqueror in less than a year at the helm of an organization just recovering from a moral crisis involving funds embezzlement.
With relentless anti-executive rhetoric, the supremely quotable 55-year-old Kokomo, Indiana native led a six-week strike at General Motors, Ford and Stellantis that ended with record contracts for 150,000 UAW members.
Railing against "corporate greed" and the "billionaire class," he epitomized the polished candidate capable of rallying votes while emotionally connecting with his constituents.
Catch up quick: The union won a 25% raise over nearly five years, the elimination of a two-tier wage system, the return of cost-of-living adjustments (COLA), increased retirement benefits and the right to strike over plant closures.
The big picture: Fain's salt-of-the-earth sensibility set a new tone for a union reeling from a corruption scandal that left two of his predecessors imprisoned for embezzling union dues.
He wears hoodies, fleeces and T-shirts; talks directly to union members on Facebook; and speaks passionately about his Christian faith while at the same time quoting Malcolm X.
"Our union just showed the world what's possible when workers unite to fight for more," Fain said Nov. 3 in a video address to GM workers.
Between the lines: Fain, whose representative did not respond to Axios' request for comment, is carving a new path for a union that was previously associated closely with liberals and secularism.
Fain regularly quotes the Bible, talks about his daily devotional readings and emphasizes that the union is a family — qualities that could help him appeal to prospective members in the Bible Belt.
Fain has withheld the union's endorsement of President Biden, even after Biden visited a UAW picket line in Michigan and supported the union's call for record deals.
"He's working to broaden the constituency of the UAW and support for the UAW by using language and appealing to folks who might not otherwise associate themselves with the labor movement," New York University historian Tom Sugrue tells Axios.
What they're saying: Tim Smith, director of UAW Region 8 — which includes Alabama, Mississippi, Tennessee, Kentucky, Georgia, Texas, North Carolina and South Carolina — said Fain's approach is helping to change the tide in the South.
"We've had a tremendous amount of calls coming in from Toyota" workers wanting to unionize in Kentucky, Smith tells Axios.
"We will represent anybody that needs help," Smith said, adding that Fain did an "amazing job" of casting a wide net.
"If you're willing to stand up, we're willing to stand with you and fight with you."
Meanwhile, Republican rhetoric toward the UAW has softened — even as critics say the GOP remains hostile toward organized labor.
In recent weeks, Sen. Josh Hawley (R-Mo.) and Sen. J.D. Vance (R-Ohio) were among the conservatives visiting UAW picket lines and voicing support for the workers.
"This is a very different UAW, these are very different times," Kate Bronfenbrenner, a professor at Cornell University's School of Industrial and Labor Relations, tells Axios.
What's next: Fain's legacy may be defined by whether he can achieve his next promised goal: organizing at least two or three non-unionized automakers in the U.S. within the next several years.
He's openly setting his sights on companies like Tesla, Honda and Toyota — the latter of which raised workers' pay immediately after the UAW strikes ended.
Toyota "knows we're coming for them," Fain said in the video address, calling the pay hike "the UAW bump" and quipping that the UAW stands for "you are welcome."
"When we return to the bargaining table in 2028, it won't just be with the Big Three but with the Big Five or Big Six," Fain said last week on another video address.
Reality check: That won't be easy.
In the last decade — long before Fain took over — the UAW tried and failed to organize a Volkswagen plant in Chattanooga, Tennessee; a Nissan plant in Canton, Mississippi; and a Tesla plant in Fremont, California.
"They're going to have to be prepared for tough fights, but I think it's a much greater possibility than there has been," says Bronfenbrenner.
Go deeper