UAW promises to deliver where it's failed before: the South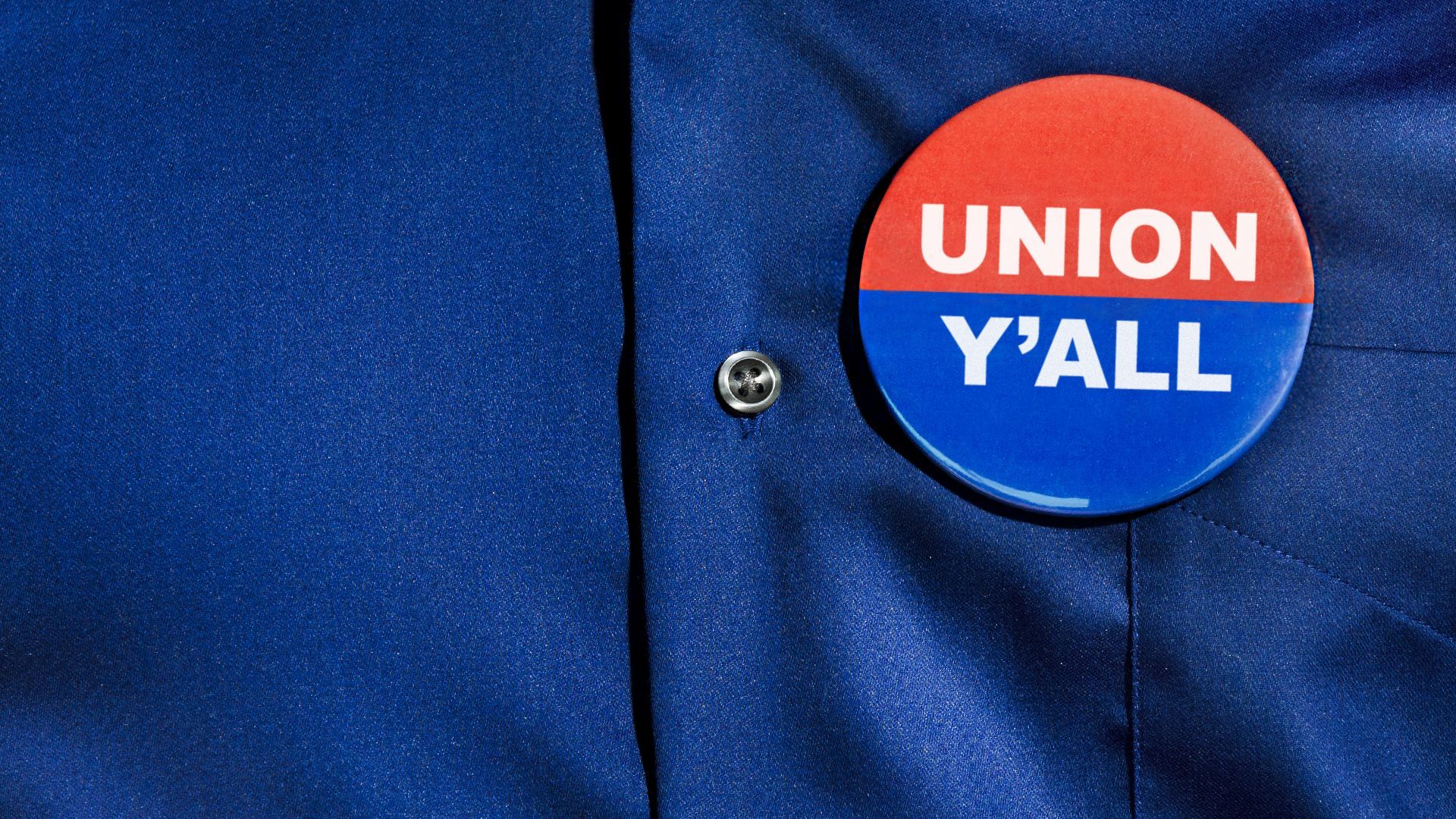 UAW president Shawn Fain has predicted that the union will organize multiple non-unionized automakers over the next several years — despite history showing that road fraught with potholes.
Why it matters: Fresh from winning record contracts at General Motors, Ford and Stellantis, and with public support for unions recently at a six-decade high, this time might be different.
Driving the news: The UAW plans to target non-unionized automakers in the U.S., which could include Toyota, Tesla, Nissan, Volkswagen, Honda, Hyundai and Kia, among others.
"When we return to the bargaining table in 2028 it won't just be with the Big Three, but with the Big Five or Big Six," Fain said.
State of play: In the last decade, the UAW tried and failed to organize the Volkswagen plant in Chattanooga, Tennessee; the Nissan plant in Canton, Mississippi; and the Tesla plant in Fremont, California.
Republican politicians and business leaders like Tesla CEO Elon Musk have taken steps to block the UAW from organizing in the past.
At VW in Chattanooga, the union faced tremendous political pushback from the likes of then-U.S. Sen. Bob Corker (R-Tenn.).
And pro-business laws in the South tend to favor the employer in labor fights, when businesses often seek to intimidate workers into rejecting union membership.
What others are saying: "They're going to have to be prepared for tough fights, but I think it's a much greater possibility than there has been," Kate Bronfenbrenner, a professor at Cornell University's School of Industrial and Labor Relations, tells Axios.
What might help turn the tide in red states is that Fain is carving a new path for a union that was previously associated closely with liberals and secularism.
Rather than using his perch to endorse Democrats, Fain has withheld the union's endorsement of President Biden, even after Biden visited a UAW picket line in Michigan.
Fain is an avid Christian from Indiana who regularly quotes the Bible, talks about his daily devotions and emphasizes that the union is a family — qualities that could help him appeal to prospective members in the Bible Belt.
Meanwhile, Republican rhetoric toward the UAW has softened, even as critics say the Republican Party's policies toward organized labor are still hostile.
In recent weeks, Sen. Josh Hawley (R-Mo.) and Sen. J.D. Vance (R-Ohio) were among the conservatives visiting UAW picket lines and voicing support for the workers.
"This is a very different UAW, these are very different times," Bronfenbrenner says.
"You can imagine all these non-union auto industry employers are very unhappy because the only way they can keep the workers from organizing is to match, at least, what the UAW got, and smart workers will see exactly what they're doing," she said.
Immediately after the UAW reached tentative agreements with the Detroit Three — deals that must still be ratified by members — Toyota announced pay increases for all of its U.S. factory workers.
Tim Smith, director of UAW Region 8 — which includes Alabama, Mississippi, Tennessee, Kentucky, Georgia, Texas, North Carolina and South Carolina — said the tide is changing in the South.
"We've had a tremendous amount of calls coming in from Toyota" workers wanting to unionize, Smith tells Axios. "The main thing that's going to help us is these record, historical contracts. Why wouldn't you want to organize?"
The intrigue: The Detroit Three are virtually relying on the UAW to organize other automakers after they just agreed to contracts that will widen the labor cost gap with their competition.
Federal incentives to make EVs in the U.S. will make it more difficult for foreign automakers with plants in the U.S. to threaten to move their operations overseas if workers unionize, says Jason Walsh, executive director of the BlueGreen Alliance, a coalition of labor unions and environmental organizations.
"They can still move, but in order to qualify for most of these incentives, you have to be domestic. That's a big deal. It gives unions and workers more leverage," Walsh tells Axios' Joann Muller.
The bottom line: Like a coach predicting another title immediately after winning the championship, Shawn Fain is now under pressure to deliver once again.
Go deeper: UAW president sees big contract wins as a turning point in labor movement
Go deeper