UAW reaches tentative deal with GM, last of 3 automakers hit by strike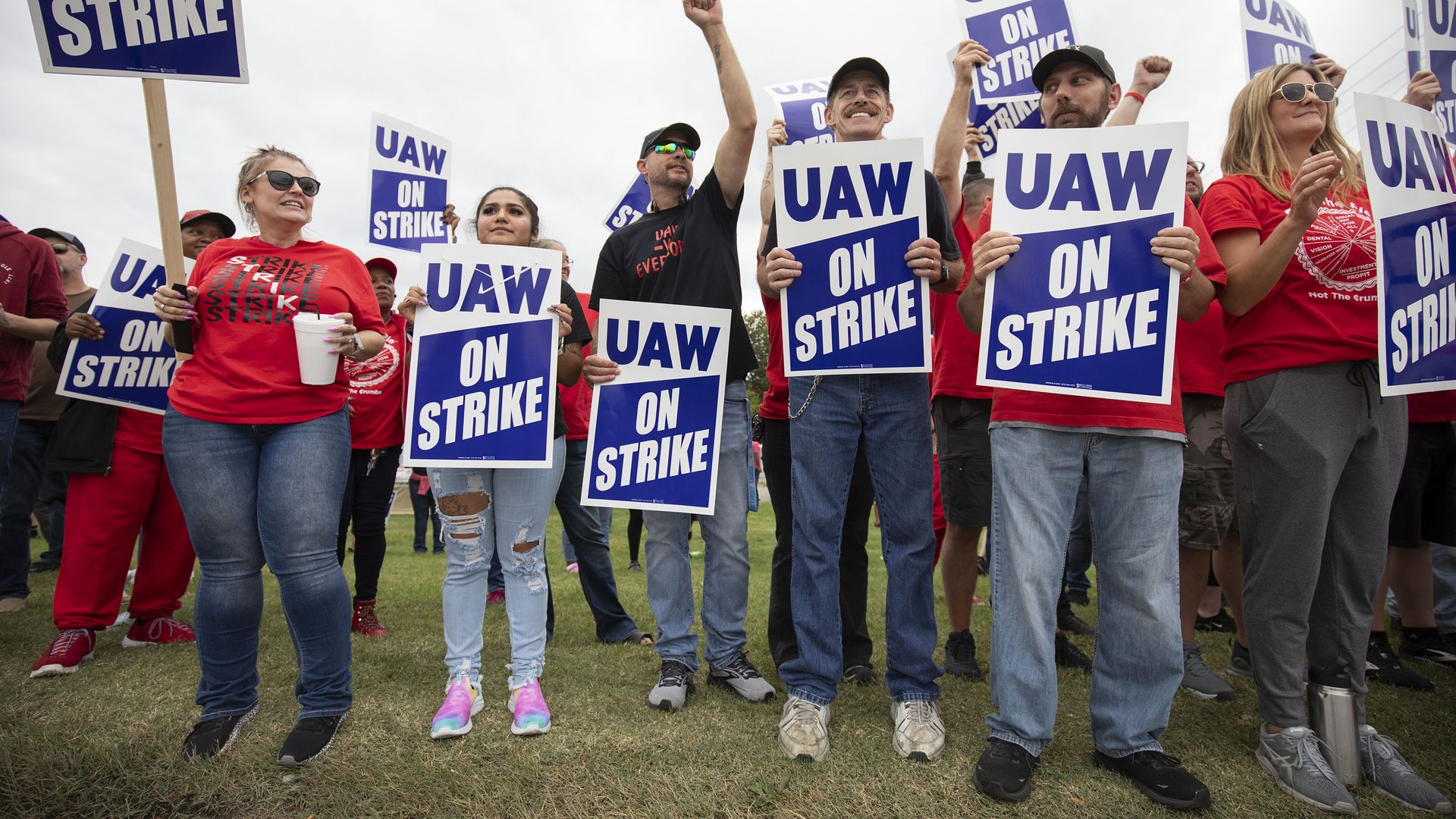 The United Auto Workers union on Monday announced a tentative contract agreement with General Motors, the last of the three U.S. automakers to settle a costly strike that lasted nearly seven weeks.
Why it matters: The proposed agreement, similar to deals struck in recent days with Ford and Stellantis, would provide big gains in wages and benefits plus increased job security.
The deal must be ratified by GM's 46,000 UAW workers. In the meantime, UAW members at all three companies are going back to work immediately.
Details: Like the deals at Ford and Stellantis, the tentative agreement at GM would provide 25% wage hikes over four and a half years, as well as cost-of-living adjustments.
With COLA, the top wage is estimated to rise to over $42 an hour by 2028.
It also eliminates a despised two-tiered wage scale for newer hires, provides permanent jobs for temp workers and boosts retirement income, including 401(k) contributions.
Like the other carmakers, GM agreed to provide a path for workers at electric vehicle battery plants to earn the same high wages under the national bargaining agreement that other UAW members earn.
UAW leaders had feared the transition to EVs would mean fewer jobs, or lower-paying jobs.
There's also money for GM retirees, the UAW statement said. "Many thought GM would never put more money on the table for their hundreds of thousands of retirees. In this agreement, however, GM has agreed to make five payments of $500 to current retirees and surviving spouses, the first such payments in over 15 years."
What they're saying: President Biden in a statement lauded the "historic contract, which he said "is a testament to the power of unions and collective bargaining to build strong middle-class jobs while helping our most iconic American companies thrive."
GM Chair and CEO Mary Barra said the company "is pleased to have reached a tentative agreement with the UAW that reflects the contributions of the team while enabling us to continue to invest in our future and provide good jobs" in the U.S.
"We are looking forward to having everyone back to work across all of our operations, delivering great products for our customers, and winning as one team," Barra said.
The big picture: The fallout from the contentious labor battle has been costly for all three companies.
GM said last week the strike was costing $200 million a week, adding to the challenges it's already facing in its biggest strategic bets like electric vehicles and self-driving taxis.
Meanwhile, Ford said the work stoppage cost the company about $1.3 billion in lost production.
Stellantis is expected to share the strike impact when it reports third-quarter results later this week.
What's next: The tentative agreements still need to be ratified by UAW members at their respective companies, including 57,000 at Ford, 43,000 at Stellantis and 46,000 at GM. Ratification is likely, but not guaranteed.
What to watch: Carmakers should be able to make up lost production before the end of the year, but only if suppliers that were forced to lay off workers during the strike can get their own workforces back quickly to restart operations.
Go deeper