GM's biggest bets are running out of juice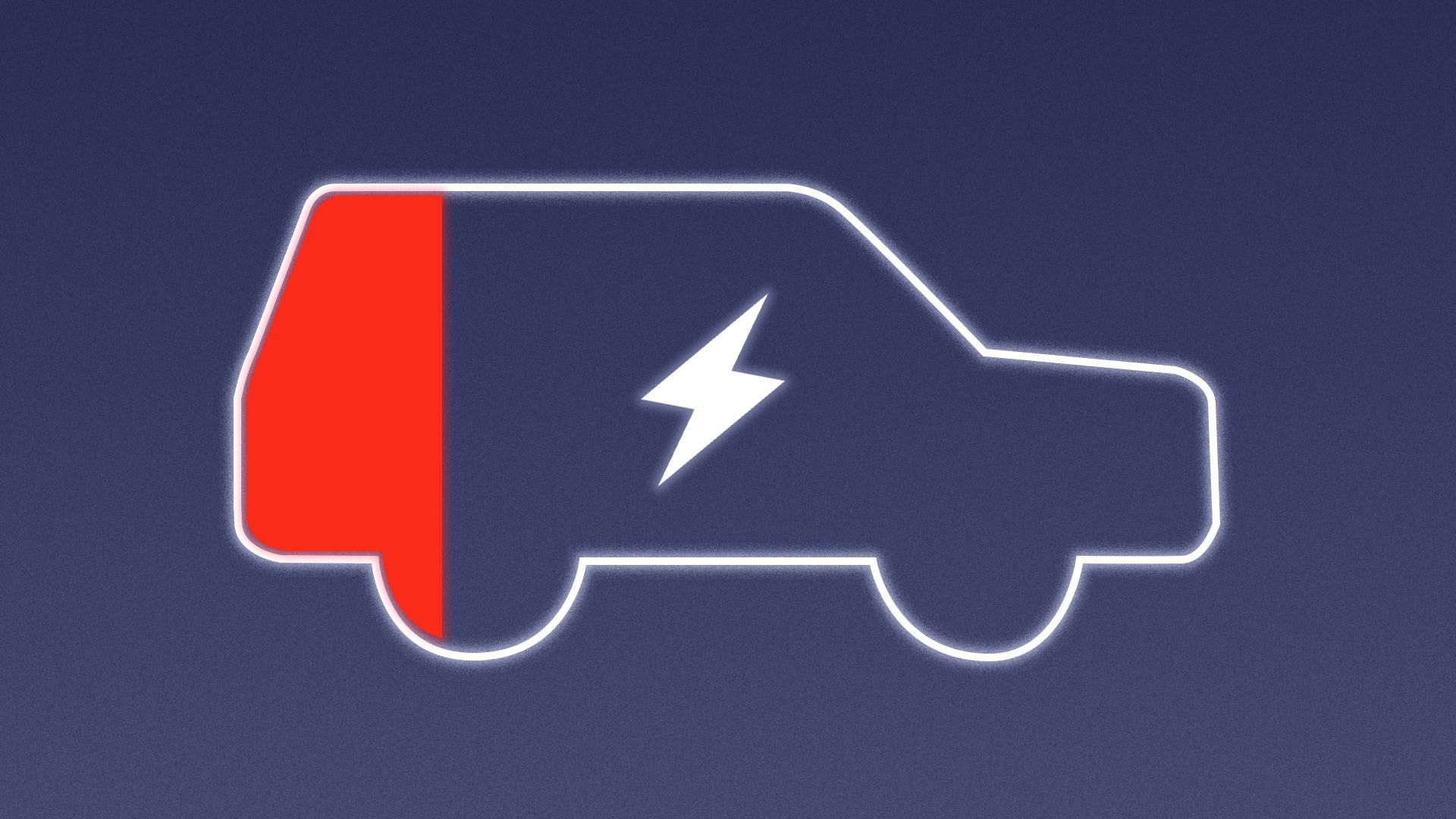 General Motors' biggest bets on the future — electric vehicles, autonomy and subscription software — are all running into trouble, and now the likelihood of sharply elevated labor costs is raising the stakes even higher.
Why it matters: CEO Mary Barra is trying to guide GM through the biggest transformation in its history. But her vision of an electric, autonomous, technology-driven future is proving to be tougher than expected, with little margin for error.
Plus, a nasty labor battle with the United Auto Workers is sapping GM's coffers to the tune of $200 million a week, and souring hopes for cooperation down the road.
Driving the news: A string of bad news has GM rethinking or retrenching on its most important strategic bets.
Self-driving cars: In a huge blow, GM's money-losing robotaxi unit, Cruise, pulled its driverless vehicles off the road in multiple cities last week after California revoked the company's permit to operate in San Francisco over safety concerns.
The federal government disclosed that it's also investigating the cars' safety.
"The most important thing for us right now is to take steps to rebuild public trust," Cruise said in a statement, adding that it would "take time to examine our processes, systems, and tools and reflect on how we can better operate in a way that will earn public trust."
Electric cars: GM last week abandoned its target to produce 400,000 electric vehicles (EVs) through the first half of 2024, citing slowing demand, continued manufacturing bottlenecks and profitability concerns.
The company had already announced it would delay production of electric pickup trucks at a second Michigan plant until 2025 to figure out how to make them more profitably. (It already makes electric pickups at a plant in Detroit).
And it recently paused production of its BrightDrop electric commercial vans until next spring.
Also last week, GM and Honda confirmed they were scrapping a $5 billion joint plan to challenge Tesla by building millions of affordable EVs. Honda's CEO blamed a changing business environment.
GM instead plans to revive its recently discontinued Chevrolet Bolt EV with new, lower-cost battery technology.
Software: GM is also pausing some key EV product launches to give its newly hired software team, led by former Apple executive Mike Abbott, more time to reassess the company's strategy for revenue-producing subscription services.
As a result, the planned launch of the family-friendly Chevrolet Equinox EV, as well as the Chevrolet Silverado EV RST and GMC Sierra EV Denali pickups, will be delayed by a few months.
On top of all that, GM has yet to reach a labor agreement with the UAW, which has negotiated tentative deals with rivals Ford and Stellantis.
On Oct. 27, moments after the union announced it had struck a deal with Stellantis, UAW workers at a GM facility in Spring Hill, Tennessee — the company's largest North American plant — walked off the job.
The move further escalated the UAW's ongoing battle with GM, now in its seventh week. Counting the additional 3,900 Spring Hill employees, approximately 18,200 UAW workers are on strike at GM.
Context: GM certainly isn't alone in facing a challenging EV market or higher labor costs.
Ford, for example, is postponing $12 billion in investments for EV manufacturing, including a planned battery factory in Kentucky.
Yes, but: GM's huge investment in self-driving cars (which Ford already abandoned) adds to its cumulative challenges.
What they're saying: Despite the headwinds, Barra insists the company is staying the course.
"Our commitment to an all-EV future is as strong as ever, and we continue to plan to have annual EV capacity of 1 million units in North America as we exit 2025," she said during last week's third-quarter earnings call.
In a statement to Axios, a spokesman added: "Reimagining our business for the next chapter of transportation isn't easy, but our commitment to an all-EV and autonomous vehicle future is stronger than ever, and our operating discipline will help us break through and win."
What we're watching: How much longer the UAW's GM strike drags on — and how much it hurts the company's ability to deal with the same challenges facing Ford, Stellantis and others.
Go deeper: Bad vibes are rippling through the electric car market
Editor's note: This story has been updated to clarify that GM is delaying production of electric pickups at one Michigan plant until 2025; it's still making them at a separate Detroit plant.
Go deeper