GM plans to double revenues by 2030 as it rolls out EVs and services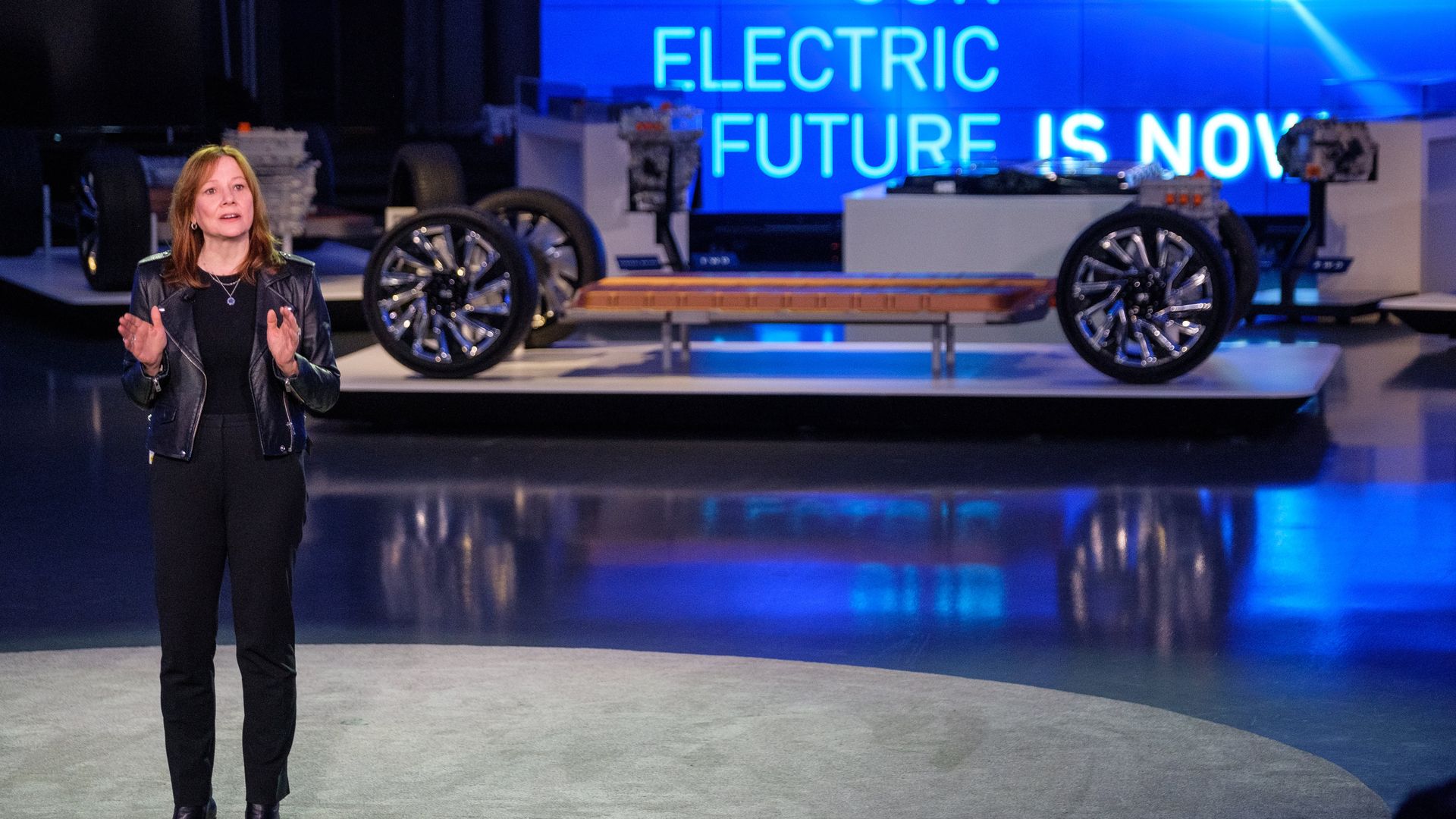 General Motors plans to double its revenues over the next decade as it transitions to an all-electric future, tapping into software and subscription services that enable new vehicle experiences and connect customers' digital lives, the company told reporters on Wednesday.
Why it matters: It's an extraordinary target for a lumbering industrial giant that is trying to transform itself from automaker to "platform innovator."
GM previewed key elements of its growth strategy with journalists ahead of an investor meeting today at its technical center outside Detroit. Key highlights include:
Revenue will double by 2030, along with higher profit margins, it said.
Chief executive Mary Barra said the company sees "moderate growth" with its current portfolio of gasoline-powered vehicles and automotive financing.
But most of the growth will come from the addition of electric vehicles to its lineup, as well as new subscriptions and services, including OnStar insurance.
GM also plans to add revenues from other businesses, including its GM Defense unit, Brightdrop commercial delivery business, Cruise robotaxis — which are getting closer to commercialization — and selling fuel cell technology to partners like Honda.
More electric vehicles: GM says it plans to reach "leadership in EV market share" — surpassing Tesla — with a broad portfolio of high-volume plug-in models, including a $30,000 Chevrolet crossover utility.
GM confirmed an electric Chevrolet Silverado will debut at CES in Las Vegas in January.
The Silverado-E will offer a range of more than 400 miles and will feature an optional glass roof and four-wheel steering.
GM plans to follow it up with an electric version of the GMC Sierra pickup.
"No one is going to be able to touch us in the battery truck space," GM President Mark Reuss, hinting at a unique approach to electric trucks.
Buick crossovers and Cadillac EVs, including the Lyriq and Celestiq, are also coming, along with the trucks.
GM said 50% of its factories in North America and China will be capable of EV production by 2030.
Hands-free driving: GM unveiled Ultra Cruise, a new advanced driver assistance technology that aims to enable hands-free driving in 95% of all driving scenarios.
Ultra Cruise will be available on premium vehicles like Cadillac, while GM's existing highway-assistance technology, Super Cruise, will be available on mainstream cars and trucks.
"The combination of Ultra Cruise for premium offerings and Super Cruise for lower-cost products will enable us to offer driver assist technology across price points and segments," said Doug Parks, GM's executive vice president of global product development, purchasing and supply chain.
Ultra Cruise will initially cover more than 2 million miles of roads in the U.S. and Canada — 10 times as many as today's Super Cruise — and will eventually cover 3.4 million miles (essentially every paved road in the U.S. and Canada.)
Go deeper