UAW president sees big contract wins as a turning point in labor movement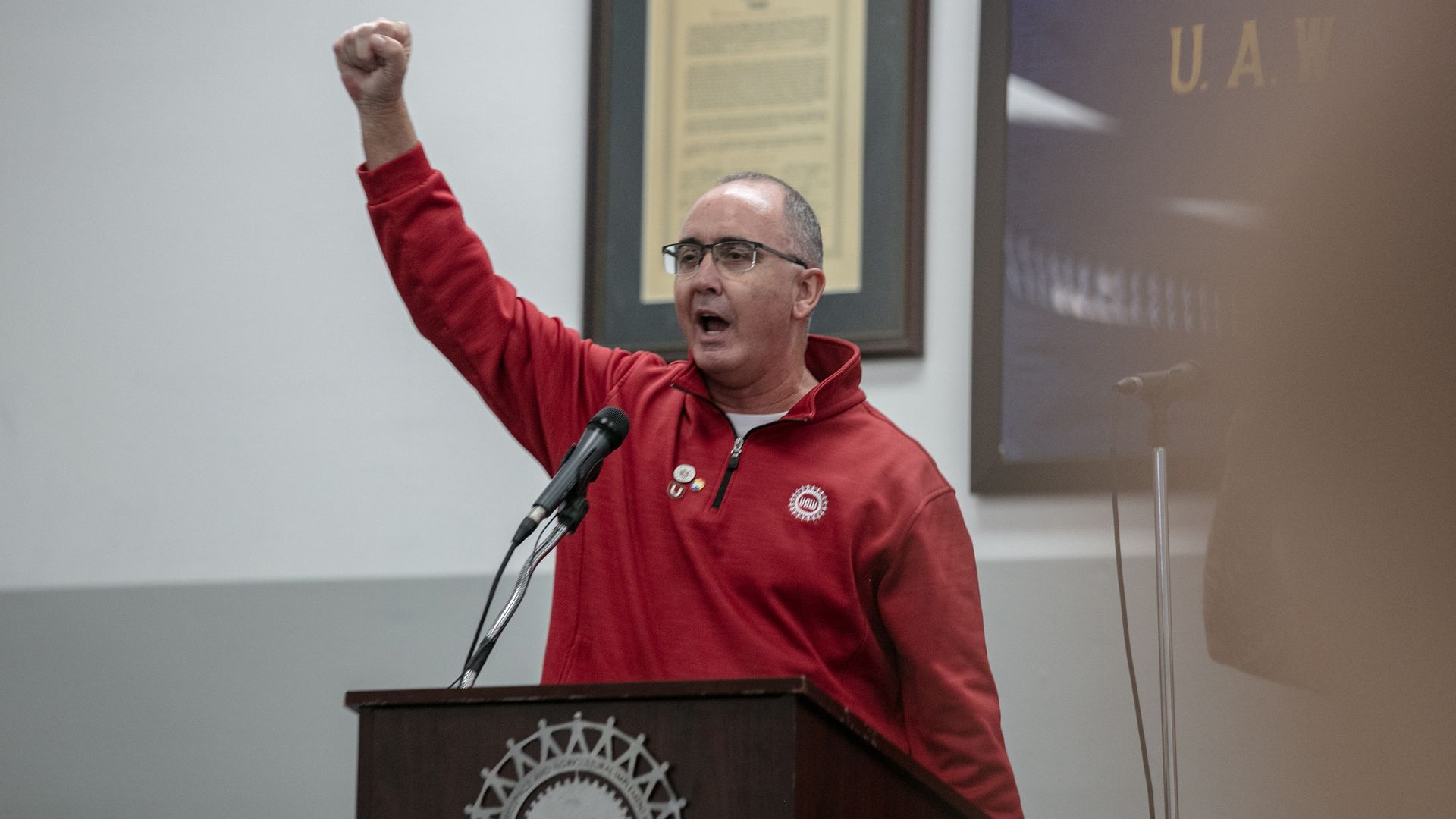 The UAW's huge contract wins at Detroit automakers represent "a call to action" for working people everywhere to flex their collective muscle against "the billionaire class," president Shawn Fain told union members Sunday evening.
Why it matters: It's clear that Fain has grander ambitions than just helping autoworkers recoup past concessions. He's fanning the sparks of a much larger labor movement as workers demand higher pay across the economy and form unions at companies like Starbucks and Amazon.
The big picture: Fain sees the record contracts won in tentative deals at Ford Motor and Stellantis as "a turning point in the class war that has been raging in this country for the past 40 years," he said. (The UAW announced a tentative deal with General Motors on Monday.)
For example, the UAW demanded a longer contract that expires on April 30, 2028, so that the next strike, if it comes, will align with International Workers' Day, which commemorates the struggle to win an eight hour workday.
Fain invited other unions to align their contract expirations likewise. "If we're going to truly take on the billionaire class, and rebuild the economy," he said, "... it's important that we not only strike, but that we strike together."
And he said the longer contracts would give the UAW time to organize workers at non-union auto companies like Toyota, Tesla and Nissan. "When we return to the bargaining table in 2028 it won't just be with the Big Three, but with the Big Five or Big Six," he said.
Driving the news: Sunday's session on Facebook live was an opportunity for Fain and UAW bargainers to outline details of the historic contract they negotiated at Ford ahead of the member ratification process.
Details: It includes an immediate 11% pay hike for hourly workers, 3% in each of the next three years, and 5% in the final year. That means factory workers earning the top rate of $32.05 an hour today will make $42.60 by the end of the agreement in April 2028.
Workers would progress to the top rate in three years, instead of eight, under the new agreement.
Temporary workers and lower-paid employees at Ford component factories would see the biggest pay hikes under the contract, which eliminates a despised two-tiered wage system and converts temps to permanent employees within 90 days.
Between the wage hikes, a $5,000 ratification bonus and an estimated $8,800 in cost-of-living adjustments, most UAW workers are expected to realize economic benefits worth $68,200 over the life of the contract —with lower-paid employees seeing "life-changing" benefits approaching $200,000, according to a summary document.
Workers will also receive enhanced profit-sharing and retirement benefits, including a 10% company contribution to their 401k plans.
Of note: Workers won job security benefits including a commitment from Ford for $8.1 billion in new manufacturing investments.
The union also won an assurance that union workers at future Ford battery plants won't be subject to lower wages as feared in the shift to electric vehicles.
The bottom line: The UAW didn't get everything it wanted — traditional pensions and a four-day workweek, for example — but the tentative contracts are the richest in decades.
What to watch: Will they be so expensive that Detroit automakers can't afford to compete with non-union rivals? Or will the UAW's big win raise the tide for everyone?
Go deeper: How the UAW strike has affected workers and the economy
Go deeper