Scoop: Biden tells Bibi 3-day fighting pause could help secure release of some hostages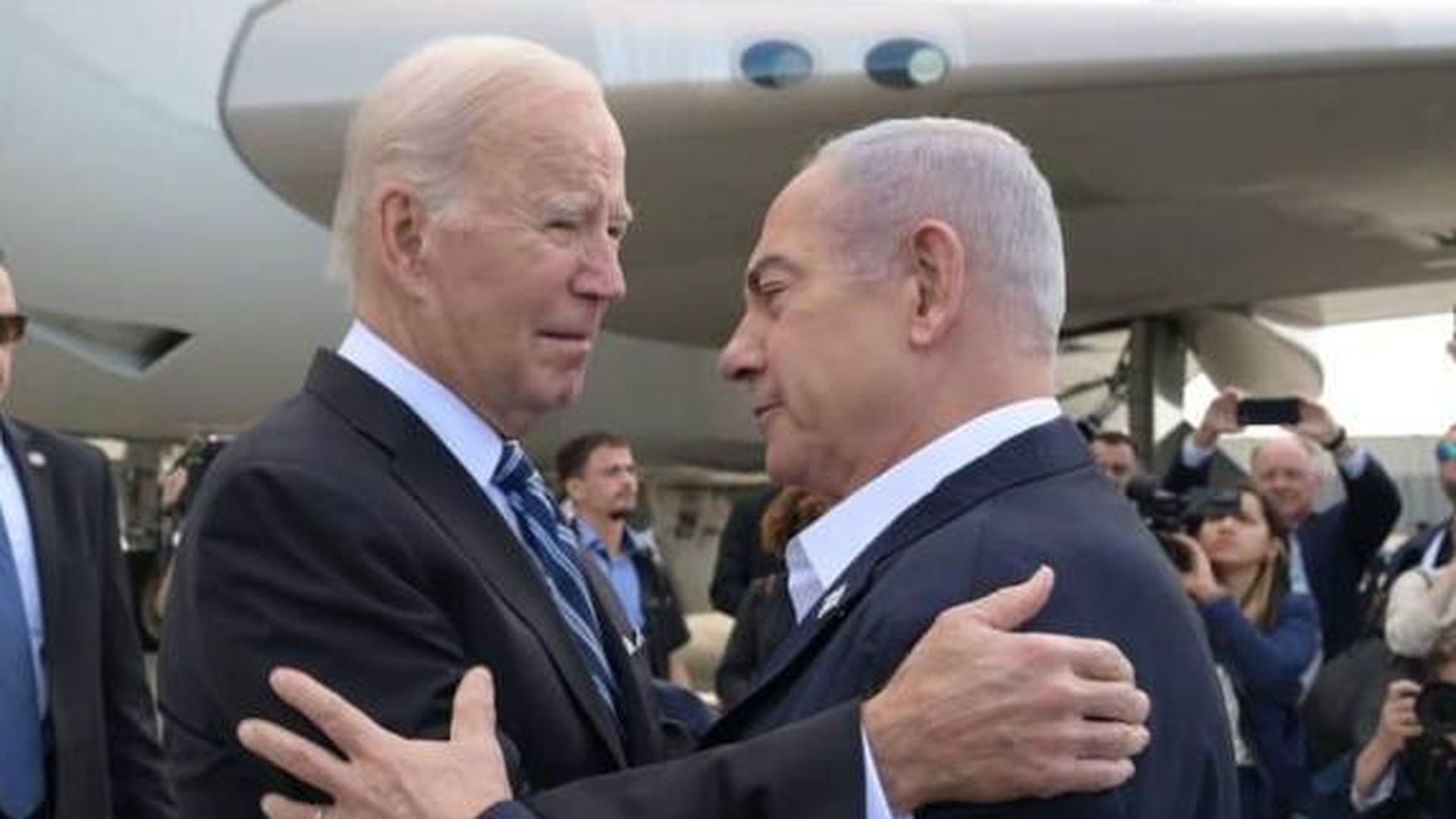 President Biden urged Israeli Prime Minister Benjamin Netanyahu in their call on Monday to agree to a three-day pause in the fighting to allow progress in releasing some of the hostages held by Hamas in Gaza, two U.S. and Israeli officials said.
The big picture: According to a proposal that is being discussed between the U.S., Israel and Qatar, Hamas would release 10-15 hostages and use the three-day pause to verify the identities of all the hostages and deliver a list of names of the people it is holding, the U.S. official said.
At least 240 people were kidnapped during the Oct. 7 Hamas terrorist attack in Israel, according to Israeli officials. Hamas has released two elderly Israeli women and two Americans.
According to the Israeli assessment, Hamas is holding about 180 hostages, the Palestinian Islamic Jihad is holding 40 and people loosely affiliated with the militant factions are holding about 20, two Israeli officials said.
Hamas claimed in a statement on Tuesday that it was ready to release 12 foreign nationals it is holding hostage, but it couldn't because of Israel's airstrikes and ground operation.
Behind the scenes: The two U.S. and Israeli officials said Netanyahu told Biden he doesn't trust Hamas' intentions and doesn't believe they are ready to agree to a deal regarding the hostages.
He also said that Israel could lose the current international support it has for the operation if the fighting stops for three days, the officials said.
The Israeli official told Axios that part of Netanyahu's reservation is because Hamas attacked a group of Israeli soldiers, kidnapped one of them, and killed several others during a humanitarian pause during the 2014 war.
The Israeli Prime Minister's Office declined to comment.
The White House referred Axios to the readout of Tuesday's call between Biden and Netanyahu, which said the two leaders "discussed ongoing efforts to secure the release of hostages held by Hamas." The White House added that it does not comment on Biden's private conversations.
Biden told reporters later Tuesday that he asked Netanyahu for a pause during their phone call on Monday.
Between the lines: A senior U.S. official told reporters on Friday the indirect and complicated nature of the hostage negotiations has made it difficult to make progress in the talks.
The Biden administration has been primarily working on the issue through the government of Qatar, where some Hamas leaders are based.
CIA director Bill Burns is in the Middle East this week and part of his focus is the hostages' release. He had talks in Israel and will meet Qatari officials later this week.
State of play: After his meeting with Secretary of State Tony Blinken in Tel Aviv on Friday, Netanyahu rejected the U.S. request for a humanitarian pause and said Israel would only agree to a temporary ceasefire if hostages are released.
An Israeli official said Netanyahu sees a three-day pause in the fighting as a ceasefire and doesn't believe a large window of time is needed to release such a small number of hostages.
Netanyahu has appeared more open to some kind of shorter pause. "As far as tactical little pauses, an hour here, an hour there. We've had them before. I suppose we'll check the circumstances in order to enable goods, humanitarian goods to come in, or our hostages, individual hostages to leave," he told ABC News in an interview that aired several hours after his call with Biden.
Editor's note: This story has been updated with Biden's comments later Tuesday.
Go deeper