Biden raises possible "tactical pause" in Gaza fighting with Netanyahu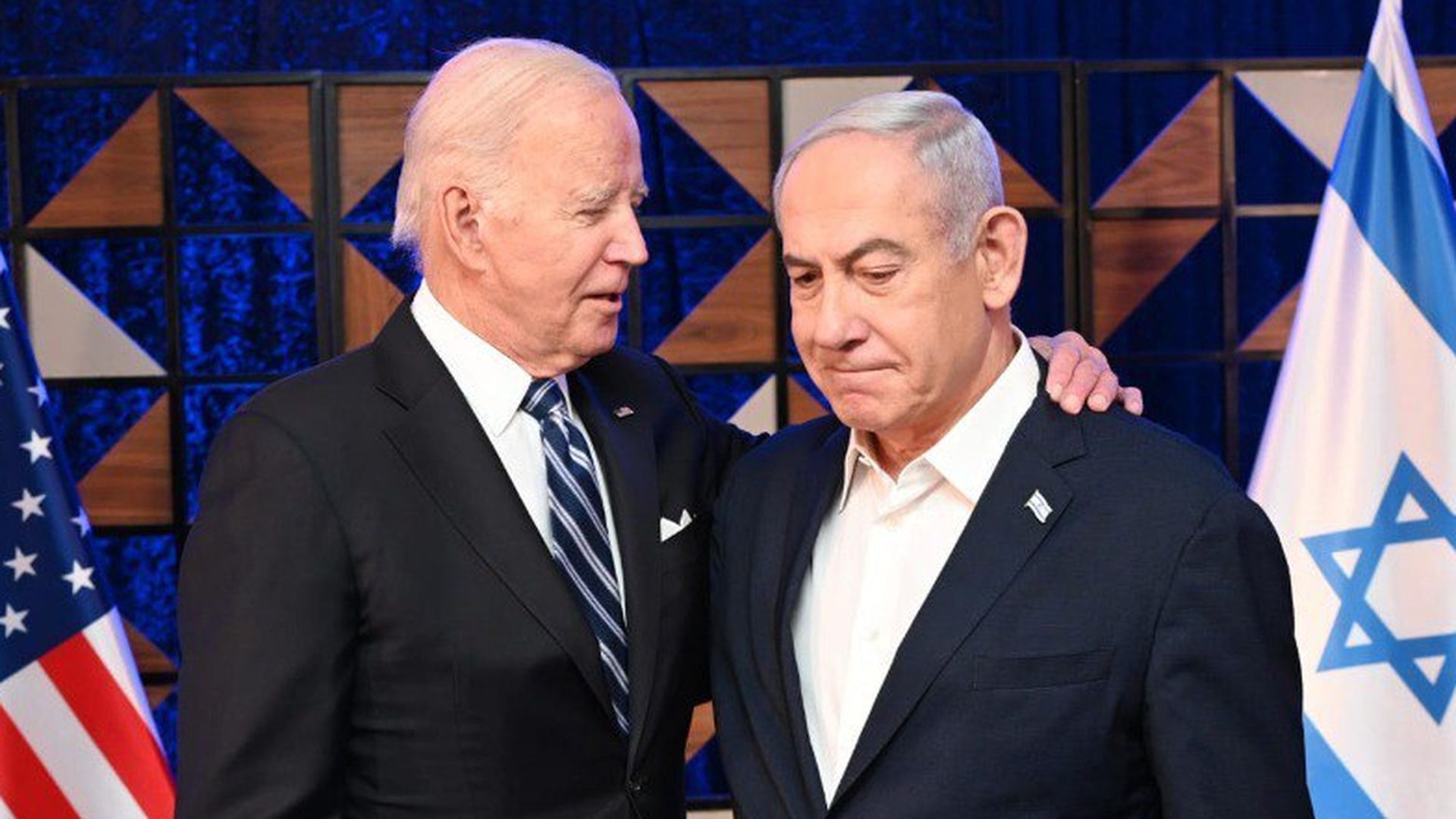 President Biden in a call with Israeli Prime Minister Benjamin Netanyahu on Monday raised the possibility of a "tactical pause" in the fighting in Gaza, the White House said in a statement.
The latest: In an interview with ABC News that aired later Monday, Netanyahu didn't rule out a "tactical pause" in the fighting in Gaza.
"There'll be no ceasefire, general ceasefire, in Gaza without the release of our hostages," Netanyahu said.
"As far as tactical little pauses, an hour here, an hour there. We've had them before. I suppose we'll check the circumstances in order to enable goods, humanitarian goods to come in, or our hostages, individual hostages to leave," he added.
It was a slight shift from his stance last week when he told Secretary of State Tony Blinken that there would be no pause in fighting unless hostages were released.
Driving the news: The Biden administration has rejected calls for a ceasefire, but it does believe that a "pause" in the fighting could provide Palestinian civilians with opportunities to safely depart from areas of ongoing fighting, ensure assistance is reaching civilians in need, and enable potential hostage releases.
What they're saying: White House National Security Council spokesperson John Kirby said in a press briefing after the call between Biden and Netanyahu that the U.S. would want to see humanitarian pauses "as soon as possible."
Kirby said that because the Biden administration believes there is value in humanitarian pauses, it will continue discussing the issue with Israeli officials.
He pointed to other issues Israel eventually agreed to, particularly after pressure from the Biden administration, including allowing aid into Gaza.
"We think we are at the beginning of this discussion and not at the end," he said.
The big picture: Vice President Kamala Harris separately on Monday spoke to Emirati President Mohammed Bin Zayed and Bahraini Crown Prince Salman bin Hamad Al Khalifa about the situation in Gaza.
Harris told both leaders that the U.S. is working to protect Palestinian civilians in Gaza and to increase humanitarian aid, the White House said.
She also made clear it is critical to ensure that Palestinians are not forcibly displaced outside of Gaza and underscored the Palestinian right to self-determination, the White House added.
Go deeper: Blinken tells Israelis humanitarian pause will buy Israel time for Gaza operation
Editor's note: This story has been updated with details from Harris' calls and Netanyahu's ABC News interview.
Go deeper