Big pro-Palestinian protests expected across U.S. to demand ceasefire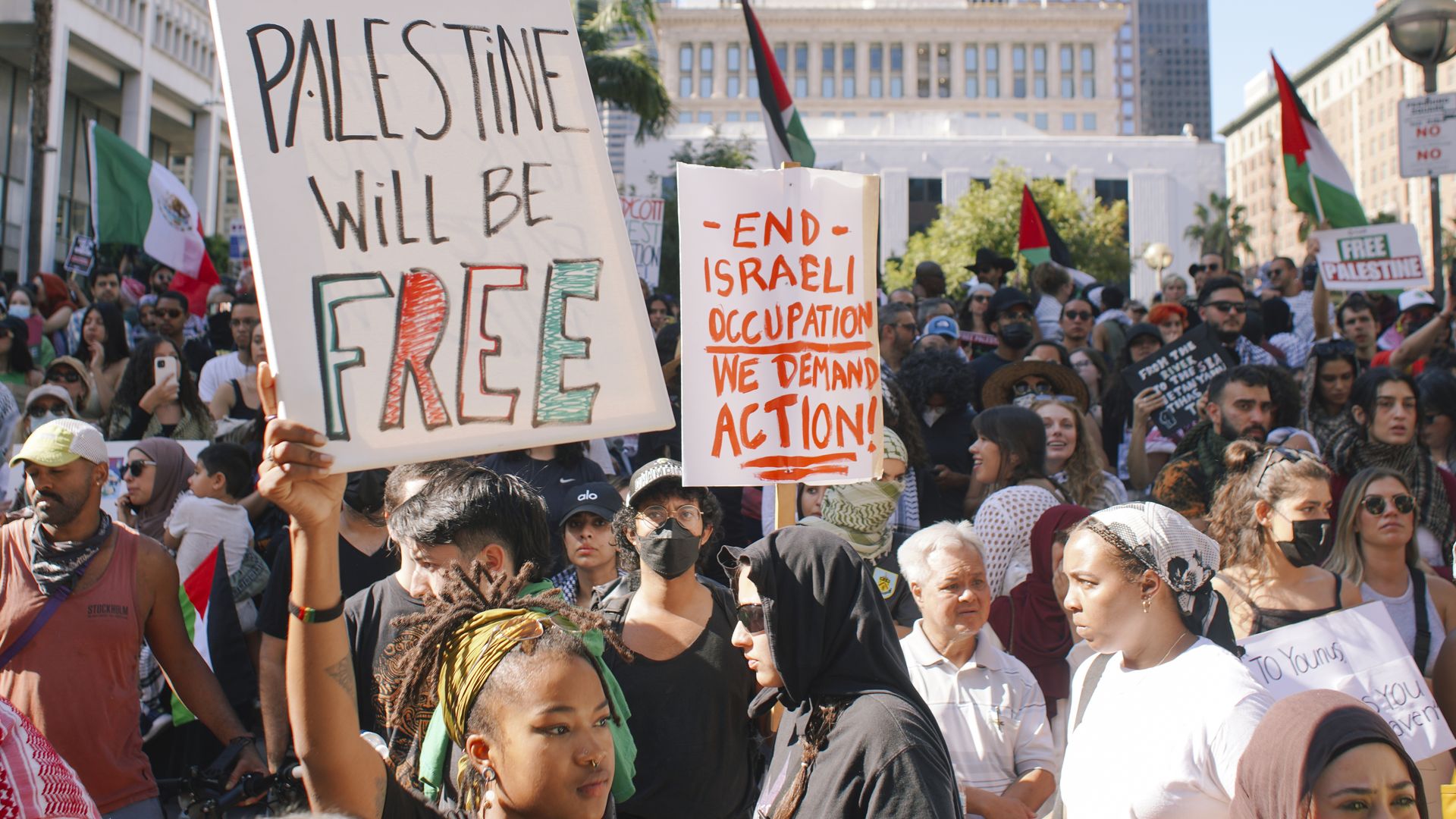 Thousands of people are expected to rally across the U.S. this weekend to demand a ceasefire in the Israel-Hamas war.
The big picture: Some organizers anticipate that Saturday's planned pro-Palestinian demonstrations against Israeli military action against civilians in Gaza will be among the largest anti-war protests in recent U.S. history and the largest pro-Palestinian action in the country to date.
Zoom in: A protest dubbed "National March on Washington: Free Palestine!," is scheduled to take place in Washington, D.C., on Saturday, with organizers calling for an end to U.S. aid to Israel and a ceasefire.
The march has been endorsed by over 300 groups, and organizers say they are expecting more than a 100,000 people.
There are also solidarity marches planned to take place from San Francisco to New York.
Meanwhile, pro-Palestinian demonstrations have been taking place in major cities across the country since the Israel-Hamas war began last month.
In New York last weekend, thousands of protesters marched across the Brooklyn Bridge demanding "an end to the blockade and the breaking of the siege," Palestinian-led community group Within Our Lifetime said.
In Los Angeles, thousands rallied in the city's downtown area to call for an end to Israeli airstrikes in Gaza.
Students have also staged walkouts on college campuses, including UCLA.
Zoom out: Pro-Palestinian protests have garnered large-scale participation across the country even as some have faced hostility and, in some cases, retaliation for criticizing Israel.
The Israel-Hamas war has stoked controversy on college campuses, and in some cases has resulted in revoked job offers for students connected to pro-Palestinian or anti-Israel statements and actions.
There have also been tense clashes at some gatherings between Palestinian supporters and Israel backers.
Of note: There has been misinformation spreading on social media about chants at such protests on colleges campuses in recent weeks.
In two instances at UCLA and the University of Pennsylvania, the chant "Israel, we charge you with genocide," was misconstrued as "we want Jewish genocide," fueling outrage amid an already tense climate.
The big picture: At least 1,400 people were killed in Hamas' Oct. 7 terrorist attack in Israel.
More than 9,000 Palestinians have been killed in the ensuing Israeli air and ground operation, which has also caused a major humanitarian crisis, according to the Ministry of Health in Hamas-run Gaza.
Go deeper: Universities struggle with responses as Israel-Hamas war reverberates
Go deeper