"18 precious souls stolen": Biden honors Maine mass shooting victims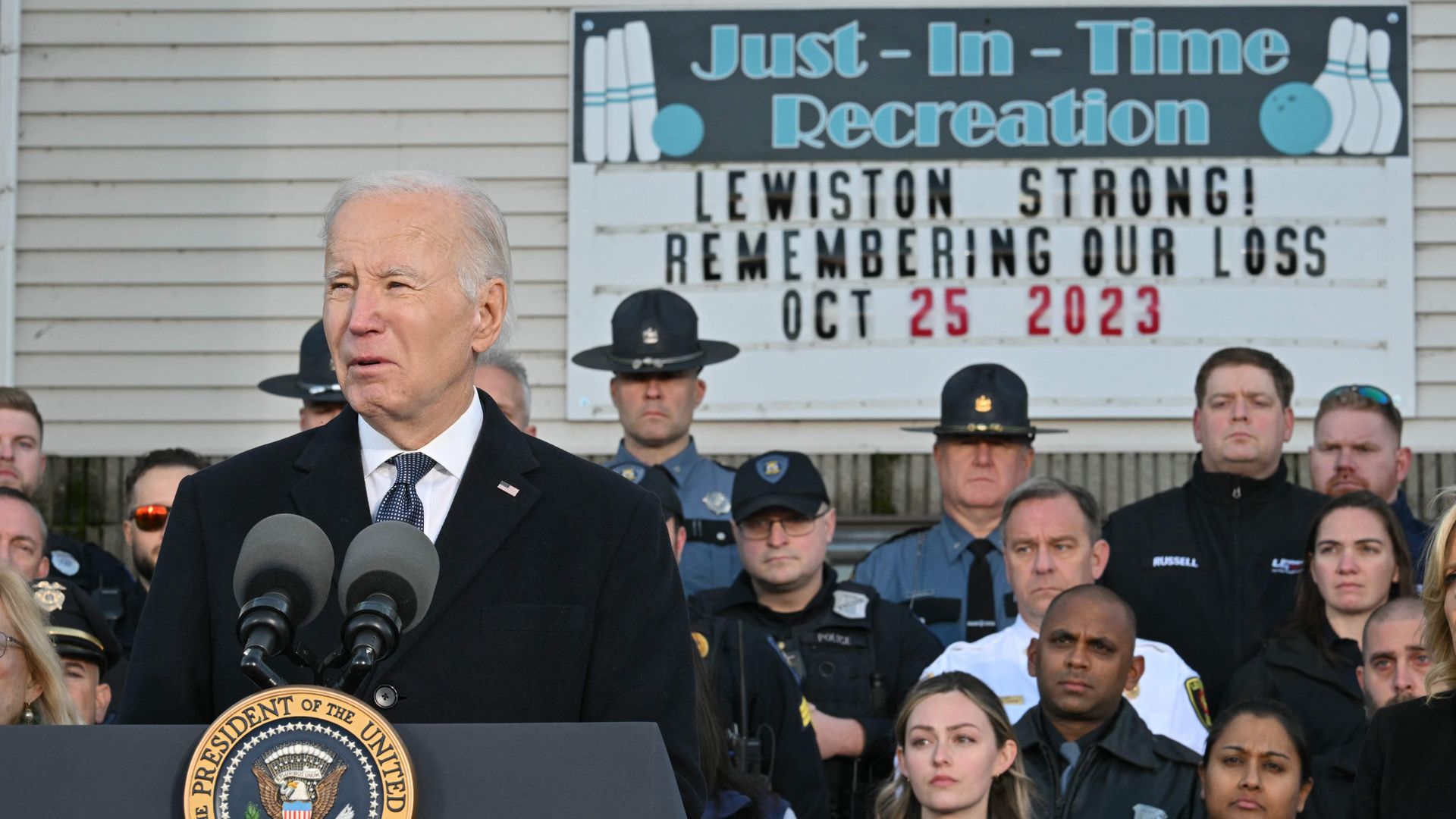 President Biden and first lady Jill Biden visited Lewiston, Maine, on Friday in the wake of mass shootings there that left 18 people dead and more than a dozen injured.
Driving the news: The October shootings, which took place at a bar and bowling alley on the same night, were the deadliest of 2023 thus far.
The suspect was found dead days later with a self-inflicted gunshot wound, concluding a manhunt that had prompted lockdowns in communities around Lewiston.
The big picture: Upon arrival Friday, Biden and the first lady were expected to meet with first responders, nurses and others who had been involved in responding to the shootings, per a White House press schedule.
They also were scheduled to meet with survivors of the attacks, mourning families of the victims and other community members affected by the shootings.
"18 precious souls stolen," Biden said in remarks outside the bowling alley where one of the shootings took place.
"As we mourn today in Maine, this tragedy opens a painful, painful wound all across the country," the president said. "Too many Americans have lost loved ones or survived the trauma of gun violence."
"This is about common sense, reasonable, responsible measures to protect our children, our families, our communities, because regardless of our politics, this is about protecting our freedom to go to a bowling alley, a restaurant a school, a church – without being shot and killed," he added.
Zoom out: Though he didn't specifically mention gun control in his remarks Friday, Biden has been a staunch advocate of stricter gun laws, and has repeatedly called on Congress to ban assault weapons and high-capacity magazines.
Biden continues to call for Congress to take such actions, White House press secretary Karine Jean-Pierre said at a press briefing Thursday ahead of the trip to Maine.
"Too many times, the President and the First Lady have travelled to communities completely torn apart by gun violence," Jean-Pierre said.
Go deeper: Maine victims included people who tried to stop shooter, families say
Go deeper