To rein in delivery vehicles, Seattle aims to digitize its parking system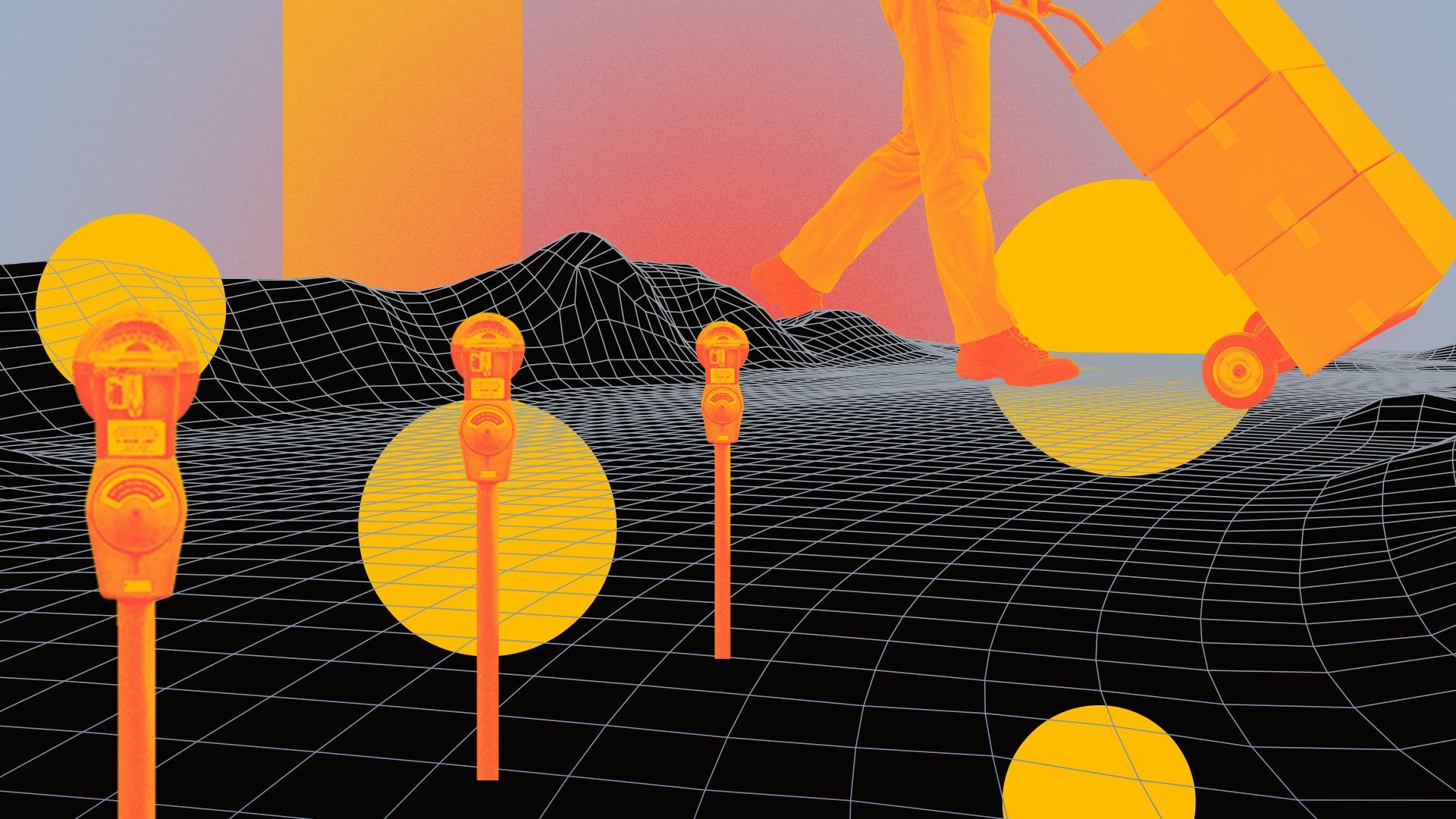 Seattle is building a digital parking system to better manage competing demands for curbside space among cars, delivery trucks, pedestrians and more.
Why it matters: Home of delivery giant Amazon, Seattle is in the vanguard of cities that are digitizing their parking rules — in part to crack down on the glut of delivery vehicles that double-park and don't pay for the spaces they occupy.
The project is part of an emerging field called "curb management," in which cities try to juggle the ever-expanding demands on public streets and sidewalks.
"We want to show that we can manage our curb space for the public good," said Brian Hamlin, the Seattle Department of Transportation's strategic adviser for curbside management.
Driving the news: Seattle hired Populus to map all of its public curb space and parking rules, building an API that can be tapped by commercial vehicle fleets (like Uber) or online map systems (like Google Maps).
Populus says its Curb Manager platform helps cities "digitally inventory their curb regulations, publish them to curb users, and seamlessly collect revenue from connected fleets."
Seattle's goal is to create a "digital commercial vehicle permit" and "smart loading zones," Hamlin told Axios.
Not only will this help the city collect parking revenue being lost, but ideally, it'll help manage traffic flow and reduce emissions.
How it works: By identifying areas prone to parking violations, new rules can be drawn up to manage traffic flow and create better loading zones, Hamlin said.
Options might include pricing to manage parking behavior or establishing more extended loading zones.
"Or maybe we have too much car storage and need to dedicate more of it to Uber and Lyft," Hamlin said. "But we need the data to be able to make those decisions."
Zoom in: "We want to be able to communicate all the complicated rules of where you can and can't park, and what kind of permit you need," Hamlin added.
Commercial drivers, for example, could look at their phones and see that "I can park in this one for 30 minutes without getting a ticket."
Seattle, he noted, views curb management "not as a revenue generator, but as a way to manage that space."
Zoom out: In cities everywhere, "the curb has never been busier," the New York Times observed.
"Cities are asking their streets to do more to contend with the booming demand for online delivery, app-based rides, outdoor space and a dizzying array of nonvehicular alternatives," the Times reported.
Trucks, buses, taxis, cars, pedestrians and cyclists compete with e-scooters, bike-share docks, EV charging stations, outdoor dining sheds and traditional "street furniture" like trash cans, recycling bins, hydrants and mailboxes.
What they're saying: "Most cities have realized that the amount of loading zone spaces that they have is probably inadequate for the amount of loading activity that exists," Populus CEO Regina Clewlow tells Axios.
Her company works with many cities — including Chicago, Miami, Oakland and San Francisco — on digital smart zones and parking permits.
"When you go out in the street, you'll see parking signs that say, 'This is 2-hour parking' or 'you need to pay between these hours,'" Clewlow said. "A lot of that information doesn't exist in a digital format that's easily usable or sharable."
Populus takes that data "that probably lives in a lot of legacy databases and turns it into a standardized format that can be shared through a standardized API," Clewlow said.
Details: Modernizing transportation has been a priority in Seattle, which recently published a guide to reducing vehicle emissions.
Related projects include an intelligent transportation system, which uses cameras and other "smart city" tech to improve safety at intersections and elsewhere, and the Final 50 Feet program, to facilitate last-mile delivery.
The latter is part of a public-private partnership with the University of Washington called the Urban Freight Lab.
"These projects both address critical challenges around climate change (reducing greenhouse emissions due to idling) and transportation safety (reducing conflicts between different travel modes)," Ben Dalgetty, who leads digital strategy for Seattle Mayor Bruce Harrell, told Axios by email.
Between the lines: In Seattle and elsewhere, people have grown accustomed to having everything delivered right away — and complaining about the traffic and shortage of parking spaces.
"Especially in some of our densest neighborhoods, the residents here are very adoptive of new technology, and they don't think of what that means," said Hamlin, referring to on-demand delivery services.
But he added, "We can't just stick our head in the sand and pretend it's not happening. It's up to cities like us to meet the consumer demand."
What's next: Once a digital parking system is in place, Seattle can adjust its regulations.
It could, for instance, give parking preference to electric cars over gas-powered vehicles, or reserve spaces for e-cargo bikes.
"We want to be able to figure it out," Hamlin said. "There's a lot of eyes on Seattle and Seattle DOT."
Go deeper: Seattle is emerging as Fusiontown, U.S.A.
Go deeper