Seattle is emerging as Fusiontown, U.S.A.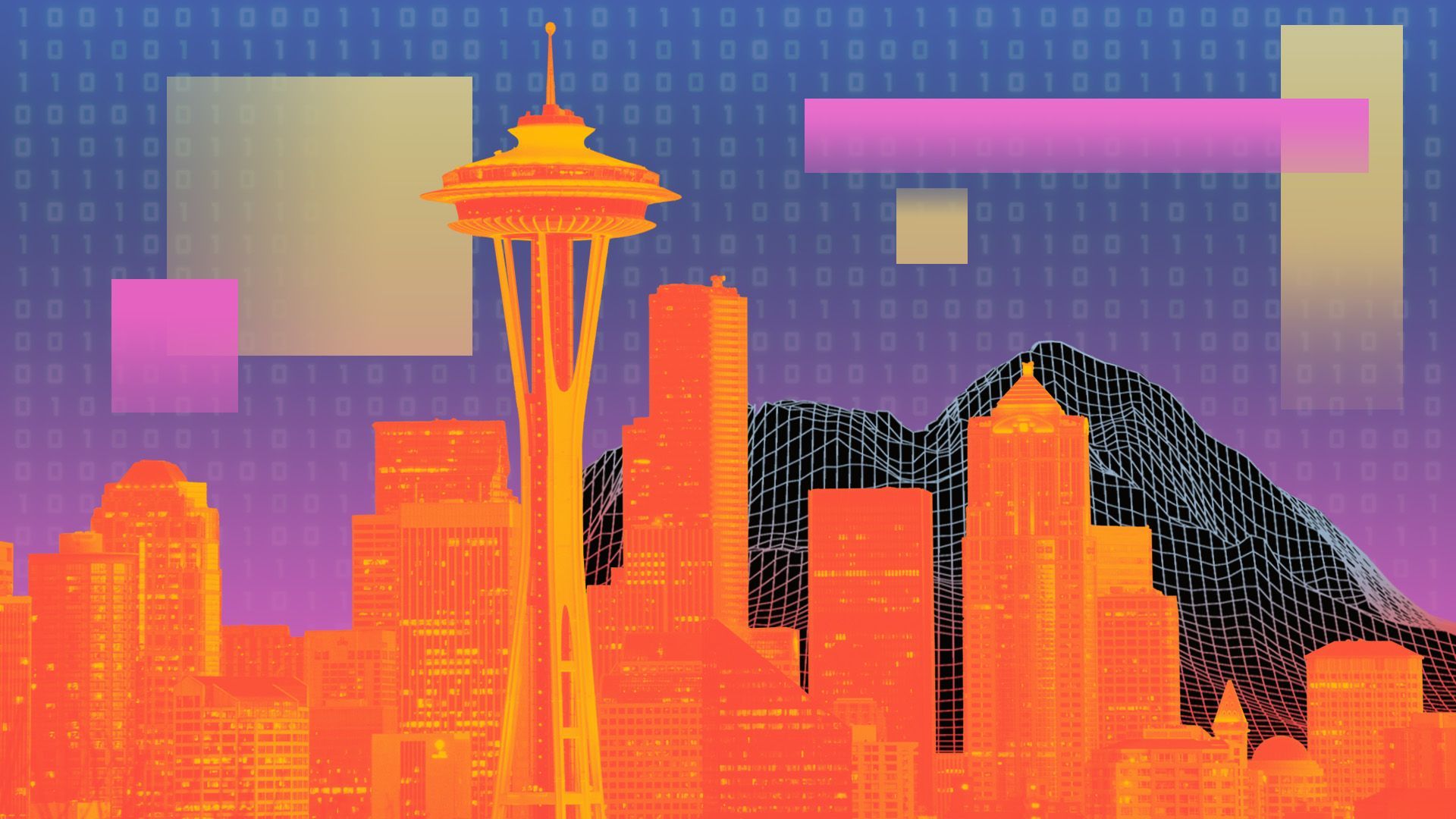 The Seattle region is solidifying its place as a global leader in the race for fusion energy, with five major companies looking to crack the code on the clean, sustainable power source.
Why it matters: In a rapidly warming and carbon-dependent world, there's a "huge prize" for developing and commercializing fusion energy, Mike Sexsmith of General Fusion said last month at Seattle Fusion Week.
Catch up quick: Fusion — in which atoms' nuclei are fused to release energy — promises effectively limitless, zero-emissions power without the radioactive byproducts produced by today's fission-based nuclear plants.
Yes, but: Researchers still haven't figured out how to create a sustainable and scalable fusion reaction that generates more energy than it takes to produce in the first place — though new breakthroughs hold promise.
The big picture: When and if mastered, fusion could become a $40 trillion global market, Bloomberg estimates.
Zoom in: Speaking at the Fusion Week conference hosted by the CleanTech Alliance last month, consultant Chris Ajemian said Washington's ecosystem positions the state exceptionally well to nurture the burgeoning fusion industry.
That's because of its publicly funded research laboratory, two universities, suppliers, manufacturers, utilities, international trade expertise and a local government that favors clean energy, Ajemian said.
Driving the news: Everett-based Helion Energy announced in September that it was building a 500 MW fusion power plant to provide electricity for Nucor, America's largest steel producer. The plant is slated to go online by 2030.
Helion also plans to build a fusion reactor to sell electricity to Microsoft by 2028, possibly the world's first fusion power purchase agreement.
Earlier this year, Zap Energy was awarded $5 million from the U.S. Department of Energy's new Milestone-Based Fusion Development Program.
Avalanche Energy, which is trying to make tiny fusion cores that could be used to power submersibles, space vehicles and more, announced in April that it had achieved a record 200 kilovolts in its micro-fusion reactor and had raised $40 million in a Series A funding round.
Other key members of the region's fusion hub include ExoFusion, which is working to improve fusion devices' performance, and Kyoto Fusioneering, which is developing technologies essential to the fusion process.
Kyoto is also working on safe and efficient ways to handle and "breed" tritium, a scarce hydrogen isotope needed to fuel fusion reactors.
The proximity and contributions of the University of Washington, Washington State University and the Pacific Northwest National Laboratory are another critical piece of the region's fusion strength, Michael Campbell, a laser science and plasma physics expert, said in his keynote speech at Fusion Week.
What they're saying: "Look at the sun. It is the source of all life," Campbell told Axios when asked to explain the goal of fusion research in the simplest terms.
"What we are trying to do is make the sun on Earth."
Reality check: There's considerable skepticism about some fusion startups' claims.
Some opponents are also concerned that the excitement around fusion is diverting funds from more proven clean energy sources, such as wind, water and solar power, Campbell said.
What's next: A thriving fusion hub in Washington depends not just on progress from the fusion companies themselves but also on buy-in from the community, environmentalists and policymakers, said Ajemian.
Plus, universities and vocational schools must step up to train fusion workers, he added, while public and private investment has to keep flowing into the sector.
Go deeper: How the country's largest ferry system is going green
Go deeper