How Mike Johnson's denial of Trump's 2020 loss helped pave his path to power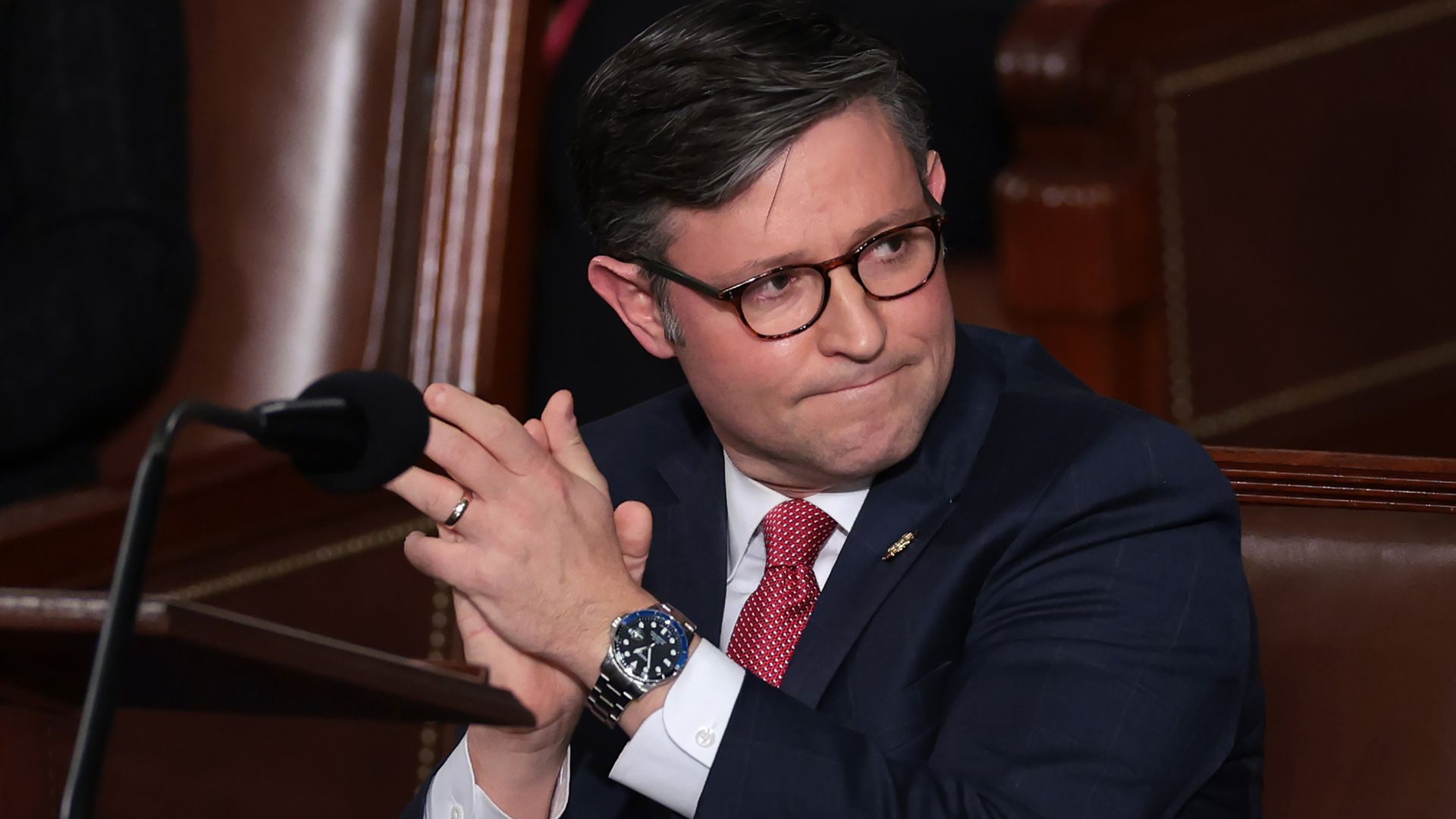 Newly elected House Speaker Mike Johnson (R-La.), an instrumental election denier for ally former President Trump, reflects a shift that's taken shape in the Republican party.
Why it matters: While 147 House Republicans voted to overturn the 2020 election results, Johnson took took additional steps to try to subvert them. 
His ascension to speaker could have implications for future elections, especially if he remains in the position in 2025, democracy experts said.
"This is an even further turn in authoritarian direction for the Republican Party," Steven Levitsky, a government professor at Harvard University and the author of books about democracy, told Axios.
Context: Levitsky noted election denialism has become part of a "litmus test" to gain positions of power in the GOP.
Rep. Tom Emmer (R-Minn.) dropped out of the speaker's race after winning the Republican nomination in part because he lost some conservative backing over past votes to certify the 2020 election.
Johnson, by contrast, didn't lose a single Republican vote on the House floor.
Yes, but: In the 2022 midterm elections, election-denying Republican candidates underperformed, which may have cost the GOP control of the Senate.
Catch up quick: In 2020, Johnson collected signatures from more than 60% of House Republicans in support of a Texas lawsuit that claimed election irregularities in four battleground states, according to the New York Times.
Johnson was regularly in communication with Trump, now the leading GOP presidential candidate, during the period between the 2020 election and the Jan. 6 Capitol riot, Politico reported.
"President Trump called me last night and I was encouraged to hear his continued resolve to ensure that every LEGAL vote gets properly counted and that all instances of fraud and illegality are investigated and prosecuted," Johnson said on X, formerly Twitter, in November 2020.
He also amplified conspiracy theories about Dominion voting machines that were pedaled on Fox News. (The network settled a defamation lawsuit with the electronic voting company for more than $787 million.)
What's next: Biden and Trump are the likely candidates for the 2024 presidential election — a historic potential rematch. And Johnson, who has socially conservative views on abortion and same-sex marriage, now follows the vice president in succession to the president.
With Johnson at the helm of the House, democracy experts told the Washington Post that Congress' response to 2024 could include a slew of far-fetched resistance scenarios.
"Exactly what behavior this will lead to, none of us know," Levitsky said. "We've never been here before."
Go deeper: Mike Johnson is the least experienced House speaker in 140 years
Go deeper