GOP's flip-flop on early voting faces first big test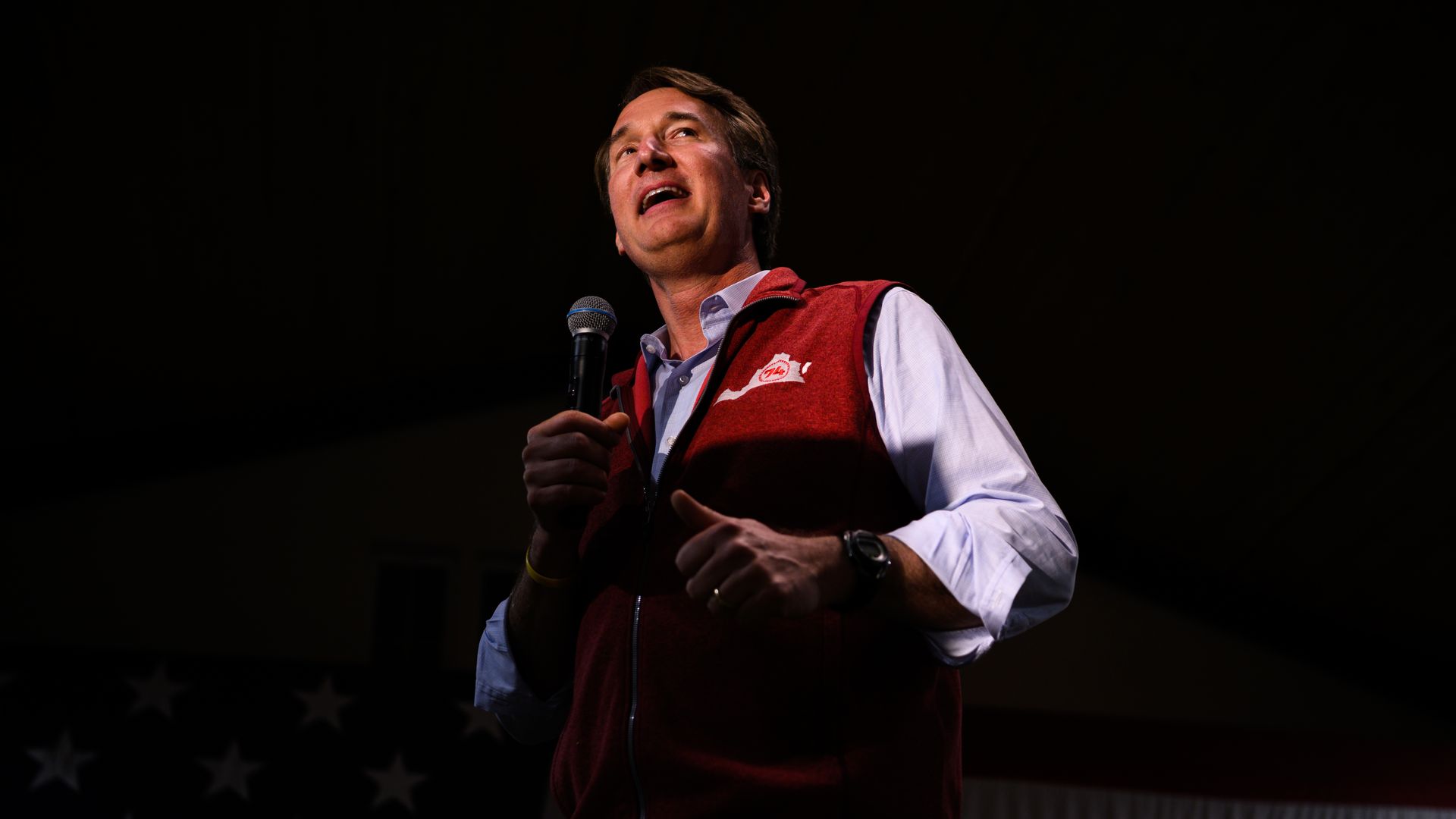 Virginia Republicans are embracing early voting this year, causing concern among Democrats as Gov. Glenn Youngkin's team eats into the share of votes that Democrats traditionally bank before Election Day.
Why it matters: Youngkin is testing the willingness of the GOP's base to reject years of fearmongering from former President Trump that early voting could never be trusted.
On the margins, it appears to be working.
But all sides agree that the battle for the state's General Assembly — a proxy for both Youngkin's national ambition and the party's competing messages on abortion — is too close to call.
By the numbers: Democrats still have the early-voting advantage, but their share of early votes cast in Virginia has fallen — just under 60% so far compared to 63% at roughly the same point last year.[
And it varies by district, with Republicans narrowing the gap in the closest contests.
In the competitive 65th House District, Democrats have banked 56% of the votes so far, according data analytics firm L2.
Zoom out: Democrats have privately chuckled at Trump's denunciation of drop-boxes and mail-in ballots, as it gave them a massive head-start in turning out their voters.
In recent elections, Republicans have waited for game-day surges to close the gap — but often fell short.
But last spring, Trump — now the leading contender for the GOP presidential nomination — reversed course and said the GOP had "no choice" but to accept early voting. That gave his hard-core supporters the green light to trust a system Trump previously had insisted was fundamentally corrupt.
Zoom in: Youngkin launched the "Secure Your Vote" campaign over the summer, urging voters to cast their ballots early — whether in person or by mail.
"By every indication, we are hitting the mark — driving Republican turnout in early voting and bringing Republicans who typically just vote in presidential or gubernatorial elections off the sidelines and in the game to win this election," Dave Rexrode, senior adviser to Youngkin, told Axios in a statement.
"The rules are the rules. We're not going to fight with one hand behind our back," one Virginia GOP operative told Axios.
The other side: Democrats have noticed the GOP's improving numbers, but take comfort that very few early Republican voters are new voters.
"[T]here is nothing remarkable about these early voting numbers considering the millions the GOP has spent trying to restore their own supporters' trust in casting an early ballot," Heather Williams, Interim President of the Democratic Legislative Campaign Committee, told Axios in a statement.
"We have put Democrats in a good position to win but this isn't over until it's over, and we need all hands on deck right up until Election Day to make final investments and get out the vote."
What to watch: Virginia's off-year elections often are viewed as a harbinger for general elections the following year — and this year's races are too close to call.
Strategists in both parties are looking at the state's open seats — without an incumbent riding on name ID — as a testing ground for different messages around the abortion issue.
Youngkin is pushing a 15-week abortion limit, which includes exceptions, as a consensus position. His team is going on offense against Democrats, accusing them of supporting late-term abortions.
Recent polling showed a majority of Virginia voters don't support a 15-week ban.
The bottom line: Virginia is the only southern state not to implement an abortion ban since the U.S. Supreme Court overturned abortion rights, and this is the first time the state's entire legislature has been up for election since the court's decision.
Democrats aren't shying away from the fight and claim that abortion is on the ballot, with national groups pumping millions into the race — a sign of the potency of the issue heading into 2024.
Go deeper