U.S. eases oil sanctions on Venezuela after Maduro election deal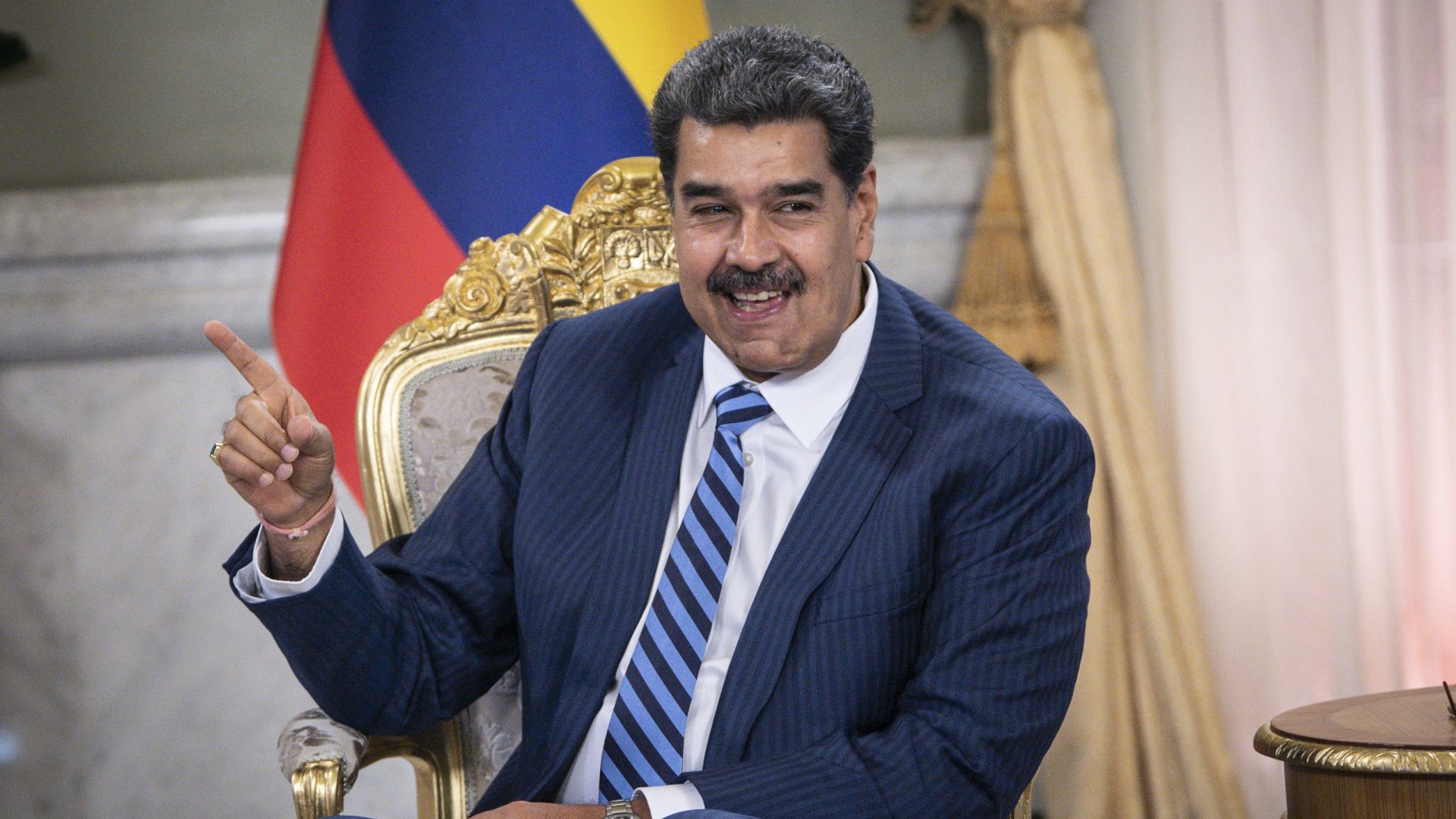 The Biden administration eased sanctions primarily on Venezuela's oil and gas sector Wednesday after Nicolás Maduro's regime agreed with the U.S.-backed opposition to a roadmap to presidential elections in 2024.
Why it matters: The biggest rollback of Trump-era economic restrictions on the country underscores U.S. efforts to bolster global oil and gas supplies, which Axios' Matt Phillips notes Russia's war on Ukraine has greatly disrupted.
Driving the news: Brian Nelson, the Treasury's under secretary for terrorism and financial intelligence, said in a statement the U.S. "issued General Licenses authorizing transactions involving Venezuela's oil and gas sector and gold sector, as well as removing the ban on secondary trading."
This was in response to the "democratic developments" of representatives for Maduro and opposition party the Unitary Platform signing the electoral roadmap, Nelson said.
A senior State Department official told reporters other U.S. restrictions on Venezuela remain in place.
The U.S. "retains the authority to amend or revoke all authorizations should Maduro and his representatives fail to follow through on their commitments," added the official, who spoke on the condition of anonymity under Biden administration rules.
Between the lines: Venezuela has the largest volume of proven oil reserves in the world, but Atlantic Council Global Energy Center nonresident senior fellow Ellen Wald said that the "likelihood that these developments will materially impact the oil market is negligible."
This is because most of the oil is "a sludgy, heavy, sour crude" that's locked in Venezuela's Orinoco Belt, noted Wald in a statement responding to the electoral deal Wednesday.
Corruption, sanctions, default, mismanagement, lack of investment and an exodus of skilled workers has plagued Venezuela's state oil company, PDVSA, for years.
The bottom line: Many of the companies that used to work with PDVSA, "will likely be hesitant to reinvest their money and manpower in Venezuela given the likelihood that sanctions could be reimposed or that foreign nationals could be imprisoned," Wald said.
Flashback: Trump expands Venezuela sanctions to total economic embargo
Go deeper