Recycling is about to get much easier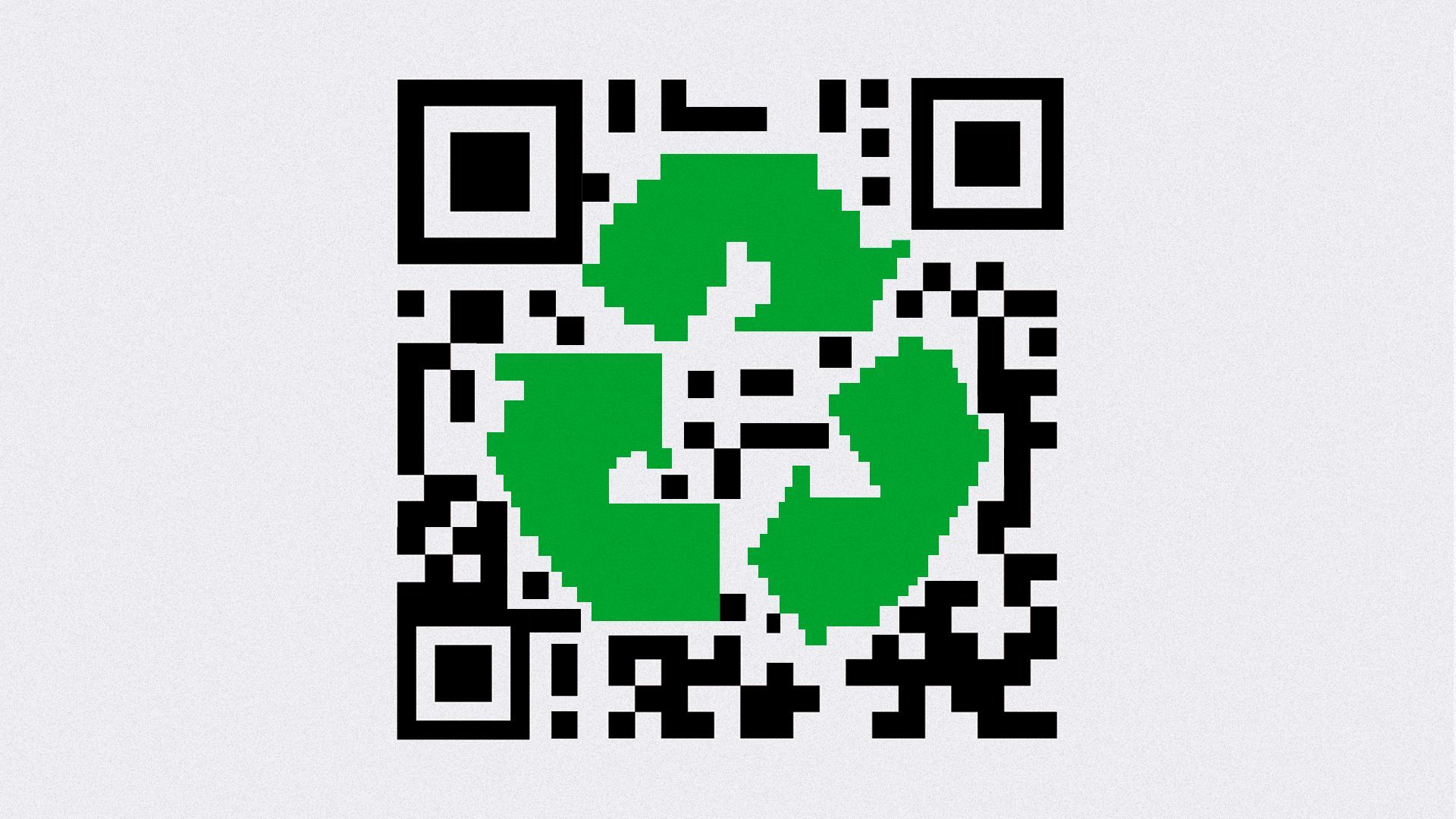 QR codes with hyperlocal recycling instructions will soon show up on your milk cartons, ice cream tubs and more — meaning you'll be able to scan an item, type in your ZIP code and see if it's eligible to go in the blue bin.
"Just because a product says it's recyclable, doesn't necessarily mean it's recyclable where you live," notes Rishi Banerjee, director of the Consumer Brands Association's SmartLabel program.
Why it matters: 60% of consumers are confused about what and how to recycle, according to The Recycling Partnership, a national nonprofit — depressing the already-low recycling law compliance rate.
The overall U.S. recycling rate is around 32%, the EPA says. For plastics, however, it's under 6%, per a recent report.
Driving the news: Recycle Check, a new program run by The Recycling Partnership, launched earlier this year and is busy signing up consumer brands to add local recycling info to their packaging via QR codes.
Two early adopters are General Mills (maker of Yoplait, Pillsbury, Chex, Betty Crocker, etc.) and Horizon Organics, which makes dairy products.
Products from those companies with local recycling details will soon be on store shelves, says Sarah Dearman, chief innovation officer for The Recycling Partnership.
What they're saying: "There's about 9,000 different recycling districts across the U.S., and we have them all in a database," Dearman said. "It takes the guesswork out of recycling."
The recycling information will be dynamic — meaning that if a facility starts to accept a type of material that it had previously turned away, that change will be reflected in real time.
Where it stands: For now, consumers must either take at face value the recycling information that's printed on a product package (which may be wrong for a particular locality) or actively seek out more granular information if it's available.
What's next: The number of manufacturers using Recycle Check is likely to grow quickly, thanks to deals with two major labeling systems.
One is with SmartLabel, a program run by the Consumer Brands Association that's put QR codes on 102,000 products from 1,000 brands.
Another is with How2Recycle, a standardized labeling system from environmental nonprofit GreenBlue, which lets consumers look up local recycling info online.
The big picture: Plastic recyclability is a huge, hot button issue, pitting the plastics manufacturing industry against environmental groups in a he said/she said public relations game that's hard for the average consumer to sort out.
On one side, the Plastics Industry Association sponsors campaigns like "recycling is real" to argue that plastic can be a valuable part of the circular economy.
On the other side, the U.S. Public Interest Research Group has a push called "beyond plastic" to eliminate single-use plastics and "get plastic makers to take financial responsibility for their waste."
The intrigue: The latter goal relates to "extended producer responsibility" (EPR) laws, which levy fees on manufacturers of certain types of nonrecyclable materials.
Such laws are being implemented in a growing number of states, including California, Colorado, Maine, Oregon and Washington.
EPR laws — prevalent in Europe — "typically incentivize companies to make their packaging more recyclable," Dearman tells Axios.
At the federal level, the EPA has weighed in, with a request to the Federal Trade Commission that the "chasing arrows" logo on packaging be retired.
The agency's objection is that the logo misleads consumers into thinking that the item it's printed on is recyclable, which might not be the case.
Zoom out: We'll soon be able to find out all manner of things about the products we buy through QR codes, from recipes and nutrition info to potential allergens and product recalls.
The SmartLabel program, launched in 2016, now has 78 companies participating, including giants like PepsiCo, Coca-Cola, Hershey, Clorox and Reckitt.
Data from NielsenIQ "shows SmartLabel products represent 76% of the units and 54% of the dollar share in the average grocery shopping cart," according to the Consumer Brands Association.
For the consumer packaged goods industry, "SmartLabel is pretty much the main transparency tool," Banerjee tells Axios. "You have consistency across brands, across products."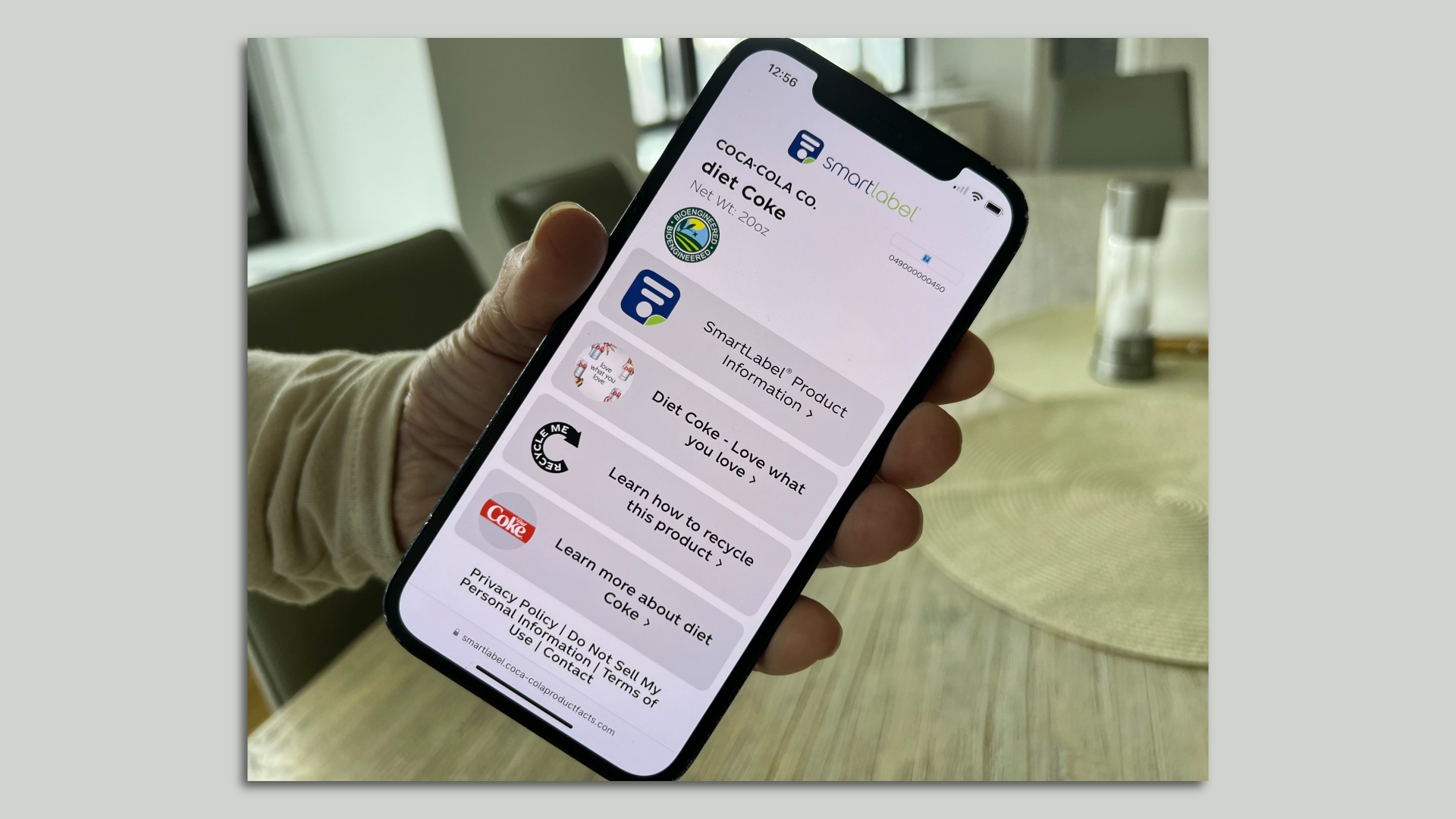 I tried scanning the SmartLabel on my ubiquitous deskside bottle of Diet Coke and got links to product information, general recycling info, and a swag store with Diet Coke T-shirts and socks.
The FAQs were disappointing, however — you could search for places to buy more of the stuff, but there was no arcane trivia with which to stump and amaze fellow Diet Coke fanatics. (Ina Fried, I'm looking at you.)
The bottom line: Many powerful forces and organizations are coalescing around making plastics and other materials easier to recycle — and to advance composting, too.
Go deeper