Clothing retailers want QR codes to replace bulky tags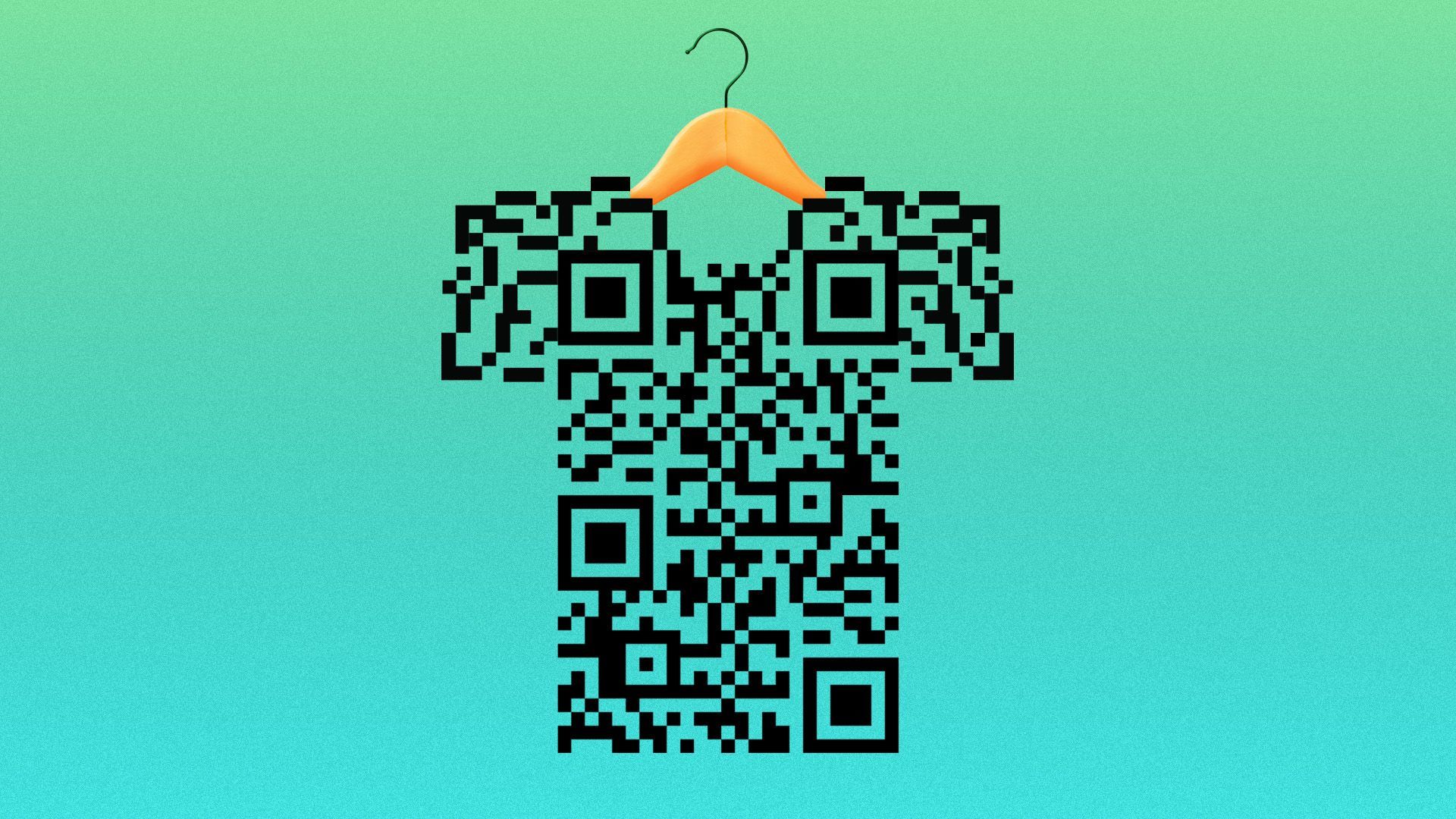 If the apparel industry gets its way, small labels with QR codes on them would replace the bulky clothing tags that offer washing instructions and other information.
Why it matters: Digital product labels — which brands like Ralph Lauren are already starting to use — could provide a lot more information to consumers, who could scan them for a library of details about the garment they're wearing (or might buy).
The move would come at a time when the broader retail industry is transitioning to "2D" barcodes, which will unlock reams of online extras about everyday products.
Driving the news: Garment manufacturers have been lobbying Congress and the Federal Trade Commission (FTC) for permission to replace physical clothing tags — which must include care instructions, fiber content, country of origin, etc. — with digital labels, most likely in the form of a QR code.
A consumer could scan that code to get the legally required information and more — such as recycling instructions, supply chain information, product recalls, the sustainability practices of the manufacturer and more.
The landing page could be updated in real time as circumstances change or the manufacturer wants to present new info.
For example: "Sometimes we produce garments knowing 'this much' about the material when we launch it, but three years down the road, something that was not recyclable is recyclable," Jennifer Patrick, global packaging and branding director at Patagonia, tells Axios.
Between the lines: A move to digital clothing labels would allow manufacturers to make the tags much smaller — and thus less itchy and annoying, says Jason Berns, head of product and manufacturing innovation at Ralph Lauren.
It would reduce "label mangling," or the tendency of consumers to hack off clothing tags — keeping them intact for the next person who buys or inherits the item.
It would also combat "label creep," the growing list of legal requirements from governments around the world that have forced clothing makers to sew in ever-more-complicated (and cumbersome) care labels full of arcane laundry symbols.
"If you're able to eliminate the entire label package and have a smaller, less noticeable single point of access, then it's much less likely that someone will need to cut them out," Berns tells Axios.
Where it stands: The FTC currently requires garment labels to include "fiber content, the country of origin, and the identity of the manufacturer or another business responsible for marketing or handling the product."
Those rules have been around since the 1960s, though other countries tack on other requirements that add length and complexity, said Stephen Lamar, CEO of the American Apparel & Footwear Association.
The trade group has been pushing for the option to substitute QR codes for the existing clothing tags, making the case for what it calls "label modernization."
What they're saying: "Fashion is constantly evolving and changing, and yet we've got this labeling system that's kind of mired in the Eisenhower administration," Lamar tells Axios.
The volume of information that needs to be put on labels has "grown out of control over the years," he said.
"The end result is that you now have these garments with these really long labels," he said. "Consumers have been craving more information, and regulators have been saying, 'Hey, what else can we squeeze onto this little tiny label?"
Yes, but: Pushback has come in the form of concerns from regulators and lawmakers about internet accessibility, and whether some consumers would be cut off from the required information.
Not everyone has broadband access or a smartphone.
The other side: Lamar contends that digital labeling could be a boon for accessibility.
People sometimes struggle to read the teeny symbols on current label tags — particularly folks who are sight-impaired.
As our clothing habits increasingly go "circular" — with people thrifting, recycling or composting garments instead of tossing them — digital labels will offer a more robust way for future users to access information about items, proponents say.
Case study: Ralph Lauren has "a little north of 220 million units with QR codes in the market today," Berns says. (The garments also have standard tags in them, to comply with current regulations.)
"From a data perspective, we see some amazing things," he said. "We see a spike every weekend" in traffic to the sites linked to the QR codes.
"We see a spike every holiday — a doubling or tripling of scans on, say, Christmas day, when people are opening gifts. We see people engaging with our website and our marketing."
Ralph Lauren's takeaway? "People are absolutely willing to scan right now," Berns said. "We're averaging 13,000 scans per day, which is big."
Of note: A copyright lawsuit filed by fast-fashion brand Zara accuses a California business of swapping out its labels for bootleg replacements — something that could be tougher to do if digital labeling takes hold.
The bottom line: With so many aspects of life going "phygital," it seems likely that we'll soon get used to scanning our shirts and skirts the way we do restaurant menus.
Check out: Patagonia just topped the 2023 Axios Harris Poll 100 brand reputation survey.
Go deeper