Let artificial intelligence show you where to toss your trash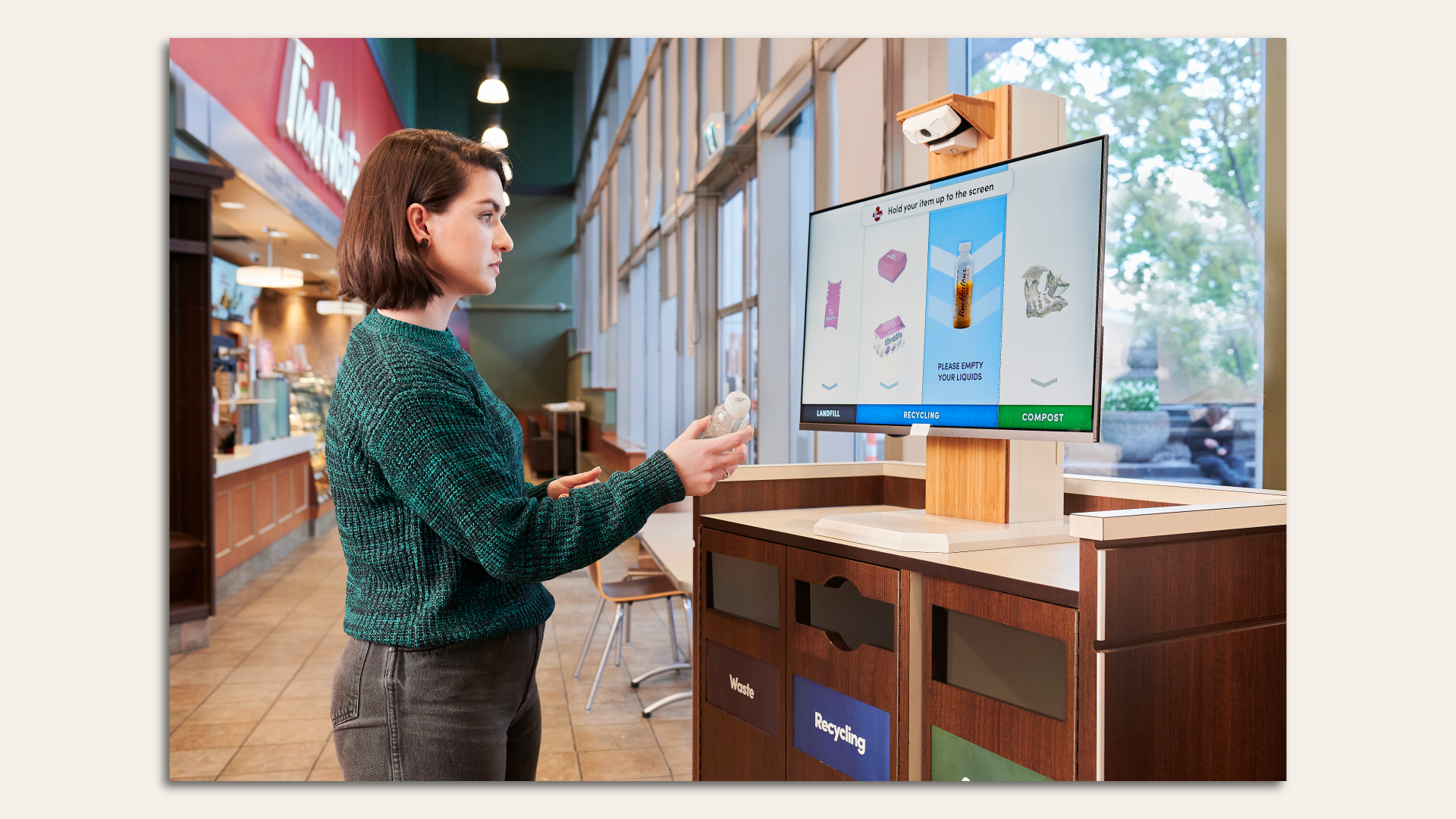 Anyone who's ever stood in front of trash-sorting containers and wondered whether their empty yogurt cup is recyclable will appreciate Oscar, an AI-driven system that scans your throwaways and tells you where to toss them.
Why it matters: "Consumer error" is a top contributor to the abysmal rate of recycling, which the Environmental Protection Agency most recently pegged at 32.1% in 2018, down from 34.7% in 2015.
Driving the news: A Canadian startup called Intuitive AI has introduced Oscar Sort, a "smart recycling assistant" trained to identify all manner of food and beverage containers — point your trash item at a computer screen, and it'll tell you if it's recyclable or compostable.
Introduced in 2019, Oscar Sort is gaining traction in corporate and university cafeterias, sports stadiums and retail stores.
It knows all the local recycling laws, so it'll guide you to the right bin no matter where you are or what you're discarding.
Among the 300 places it's been installed globally: Tim Hortons doughnut shops, Boston's TD Garden, and offices of JPMorgan Chase, AT&T, Merck, Nike and Visa.
⚡️ This just in: On Wednesday, Intuitive will introduce Oscar Pocket, a smartphone app that tells you how to discard your waste at home or on the go, Axios has learned exclusively.
Consider it "ChatGPT for waste," Hassan Murad, co-founder of Intuitive AI, tells Axios. "You could show it an image. You could ask it a question. Imagine ChatGPT and Siri or Alexa had a baby."
Between the lines: Recycling can seem futile to people because it's so confusing — about 70% of the time, we make the wrong decision about where to toss that empty coffee cup or crumpled napkin, Murad says.
"A lot of people walk up to that bin, and they look left and right, and contaminate the bin," Murad said in a TED talk. "And that three-second decision is where this all begins."
Part of the point of the Oscar system is to "gamify" the rote process of throwing away trash — at installations such as TD Garden, the system will ask people trivia questions and offer rewards for correct answers.
"People used to spend about zero seconds at the garbage bin, right? And now they're spending about one to two minutes" having fun and learning about recycling, Murad says. "That's kind of unheard of."
The big picture: Oscar isn't the only initiative that recognizes the need to help consumers improve at recycling. Food manufacturers are starting — in a trickle — to add QR codes to packaging so people can see if an item is recyclable locally.
Companies including General Mills and Horizon Organic are signing up for a new program called Recycle Check.
Soon you'll be able to scan a Pillsbury Frozen Pie Crust package with your phone, for example, to see if the aluminum pie tray is accepted at curbside recycling where you live.
AI is also boosting recycling behind the scenes: Trash-sorting robots at recycling centers use AI to identify items in the waste stream that can be plucked out of materials destined for the landfill.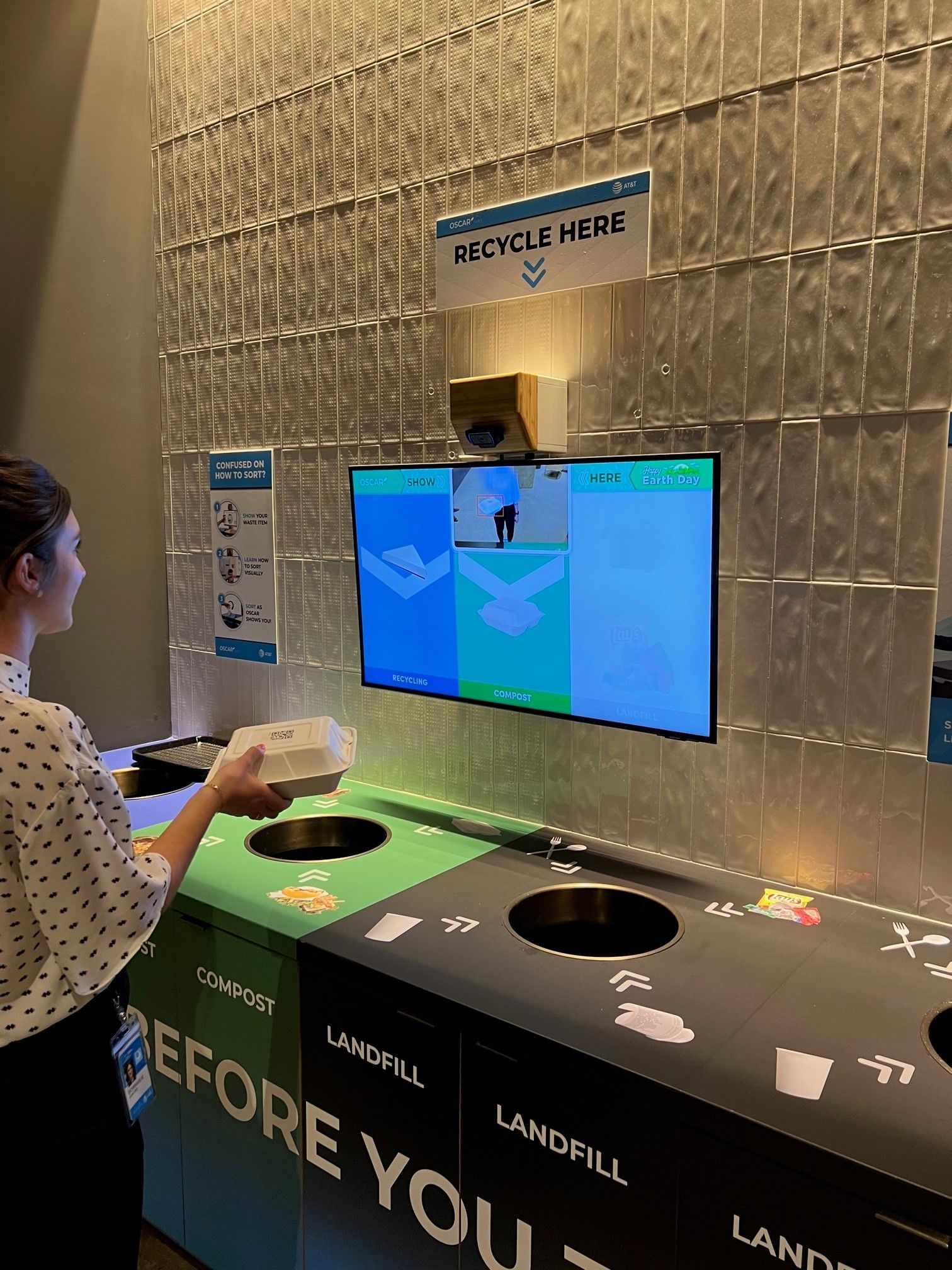 Case study: AT&T learned about Oscar Sort through its corporate cafeteria vendor, Aramark, and installed two at a cafeteria in its Dallas headquarters in December.
"We are increasing the accuracy of employees sorting their trash correctly," Roman Smith, a global sustainability director at AT&T, tells Axios. "It's really just taking the guesswork out of it for people."
About 45% of trash is being diverted from landfills at that cafeteria, up from 30%, Smith said.
Plus, people find the system entertaining: "When you go up to it, it will immediately say to you, 'Hey, I'm Oscar,'" he says. "The engagement is really nice."
Fun fact: The AT&T cafeteria has two kinds of napkins — white and brown — and Oscar has taught people that the brown ones are compostable, and thus shouldn't automatically be thrown into the recycling bin.
The company may expand Oscar in its corporate locations and even to retail stores, where it could help people recycle e-waste, Smith said.
The bottom line: Between products like Oscar and more muscular labeling by consumer brands, we'll soon have a lot more guidance for our trash at the point-of-throw.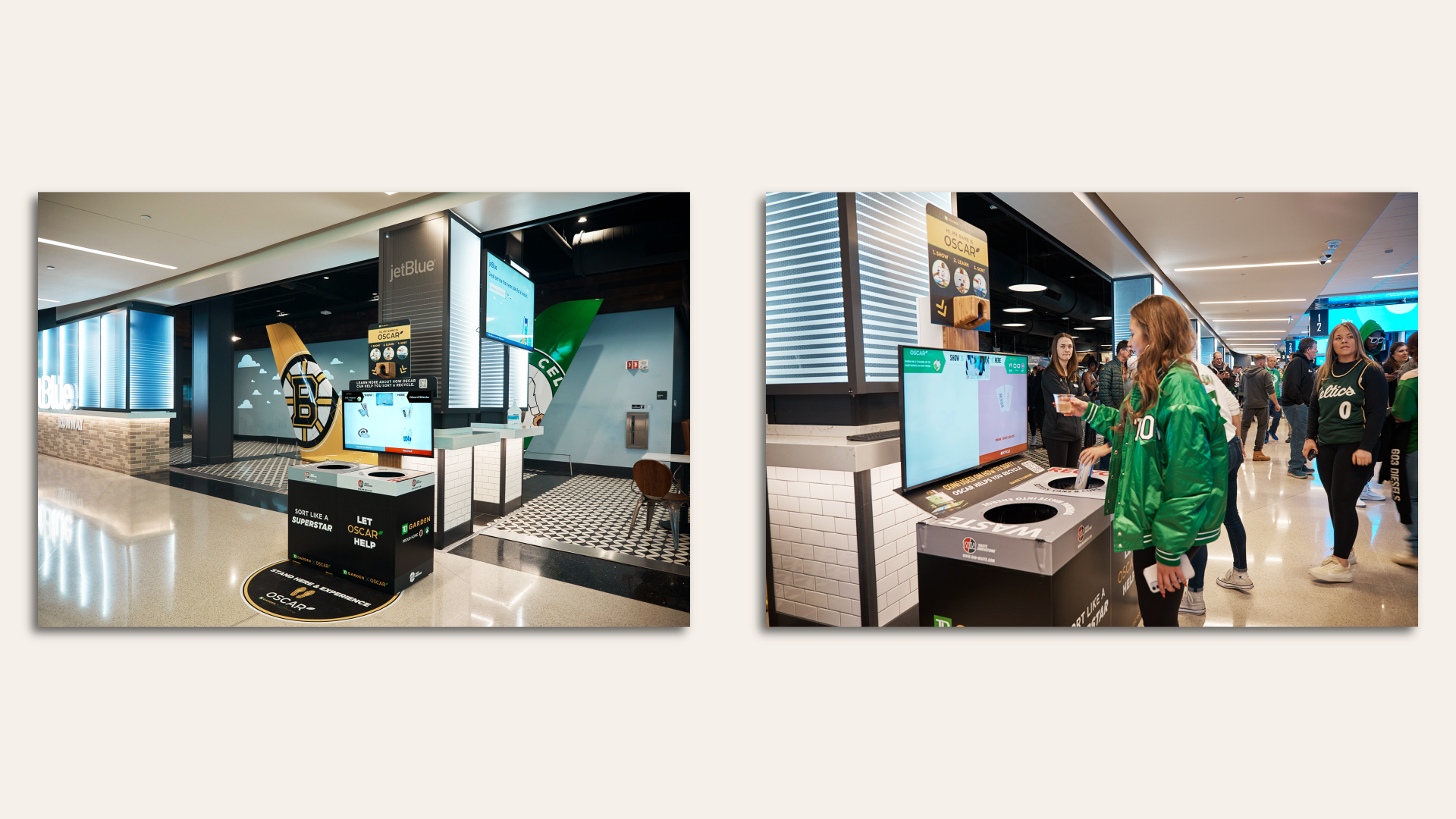 Go deeper